15 Aug

Local Motorcyclists Giveaway Hundreds of Backpacks to Richmond Kids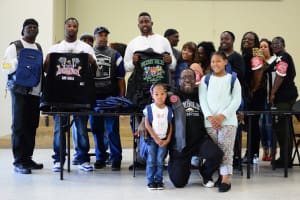 Photo Essay, David Meza
As long summer days wind down, parents and kids around Richmond are ramping up back to school shopping. But for around 300 children there'll be a few less necessities to buy thanks to an unlikely partnership between Richmond's Recreation Department and the One Richmond Motorcycle Association, a collective of several different motorcycle clubs based in the city.
The two disparate groups came together to show support for Richmond's youth by giving out free backpacks and school supplies on August 8 to children who participated in the recreation department's summer camps.
The motorcycle association paid for the backpacks and community members donated the funds for school supplies. Also included in each backpack was "Be a Change Agent for Your Community," a children's book by Andre A. Lewis about the work of the city's Office of Neighborhood Safety.
"The best part was seeing the smiles on the kid's faces," said Dean Vigil, a summer camp program coordinator. "We allowed them to choose what kinds of school supplies they wanted; paper, pencils, file folders, staples… they were able to get what they wanted."
Vigil said that the event seemed to be a success all around. "We had a long line," he said. "The parents were very thankful and appreciative. You could tell people in Richmond really needed it."
Darryl 'Starchild' Robinson, president of All Access VIPs and founder of the One Richmond Motorcycle Association said that the association decided to partner with the city to help build community.
"Richmond is a hard place to grow up," he said. "We are trying to bridge the gap between our clubs and the kids of our communities."