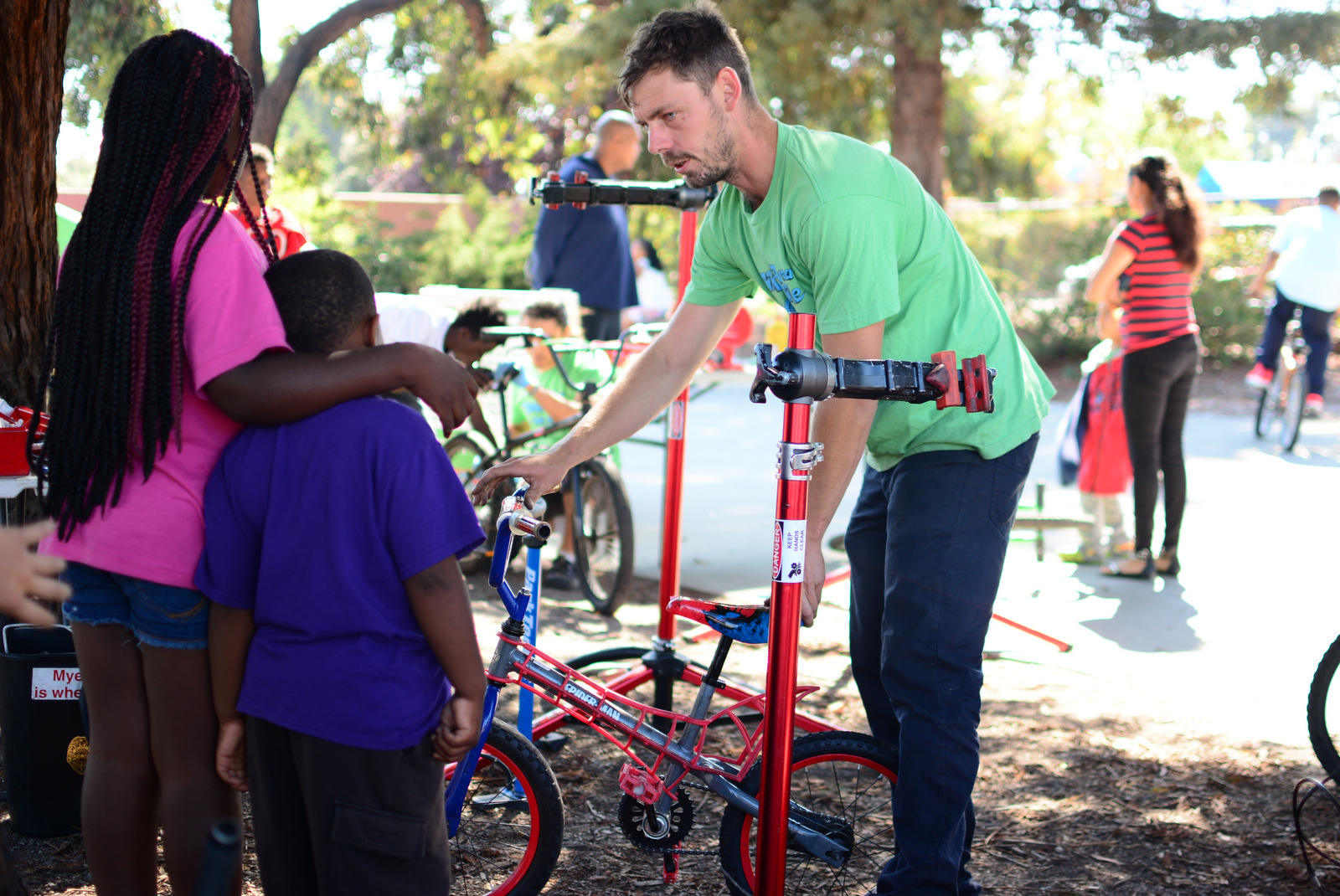 22 Aug

Mobile Mechanics Get Richmond Kids Back On Their Bikes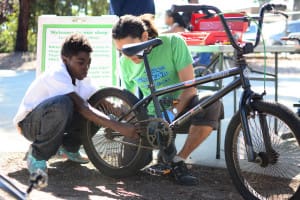 By Malcolm Marshall | Photos By David Meza
Angel Barrientos, 11, of San Pablo likes to ride his bike at least a couple times a week. His favorite part? "Just feeling the air on my face," he said. But he hasn't been able to ride for a while now, because his bike needed repairs — the tires have holes, the inner tubes damaged from sitting in the sun.
But today Barrientos will see his bike fixed for free, thanks to a program that puts kids and adults back on two wheels. Bay Area Bike Mobile services cycles in eight counties, educating riders at schools, libraries, and in low-income neighborhoods throughout the Bay Area.
On a recent Wednesday afternoon, the big green Bike Mobile van — stocked with parts like brakes, tires and tubes — set up shop in front of Richmond's Bayview Branch Library, where about 50 people showed up to get their bikes fixed. Kids waited patiently while mechanics performed safety checks and repaired tires, grips, brakes and shifters at the Aug. 19 event.
"It's really nice for the whole city of Richmond," said Barrientos. "Lots of people aren't riding their bikes because they are broken or the tires need air or something, so it's nice that these guys are helping out and letting us bring our bikes and fixing them for us."
The non-profit group Local Motion, which runs the program, promotes safe riding, teaches beginners to transition from training wheels and donates refurbished bicycles to members of the community.
Along with fixing bikes, mobile mechanics instruct participants during the repair process, so they can leave more confident in making future repairs on their own.
"We're here to fix people's bikes and teach them how to fix their own, and keep people riding instead of [driving] their cars to work and to school," said Steven Morris, head mechanic with Bay Area Bike Mobile.
Morris was one of three mechanics on hand working to get everyone onto a bike. He said he sees a need for bicycles in the community, and when the van comes to this location, the turnout has always been high.
"You know, this is a pretty bustling community of kids with bikes," he said. "Every time, there's a couple more, [and] the next time there's going to be more kids each time. This place has always been really popular — a lot of kids ride."
Morris can remember waiting to get his own bike fixed as a boy, and said he truly enjoys working on bikes and helping these eager kids.
"Kids and bikes go so well together," he said. "It's nice to just fix the kids' bikes, because they're all waiting for it. They all know how long they've had a flat."
Out in front of the library, Morris changed a tire as a couple of kids watched closely, listening and learning.
"But if it's coming off at an angle, what's going to happen is your rim is a sharp piece of metal that's going to cut into the valve," Morris explains to a young girl as he repairs a Spider-Man bicycle for 5-year-old Tre.
"Oh, that's probably what happened to my other bike," she replies.
"If the valve looks like it got chewed on by the rim, then you know," says Morris.
A few minutes later, Morris is done with the repair.
"All right, big dude, here you go," he says to Tre, who's eager to get back on his bike. A few seconds later, the 5-year-old is all smiles as he takes off riding — another satisfied customer, back on the road.
"A lot of people buy bikes from department stores and those bikes fall apart," said Morris. "Then bike shops usually won't fix them because it's gonna be so expensive to fix. It's nice to put those bikes back together and get them running so people can at least get a couple of rides out of their 150 bucks rather than having to throw it away."