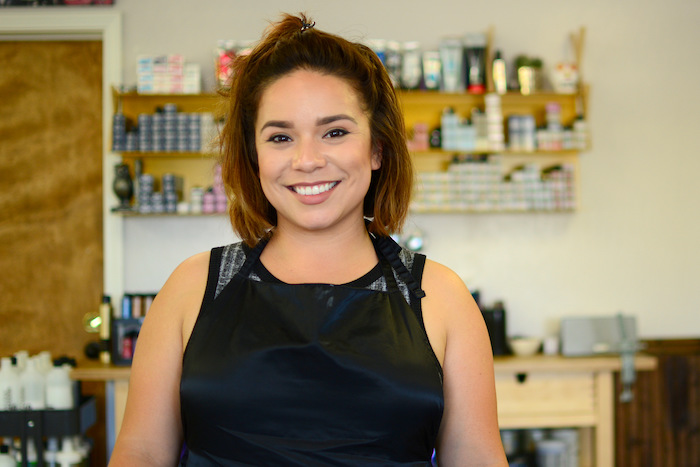 18 Sep

Richmond Women Mean Business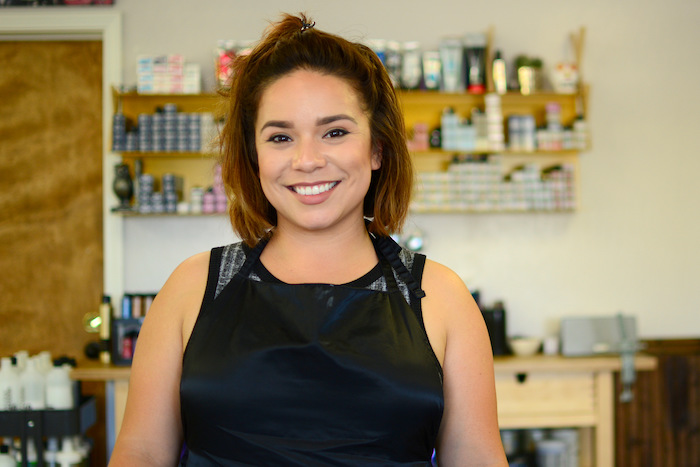 By Keisa Reynolds
After dreaming at a young age of opening a local business, longtime resident Liz Gonzalez finally opened Ritzy Reuben, a hair and beauty studio in Point Richmond.
"It's very rewarding to open a business in the city I grew up in. I am [trying] to bring something positive to the city. Hopefully as I as expand, I can bring prosperity and betterment to the city," Gonzalez said.
Ritzy Reuben offers hair and beauty services, specializing in haircuts, extensions, and hair coloring. For Gonzalez, it is important for people to feel good about themselves.
"Our services are something that brings more than just a hair style or color or tint; we're touching people personally, helping them feel better. People always want to feel the better part of themselves," she said.
'Women entrepreneurs outnumber men'
Women like Gonzalez continue to outnumber men when it comes to starting new businesses across the nation, with women of color leading the way.
According to research by the National Women's Business Council based on U.S. Census data from 2007 through 2012, women owned nearly 9.9 million business as of 2012, up 2.1 million or almost 28 percent, since 2007.
Since 2007, the number of Hispanic women-owned businesses increased 87 percent, making Hispanic women the fastest growing segment of women-owned businesses in the United States. The number of African American women-owned businesses in the United States increased 67.5 percent, while Asian American women-owned businesses increased by 44.34 percent.
Bret Sweet is the program manager of the Renaissance Entrepreneur Center in Richmond, a small non-profit that provides support services and training for business owners. Sweet says his office is seeing many women in Richmond, as well as women throughout Contra Costa County, who are interested in starting a business from scratch or have already started but may have become overwhelmed.
"When women are starting a business, there are multiple considerations that they have to go through that the average comparable male is not considering," said Sweet. "One thing to consider is that these women may have children… Or they're taking care of a parent or maybe it's a parent and a child."
That makes it less likely that they'll pursue a "foolhardy idea," says Sweet, and more likely that they'll weigh the options to make a responsible choice for their family.
"So they're really calculating and scheduling and refining," he said, "so that the business they are bringing to the table is about economic independence."
'An underserved population'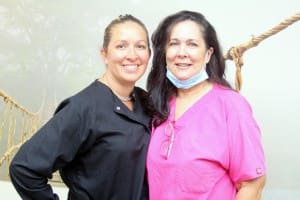 Vicki Harris and her business partner Claire Fleckles opened their dental hygiene practice Clean Smiles about a year ago. The owners, who are not Richmond residents, chose to open their business in Point Richmond because it was an "underserved" population that had a shortage of dentists.
Clean Smiles aims to change how people view their dental hygiene visits by creating "a calm and relaxed spa-like environment," as advertised on their website. They say their prices also allow for a diverse clientele.
"We try to keep our prices affordable and inexpensive," Harris said. "The patients love it. They love coming and having a different kind of service provided."
'You wear a lot of hats'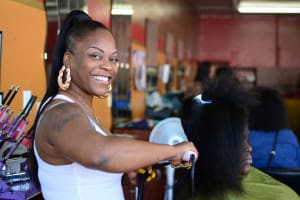 Hairstylist Sumatra McGilbery, who owns on Déjà Vu Hair Salon on Macdonald Avenue, says the hardest part of being a woman entrepreneur is that she has to wear a lot of hats. "I'm a mother, as well as a business owner, as well as a father," she said. "So I have to juggle all those things at once. It never stops. But if you're strong enough and you're determined, you can do it."
"My specialty is haircuts," said McGilbery, who has been cutting hair for 17 years. "I do a lot of weave extensions, but I love to cut, that's my favorite."
"Hairstylists are in high demand because of the economic conditions," she explained. "People are looking for us to make them look and feel better."
The longtime Richmond resident says she has seen a lot of change in Richmond, much that she likes. But there a few things that she says could make the city better than it is.
"We do see a lot of new businesses coming in. We see a lot of renovation, but none of that is going to matter if we don't do anything for our youth that's coming up… As a community, [we would be better] if our businesses could provide more jobs to give these children out here something to do."
'More people want to support local business'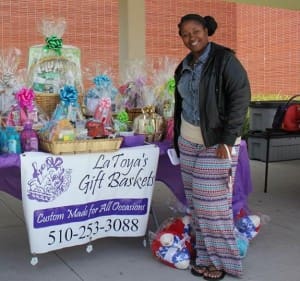 LaToya Carr's business, LaToya's All Occasion Gift Baskets, was inspired by her aunt who made gift baskets, Carr has made them for friends and family since she was a young girl. After deciding to take her creative talents to the community, Carr has received referrals from previous customers. Customers can order baskets for all occasions, including birthdays, weddings, and baby showers.
Carr does not have a storefront, but the Fairfield resident spends plenty of time making deliveries in Richmond where she says "things have gotten a lot better."
Carr hopes her gift baskets help residents make deeper connections with their loved ones. "For me, it's not all about the money," she said. "It's really rewarding to do something for children, men, and women; their baskets are all about what they like."
For Carr, the sense of community makes Richmond a great place to do business. "People in Richmond have are better sense of community than before," she says. "More people want to support the local, small and home businesses as opposed to the larger franchises because of where the economy is."