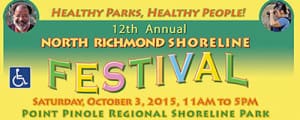 From the Pulse News Desk
Annual North Richmond Shoreline Festival
The North Richmond Shoreline Festival returns for its 12th year from 11 a.m. to 5 p.m. on Saturday, Oct. 3, at the Point Pinole Regional Shoreline park, featuring food, music, train rides, fire engine exploration, organized nature walks and bird watching led by the National Audubon Society.
Live entertainment includes blues musician Clarence Van Hook, gospel and jazz from Consonance, Latin sounds from Duamuxa and other performers. Those wanting to fish can bring their own equipment.
The event is hosted by the North Richmond Shoreline Open Space Alliance in partnership with the East Bay Regional Parks District and the cities of Richmond and San Pablo.
Parking is available on-site. EasyGo Transportation shuttle buses will also pick people up at locations including the North Richmond Center For Health, the Nevin Community Center, the Walter T. Helms Middle School and Parchester Village. For more information, go to www.northrichmondshoreline.org/festival/map2PointPinole.htm or email info@northrichmondshoreline.org.
Help Rebuild Kennedy Park
The city of Richmond has invited community members to help rebuild the John F. Kennedy Park from 8 a.m. to 4 p.m. on Saturday, Oct. 24, at Cutting Boulevard and 41st Street, as part of national Make A Difference Day.
The city hopes to attract more than 350 volunteers to complete the park restoration as part of the event, the largest national day of service involving millions of Americans working to improve their communities and the lives of others. Richmond Trees will also celebrate Arbor Day by planting trees and greening the park.
Built in 1968, the park will be renovated to meet the changing need of the neighborhood. For more information, call 510-620-6511. To volunteer, visit http://www.signupgenius.com/go/10c0a45a5af2ca1fb6-john.
Picnic In The Point
Grab the family and head to Judge Carroll Park for the sixth annual Picnic In The Point from noon to 5 p.m. on Saturday, Oct. 17.
The event will include food activities for kids and live music from the Grammy-nominated Trout Fishing In America, along with Dana Louise And The Glorious Birds.
Admission is free, while advance tickets for food and games can be purchased through Oct. 16 for a discounted price of $20 for 25 tickets at the Up & Under Pub And Grill on 2 West Richmond Ave., and at Smith Office Solutions on 210 Washington Ave. Tickets will also be available at the event.
Proceeds from the picnic will benefit the Let's Grow Richmond food nonprofit; the Point Richmond Business Association; the Washington Elementary School PTA; the Richmond Swims organization; and the local Parent Resources And More group.
Celebrate Food Day
The Richmond Food Policy Council will sponsor Food Day 2015 with a variety of activities Oct. 20 to 24.
The event will kick off with a Food Day proclamation issued by Richmond Mayor Tom Butt during the Oct. 20 Richmond City Council Meeting. Other events include the Richmond Main Street Initiative Downtown Farmers' Market from 10 a.m. to 2 p.m. on Wednesday, Oct. 21, at 13th Street and Nevin Avenue; and the Civic Center Farmers' Market from 11 a.m. to 2 p.m. Friday, Oct. 23. Both will feature lunchtime dance fitness, cooking demos and education tables about eating healthy on a budget.
The weeklong events will culminate with Food Day on Saturday, Oct. 24, from 11 a.m. to 4 p.m. at Richmond City Hall. The free event will include medical screenings, compost demos, produce giveaways and enrollment in the Calfresh supplemental nutrition program.
For more information, visit www.facebook.com/RichmondFoodDay.