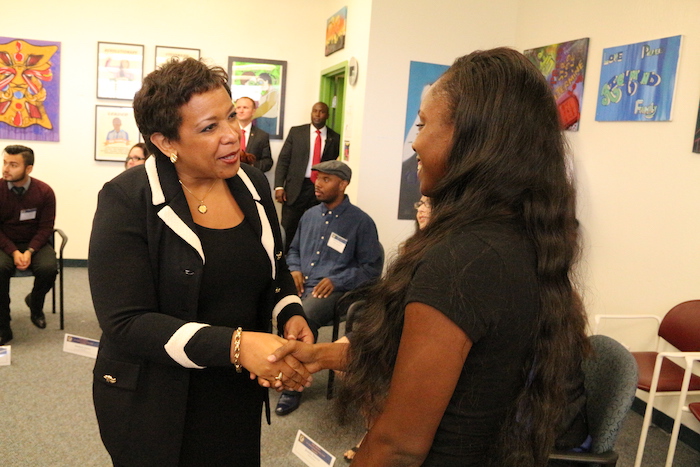 08 Oct

Richmond Youth Get an Audience With AG Loretta Lynch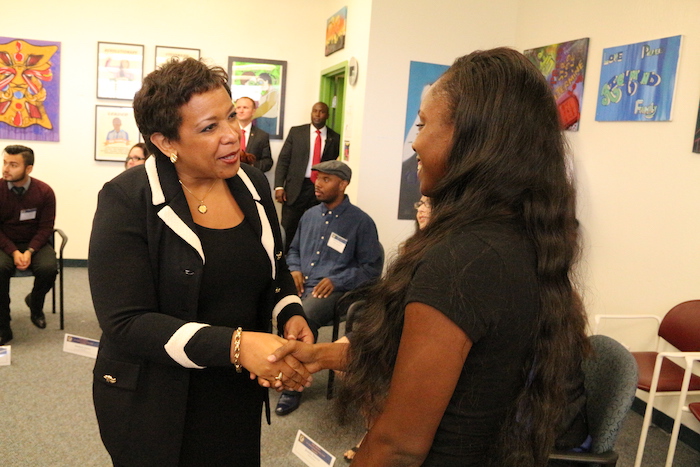 by Marco Villalobos
Attorney General Loretta Lynch visited Richmond on Sept. 25 as part of a six-city tour. While she was here, she heard directly from young people about how to make improvements in the way police interact with the community.
The visit was part of a six-city national tour including visits to Cincinnati, Birmingham, Pittsburgh, East Haven, Conn. and Seattle, where she participated in roundtable discussions on how residents and police could work together.
The first African American woman ever appointed to the position, Lynch commended the Richmond Police Department for its early adoption of body cameras, alternatives to deadly force, and the combat of unconscious bias. She also observed that the important steps forward in Richmond were due to partnership with organizations and individuals outside of the police department.
At the RYSE Youth Center, she sat down with a group of nine young people, ages 18 to 25, to dissect the impact of community policing on this select cross section of the community: youth of color.
Eighteen-year-old Nyabingha McDowell was among the youth in the conversation. "Ms. Lynch came to the RYSE to discuss how she could make relationships, interactions, trainings with the police better in our community," said McDowell. "How do we address the trauma and the pain that's been there for all these years? The people who are supposed to serve and protect you put fear in your heart when you see them. You shouldn't have to feel that."
Though hopeful, participants also voiced a concern over the limitation of their hour-long conversation. "People started to get cut off because of time and I guess they had specific questions that they wanted answers to," said Gemikia Henderson, 22, a video assistant who began as an intern at the center.
"We mostly talked about police in schools," said Henderson. "When I was in the school, I didn't have positive relationships with the police officer that was on campus, except for one," she told the attorney general. "And some of these police officers around the neighborhood that I grew up in, they come through there and try to intimidate."
In giving her answer, says Henderson, she was cut off by an assistant and was asked what suggestion she would give to the captain to make relationships better. "And I'm like, I don't know. I would suggest him to listen, but we've been saying that for years," she answered. "It's not like that's new. But just because it's going through you, or may go through the attorney general, doesn't mean they are actually gonna do it. Why listen to y'all when we've been saying it for years?"
Despite the format, participants agreed that the attorney general's focus seemed genuine. "There wasn't a point where I felt like she was being dismissive. I feel like she was very intentional about how she showed up in the space with us," said Maaika Marshall, RYSE Center's 24 year-old youth justice coordinator.
"I think it's easier to be dismissive of what a young person is saying for most adults," said Marshall, "because it's either they've felt like they've heard it before, or it doesn't hold weight. And I think it's easier especially when young folks are saying things that are challenging and really challenging systems that adults uphold."
Another attendee, Richmond Poet Laureate, 25-year-old Donte Clark, said he saw a lot of contradictions.
"At the same time you all are building prisons, these schools are failing," said Clark. "They're trying to expand the jail in Richmond right now. Who the f— you think is gonna go up in there? So you gotta spend just as much time trying to figure out solutions that you are with constructing."
Not wanting to be disrespectful, and aware that there was a lack of time to dive deeply, Clark says he let it go.
"I don't know, man. I'm the type of person, if we ain't gonna talk about it, I ain't really got much to say."
Marshall was more hopeful.
"I think what Madame Attorney General really pulled out of some of the things that we were talking about," she said, "is that there is a fear between both sides, between young people and police officers, and the only way to navigate around that fear or try to eliminate it is to build relationships with one another that are solely on a people to people basis."
After her visit to RYSE, Lynch told a forum of city representatives, "Of course, I recognize that the progress we envision won't happen overnight. It will take time and commitment, collaboration and hard work. But from what I have seen in Richmond today, and from all that I have observed in the cities I have visited on this tour, I am more confident than ever that positive change is possible when we join together to build new foundations of trust, respect and mutual understanding."