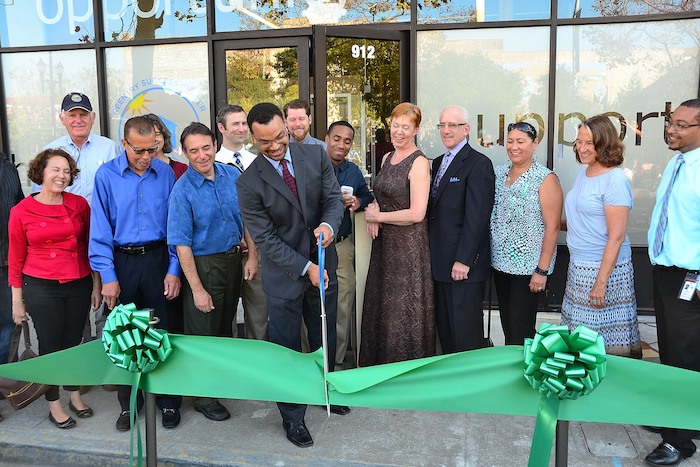 22 Oct

Re-entry Center for Former Inmates Opens in Richmond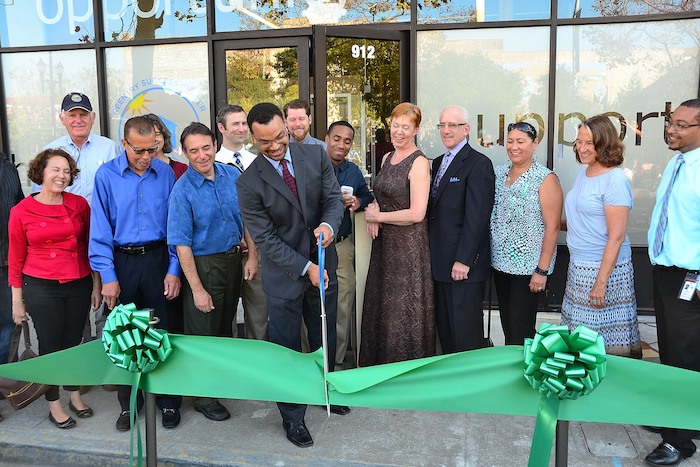 Photo courtesy of Mayor Tom Butt's Office
News Report, Malcolm Marshall
A new center in downtown Richmond aims to help individuals navigate the process of rejoining society after prison. The Reentry Success Center, which celebrated its grand opening on Oct. 13, is financed in large part by Contra Costa County's prison realignment funds.
"The vision for the center is to serve as a beacon of hope and opportunity," said Rebecca Brown, chair of the center's 12-person steering committee that, together with the nonprofit organization Rubicon Programs, manages the center. "When people come here, we want to start saying, 'Yes' to them right away. Yes, in fact, even with your criminal conviction, you're eligible for General Assistance. Yes, you're eligible for food stamps, and that could be a lifesaver."
The center brings together many organizations under one site to make it easier for former inmates and their families to navigate the services. These include the Contra Costa County Human Employment and Services Divisions, the Office of the Public Defender, Bay Area Legal Aid and Reach Fellowship International, which helps women transition from jail and prison life. Former inmates will be able to get help finding jobs and housing as well as access to computers and classes.
"There's an incredible need for re-entry services in Contra Costa County and Richmond in particular," said center director Nicholas Alexander. "There are over 2,000 men and women on probation and over 1,000 on parole in Contra Costa County. The numbers are growing…Over 90 percent of our men and women who are incarcerated are going to be eventually released and they need help."
"All of the county residents coming home from incarceration and their families will be welcomed at the new center," said Alexander.
To mark the center's opening, Richmond Mayor Tom Butt and County Supervisor John Gioia were among several leaders who spoke to a crowd of more than 100 people assembled outside on Macdonald Avenue.
"I think it says something about a community, about our government, about our community-based organizations, when we give as much respect to people who were incarcerated returning to our community as we do every other member of our society," said Gioia.
He noted that even before the realignment bill, State Assembly Bill 109, was signed into law in 2011, the county had begun developing a re-entry plan for former prisoners.
"I think we all came together and understood that we need to invest money, not just in county departments and law enforcement, but in community-based organizations that are providing real-life services to people re-entering our community," he said. "We need to show that this is indeed successful, so we can be advocates across this state."
Former inmate Clarence Ford, who shared his story at the opening, said the difficulties of re-entering society often became a topic of conversation with other prisoners.
"I was a bit apprehensive about getting released, because I knew that once I was released, I would come to face these barriers," he explained. He said he was rejected from numerous jobs and almost gave up hope until he eventually returned to school. He credits his re-entry coach for helping integrate him back into the community.
"It's individuals like that, working with organizations and agencies, that have the most effect," he said.
Contra Costa County Public Defender Robin Lipetzky added that former inmates need different kinds of help at different times, from job training and support to housing.
"People need those the moment they walk out of a jail or prison," she said. "But [they] might also need those six months or a year into their return. The center is going to be here for everybody, regardless of when they were incarcerated."
Lipetzky said family members of those returning from prison also need support. Brown agreed, noting that families often take on much of the emotional and financial burden when a loved one is imprisoned.
"When you have a family member who's incarcerated, it builds up tension in the family," Brown said. "It makes it hard for a family to succeed. We think of family members or other allies as very important members, both to support the success of people who are incarcerated and also to support their own well-being."
Dameion King, a skills specialist at Rubicon Programs, said he hopes the center becomes more than just a place for information or assistance, but a support network that plays a significant role in the lives of returning residents.
"Some of the biggest challenges that the re-entry population faces is having no support systems," King said. "Many times you have men and women who return back to the streets, and mom and dad have passed away, or the close ties that they had to the community are still involved in things that would hinder them.
"It's not a matter of just introducing people to skills and opportunities," he said. "It's finding ways to change people's perspective. I hope that the re-entry center can be successful at giving our re-entry population new lenses — new ways of looking at law enforcement, new ways of looking at community — and hopefully they begin to see themselves as stakeholders."