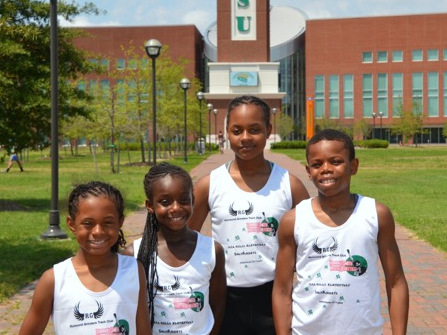 25 Oct

Richmond Grinders Capture Medal In Junior Olympics Nationals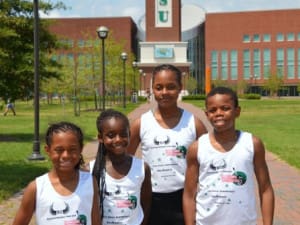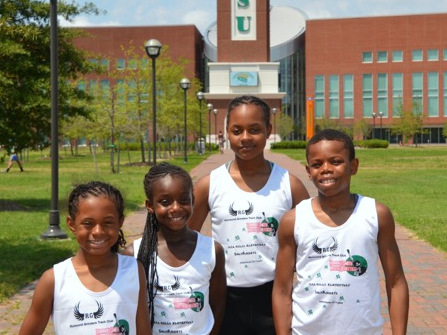 Richmond Grinders Capture Medal In Junior Olympics Nationals
By Dedan Ji Jaga
"There is no magic arrow for good health. The solution to the health crisis that our youth face is for communities to embrace a culture of fitness and proper diet. We must love our children enough to instill in them the discipline to exercise regularly and to eat right."
— Dr. Tommie Smith, Gold Medalist, 1968 Mexico City Olympics
The Richmond Grinders won a medal at the junior Olympics nationals in Virginia this year. And as their coach, I can tell you that what they accomplished is only the beginning. Their success is part of a bigger movement in Richmond and across the country, and its inspiration dates all the way back to the 1968 Olympics.
Five years ago, Mark Alexander of the organization 100 Black Men of America, Inc., which works to improve the quality of life within African-American communities, asked me to create a health and fitness program for Richmond. The idea was to get our community involved in the Youth Movement, a youth development program focused on children's health.
Youth Movement was started in response to the high numbers of African American children suffering from high blood pressure, diabetes, obesity and other health problems. Its mission
is to improve the overall health and well-being of young people through physical fitness training, wholesome food choices, character development, and mentoring.
We introduced aspiring young athletes to educational nutrition clinics, aerobic and endurance assessments, track and field skills, and participation in local, regional and national track meets, like the Annual Tommie Smith Youth Track Meet, which is a celebration and recruiting tool for the Youth Movement program. Young athletes also got to interact with Olympic greats like Tommie Smith, Eddie Hart and Mike Powell.
Gold medalist Tommie Smith won his medal in 1968, the same year that Martin Luther King, Jr. was assassinated. It was the courage of Smith and John Carlos — with their iconic, defiant fists raised to the heavens — that helped inspire people from their grief. It's the main reason why Smith tops my hero list, and it's inspiring to work with him to create a more promising future for our children.
As Alexander of 100 Black Men of America has said, "Our children's success is predicated on a wholesome lifestyle. When we nurture our children, we strengthen our community."
It is from these core principles that the Richmond Grinders evolved to become a respected presence in the ever-expanding track and field community.
With Smith as our "patron saint," the Richmond Grinders proudly run under the banner of the Tommie Smith Youth Movement, enjoying support that includes training clinics, track shoes, uniforms and equipment. Smith also hosts an annual series of track meets in Washington, D.C., New Orleans and Louisville, Kentucky, along with our annual showcase meet at U.C. Berkeley.
Currently, the Grinders count 15 athletes on its roster. Thanks to a collaboration with Tara Hills Elementary School — the only elementary school with a full track and field program in the school district last year — we expect another 25 to 35 students to join our program. The club accepts participants as young as 4 and as old as 17.
This year, five of our athletes qualified for the Amateur Athletic Union's national "Junior Olympics" track and field competition at Norfolk State University in Virginia. Four traveled to compete, including my daughters Amadi, 9, and Naja, 11, along with 9-year-old Amaya Harris and 12-year-old Marcell Anderson.
During our coast-to-coast, 22-day odyssey to Virginia and back, we crossed 20 states, visited 41 cities and drove more than 6,800 miles. We sweated down the simmering highways of California, through arid flats of eastern Nevada and the salt lakes of Utah, and marveled at the painted rock facades of Arizona and the vastness of Texas before admiring the greenery of West Virginia, the plains of Kansas and the mountainous ranges of Wyoming.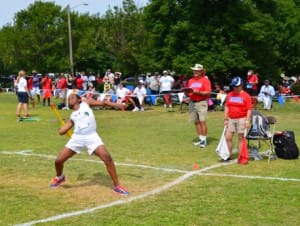 The redeeming moment of the competition came when Naja, struggling with an ankle injury, medaled in fourth place of the Turbo Javelin event, besting more than 60 other competitors who represented some of the best young athletes in the nation.
"We saw and learned so much, but I also learned that I have a lot of work to do in order to compete on a national level," Marcell told me.
Working with kids remains a constant reward with recurring dividends, and experiencing these moments together with my daughters makes it priceless. I hope my daughters see what I am doing and someday continue the cycle, giving back beyond the extent they have received.