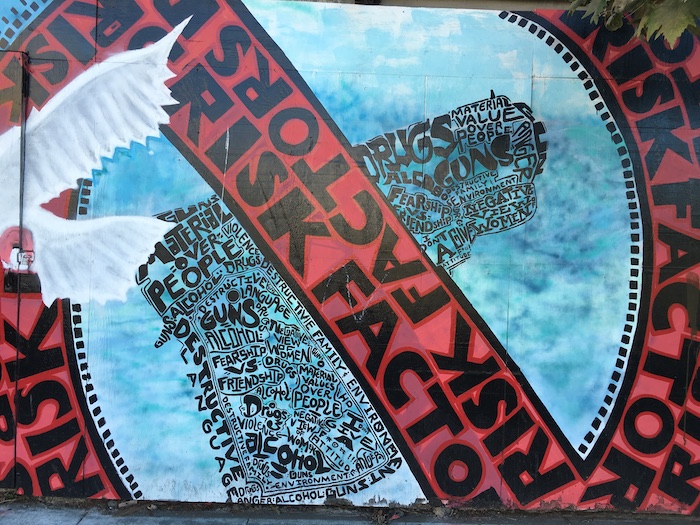 06 Nov

What Happens When Everybody Has a Gun?
Commentary,  Dr. Joseph Marshall
Guns are in the news again. The recent mass shooting at Umpqua Community College in Oregon thrust the issue of guns squarely back in the public eye. Guns are once again front and center–as they were after the Newtown school shooting three years ago and both gun control and gun rights advocates are once again pressing their cases.
However, this isn't a piece about gun control or the 2nd Amendment or the right to own a gun. It's not about legal guns or illegal guns or good guns or bad guns. And It's not about politics or studies or research. This piece is about the kids I deal with and some of the things that I've encountered with them when it comes to guns.
Many of the young people I have dealt with over the years firmly believe in carrying a gun. It's actually a commandment that they live by–"Thou shalt carry a gun for protection" is the way they put it. It's dangerous in the neighborhoods they live in they say and they don't want to be caught 'slippin.' They'd rather be caught with it than without it because you never know what's on the other man's mind. And they've been told that if you pull a gun, you'd better use it. Young people also say that there are way too many guns on the street and in their community–but their answer to the "way too many" is to add another gun to the mix, because quite frankly they're scared.
Now what strikes me is that everyone else seems to pretty much believe the same thing. They all say they need a gun (or sometimes lot of guns) to protect themselves. They all live by that same commandment–"Thou shalt carry a gun for protection." The athletes and entertainers say they need one because they're famous and they're a target; the homeowners say they need one because their homes might get broken into; school staff and teachers say they need to carry guns on school grounds because they have the right to protect themselves; students themselves carry guns to school because they're having a problem with somebody at the school site.
Suburban communities see disturbances in Ferguson and Baltimore and they arm themselves to protect against…well actually I'm not sure who. And then there are those citizens who are concerned that the government will take away their rights or impose some kind of martial law–and they've got to protect themselves–and they store caches of weapons to do so. Quite frankly, it looks like everybody else is scared too!
So what do you do when everybody's scared and everybody's got a gun? Good question. And what do I say to the kids who are smart enough to look at everybody else and see that everybody else's justification–to protect themselves–is pretty much the same as theirs?
We have a lot of great talks–the kids and I. They put their thoughts out there, I put out mine and we go back and forth. We have to because this is serious stuff and I'm trying to keep them Alive & Free.
One thing that really gets them to thinking though is when I talk about what it was like when I was their age–you know back in the day. They really find it hard to believe when I tell them that I did not go to one funeral of a peer when I was a teen. That I didn't wear any T-shirts with dead homies' names on them and that I didn't have a scrapbook full of obituaries. There were no makeshift street vigils with teddy bears and balloons. Yes there were a lot of fights, but there weren't a lot of deaths. Why? It's really pretty simple. Nobody had a gun!
I remember the first time I saw a gun. I was 16 years old and I went to the playground to play basketball. My friend had a .38 and showed it to me. Absolutely freaked me out. The instrument of instant death was right there in his hand. It made me look at him in a whole different way because I knew I had a chance if we ever had a fight, but I knew I had no chance if he had that gun.
As the years went by it began to get all bad in my neighborhood and the neighborhoods around me–from nobody having a gun to everybody having one. From fights to shoot-outs. From no funerals to nothing but funerals. All because of those damn guns. All because everyone was scared and trying to protect themselves.
"It's not like that anymore Dr. Marshall, but I sure wish it was," the kids tell me. "I'm just glad we don't have to worry about that here." And they're right. I figured out a long time ago that in bringing together and working with all kinds of kids–gang members, drug dealers, friends, enemies, turf rivals and everything in between–I really only had one thing to worry about. You could bring your attitudes, your past behaviors, your fears, your concerns, your different backgrounds, your belief in your need to protect yourself–all of that–but the one thing you couldn't bring with you was a gun.
So I did my own form of gun control–I banned them. And if they brought them and I found out, I took them away and then I told them they could come anytime but the gun was not welcome. And then we talked about risk factors for violence–the gun being number one–and we talked about the mentality you have and the power you feel when you've got one. And we talked about being afraid and how to handle it when you're feeling that way. And we watched movies like Juice and South Central and we analyzed them. And I told them that in spite of what everyone else was doing the worst possible thing they could do was have a gun. And then I gave them our number one Rule for Living–The Rule of Life: "There's nothing more valuable than an individual's life."
So tell me have I been wrong all this time? Should I have let them bring their guns because they felt the need to protect themselves? And further was I wrong myself in not having a gun to protect myself and them in case someone came in here to harm me or them? I need to know because I want them to stay Alive & Free, and if I'm not doing it the right way please tell me.
What I can tell you is this. It's been 28 years and 1456 Tuesday night meetings and 200 college graduates produced and not one gun death here. Not even a fight. Imagine that! It's almost like the old days, huh?
Yes I know everybody's got a gun. But not here. Stay Alive & Free.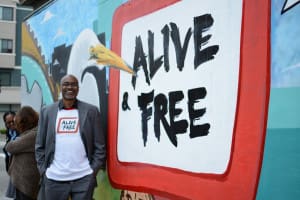 Dr. Joseph E. Marshall, Jr. is a noted author, lecturer, and host of the Street Soldiers radio show on 106MKEL. He is both a MacArthur genius award recipient and an Ashoka Fellow recognized for his pioneering work in the area of youth violence.
Follow Dr. Joseph E. Marshall, Jr. on Twitter: www.twitter.com/DrAliveNFree