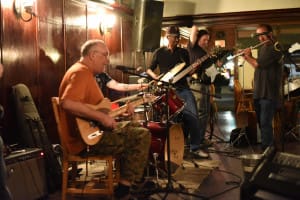 Photo Essay, David Meza
Richmond isn't known for a having a big nightlife or music scene. But there is one place in town where musicians go to jam: Tuesday nights at The Baltic Restaurant and Bar in Point Richmond.
Stepping into the dimly lit, relaxed atmosphere, you'll find professional artists and novices alike. The jam is open to musicians playing all kinds of music including jazz, funk, rock, R&B, blues and reggae. And there are instruments available for anyone who wants to join in. The result is a natural community, allowing people to come together and create new sounds.
On a recent Tuesday night, drums, bass and guitar held down a '70s-style jazz instrumental groove as a flute player took a soothing solo.
That was followed by an impromptu blues jam as a gravely voice singer took the microphone. Everyone in the room was feeling the music and a couple ran out to spin around on the dance floor.
"It's kind of evolved over the years," said local bass player and Point Richmond fixture Vincent Stephens, who helps organize the Tuesday night jam sessions. A military veteran and graphic artist, Stephens can be heard playing with various bands at venues like the Point San Pablo Yacht Club, Maple Hall Community Center and The Baltic.
"Now it's come back around to the original spirit of what it's all about, which is just people getting together and doing this creative thing musically. No boundaries. Wherever it goes is where it's gonna go," Stephens said.
The Baltic is one of a few venues in Richmond where people can hear live music. In addition to the Tuesday night jams, it hosts bands on most weekends, karaoke on Thursday nights, and occasional DJs.
Stephens says he and other local musicians are appreciative for the space that The Baltic management offers.
"How many places can you come where you can actually make something happen? They let us play. Here in Point Richmond of all places."
He says he wants to see more musicians and music lovers come out and enjoy the experience at what he calls Richmond's "undiscovered gem."
"We don't care where you come from or what kind of thing your doing," he said. "If you're bringing something to the table, let's just take it and run with it."