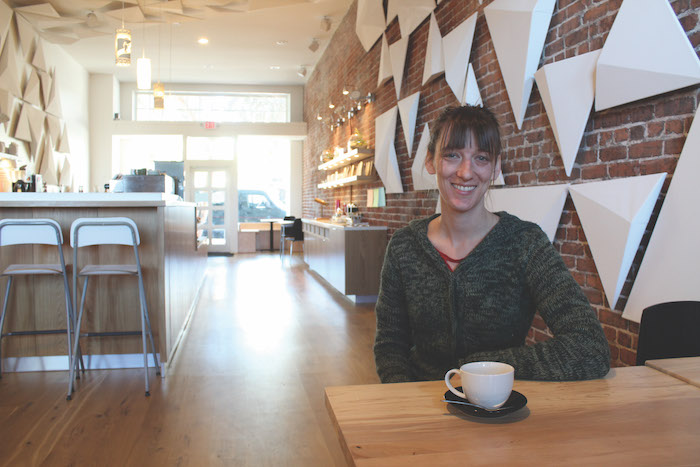 10 Dec

Coffee Meets Storytelling at New Café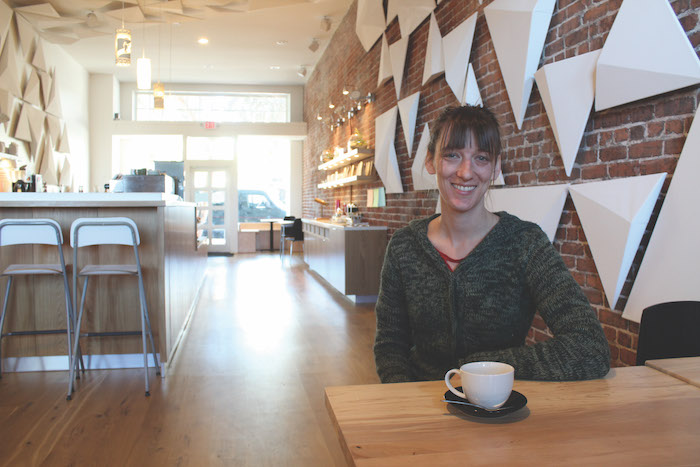 By Chanelle Ignant
Cassie Cushing discovered her love for storytelling four years ago. She was a barista in Arizona at the time, and was learning how to roast her own coffee. A recommendation from friends inspired her to try something new – a storytelling class at a local community college.
"I just fell in love with the way the stories come alive," says Cushing, 30. "Taking stories off the page and telling them aloud was richer, deeper, more engaging than I had ever imagined," she says.
So when her dream to open a coffee shop became a reality in 2015, there was no question that her love for coffee roasting and storytelling would intersect.
Kaleidoscope Coffee, which held its grand opening on December 5, celebrates both of Cushing's passions, and offers a space for others to do the same.
Nestled in the heart of Point Richmond's historic downtown, the spacious, brick-lined café is alive with stories. From its wall décor to its Wi-Fi password (it's literally onceuponatime), patrons can pick a book off its free hanging bookshelves and read under a lampshade decorated with fairytale scenes.
The space is inviting, almost as if you could spend your entire day there. Which is exactly what Cushing wants.
"I wanted to create a place where people could hang out all day. We'll never say, 'Oh, you've been in here too long,'" says Cushing.
She decided to open her shop in Point Richmond because, she says, "It's got a great sense of community. It's all about small business and supporting artists."
Cushing says Kaleidoscope, which is in the former home of Hidden City Café, fills a void in the neighborhood. Starbucks and other eateries are nearby, but Kaleidoscope provides an alternative space that spotlights performers.
"It's a blend of really good coffee and storytelling, and I would say that's what really is going to set Kaleidoscope apart from other cafés."
At its core, Cushing envisions Kaleidoscope as a café and ice cream parlor by day and a performance venue by night.
She is developing a weekly schedule with one night dedicated to a storytelling open mic, one that is event-free with a study hall vibe, and the rest open to events.
As a performer, she says she understands how expensive venues can be for emerging artists, and she is willing to work with the small budgets.
Throughout November, the café was running a soft opening, experimenting with different hours, discovering how much to order of what. It's a creative process, Cushing says, the unfolding of Kaleidoscope's own story.
Part of that process is developing a product offering that will set her café apart.
The café serves Wrecking Ball Coffee and its own single origin medium roast.
It also carries high quality baked goods from local eateries Bocano, Quiche and Carry, and San Francisco's La Fleur de Lyon, as well as house made pastries. Tara's ice cream has a home in Kaleidoscope's front freezer. A small beer and wine selection is also available.
Toy figures placed on a shelf at the café's front counter also have become popular with kids.
"We put them here and kids started playing with them," said Cushing, who plans to paint scenes around the case, giving kids the opportunity to craft their own fairytales.
As for the name Kaleidoscope, she says it came to her in a random moment of discovery.
"I wanted something that tapped into this idea of savoring the moment and the importance of taking the time to cherish the small things. It's the sense of nostalgia and the sense of beauty."
It's that essence that Kaleidoscope Coffee hopes to capture in stories shared over a cup of coffee.
IF YOU GO: Kaleidoscope Coffee is located at 109 Park Place in Richmond.