20 Dec

Skateboarders, Punk Bands Show Off Their Tricks at 'Ramp Jam'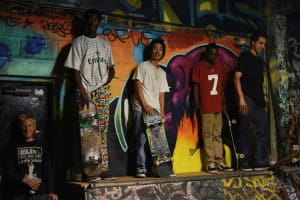 Photo Essay, David Meza
Richmond is slowly but surely opening up to a vibrant and positive nightlife. But you might have to go to an alternative venue to find it.
On a dark, dead-end street a few blocks away from Richmond BART is a music studio and a newly upgraded skateboarding ramp that may not be known to many Richmond residents. But on November 20, more than 60 people gathered here for live music and a high-energy skateboard trick competition. The "ramp jam" featured live performances from local punk bands Under 15 Seconds and Centurion.
The event was hosted by local skateboarder and music enthusiast Benny Abrea, along with Burnt Ramen Music Studio, both doing their part to create a safe place for people to express themselves.
The "ramp jam" was an opportunity for skaters to display their skills and learn from each other in the spirit of friendly competition.
"It was a great success and a lot of talent was on display," said Mykee Ramen, owner of Burnt Ramen.
"It's important to have events like this that engage the local culture and bring people together that otherwise wouldn't associate," he added.
Seven contestants were given the stage, or rather the ramp, and the chance to show off their best moves and tricks before an audience ranging in age from 14 to 60.
Skater Kyle "Milli" Militante stole the show, winning first place overall and best tricks. He and the second and third place winners were crowned with skating essentials like wheels and board stickers.
Mykee Ramen describes Burnt Ramen studios as "a social experiment of sorts, a place for free expression that creates opportunities for self discovery."
He says he used to consider the studio a blank canvas, but over the years that canvas has filled with "graffiti, memories, echoes of great music and spilled beer."