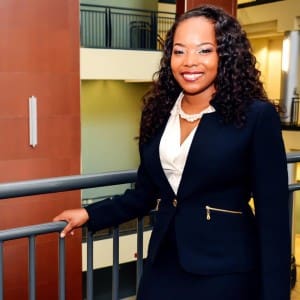 Interview • Joseph Marshall, Jr., Street Soldiers Radio
EDITOR'S NOTE: The following conversation took place on Street Soldiers Radio between Richmond's Te'Reisha Graves and the hosts of Street Soldiers Radio, Joseph Marshall Jr. and Deborah Estell, both of the Bay Area violence prevention program Alive & Free.
Marshall, co-founder of the original Omega Boys Club that is now known as Alive & Free, interviewed Graves about a significant milestone in her life: passing the California Bar Exam and becoming a licensed lawyer. She currently works as a legal research attorney for the Superior Court of San Francisco.
Joseph Marshall: Te'Reisha, please tell everybody about the text that Lady Estell and I received from you yesterday.
Te'Reisha Graves: Well, I passed the California Bar Exam and I am now an attorney.
JM: Congratulations! And we'll fill in the back-story, because it's more meaningful when you hear the road you traveled to get there. You told me that about 46 percent of people pass the bar. Is that passing the bar the first time?
TG: That's the overall pass rate in California. It's one of the lowest in country.
JM: So this isn't 46 percent passing the first time, this is 46 percent passing at any given time. And you passed the first time around, which I think is remarkable. How did you feel when you saw your name on that list?
TG: I cried. It's funny because everyone was sitting around and I logged in and I just instantly started crying. And they didn't know if it was happy or sad tears.
JM: This is so significant, the latest wonderful thing that has happened to you since you and I and Lady Estell met.
TG: When I first came to the [Omega Boys Club], I was kind of lost. I knew I wanted to go to law school, but so much had happened in life that I just knew I needed something more. I needed some help. I was introduced to the club by [youth activist] Khalid Elahi, and he said they'd help me — because I didn't have any money to go to law school, and I didn't know how to make that happen.
So I showed up at Omega every Tuesday and Thursday night and participated in all the activities at the club. Then I was told that you wouldn't be of help to me, that I didn't qualify for a scholarship because I already had a bachelor's degree.
JM: That's right, we don't do graduate students.
Deborah Estell: Let me just say that when Te'Reisha first came in with an undergraduate degree, she was already skilled, intelligent, focused… just a lot of skills. But she kept coming. I say "but" because a lot of young people who already have their degrees feel like they already know pretty much everything. But she kept coming, and she did everything we asked her to do. She did the assignments, turned in her project, and it was exemplary. She didn't have to do that. She didn't qualify for a scholarship, because she already had her undergraduate degree, but anything we set her up for she did it. No backtalk, no attitude — she just did it.
And then I said: This is just not okay for me. You can't do everything and be more than outstanding, all for nothing. So we had a conversation with the scholarship committee, and said, "We've got to do something." And they did.
JM: One thing she always did was handle her business, which makes it easy to do for someone who takes care of business. People are willing to work hard for you when you do for yourself. So you left the Bay Area and went to Florida A&M Law School.
DE: She would send me text messages to keep me updated. The first assignment she wrote she got an "A". She would send me copies of the papers that she wrote. She won awards and kept putting herself out there. She's been recognized for her excellent work, but this is what touched my heart — she said, "Ms. Estell, you told me to always be exceptional, and that stayed with me."
TG: I wanted to finish in the top 10 percent of my class, to make the Dean's list and get on Law Review.
JM: And where did you finish?
TG: Top 5 percent, magna cum laude, on the Dean's list. And I made Law Review.
DE: So then she went on her job interview.
TG: When I came back for the Kwanzaa celebration and had a conversation with [Alive & Free board member] Don Strand, I told him I didn't have a job. I was freaking out because I was about to graduate. He connected me with a couple of people and a job came up. I applied and I got an interview. I think they had about 200 people applying. They chose 26 people to interview and were only going to hire five people.
The interview ended up being the day before the bar exam prep [classes] started. So I flew out from Florida to San Francisco for the interview, and one of the questions they asked was what set me apart from the other applicants, and why should they hire me. And I said, "Because I am exceptional and I don't let my circumstances dictate my behavior."
JM: Now, that's something that we taught you. One of our wise sayings from the elder Coach Wilbur Jiggets that we've been teaching. We tell young people to make it a part of their mindset, their lifestyle, their psyche. So that it's almost natural. I'm sure it was the clincher.
TG: I could tell from their faces they were impressed.
JM: There have been some tough times for you in the past. You were involved with the wrong guys, in abusive relationships, the sort of thing that hurt your self-esteem and your belief in yourself. That was one of the things that we helped you out with at the club. Cutting folks loose, letting all that go, so that you could soar. You followed our prescription to a tee. To see you four years ago, to where you are now, is just amazing. You are wonderful example of "alive and free."
TG: I'm thankful that God didn't leave me, and carried me throughout this journey. I'm also thankful for my friends and family, and all the support from the community that I'm getting right now.