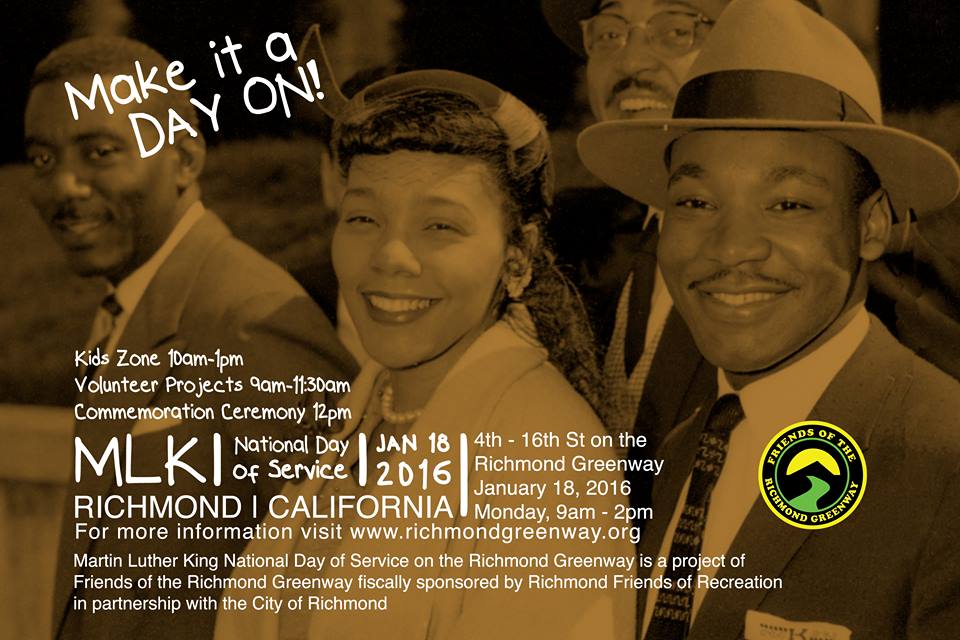 31 Dec

Local Happenings: January 2016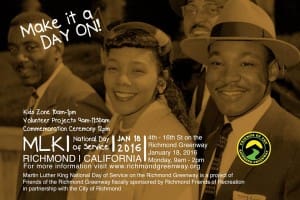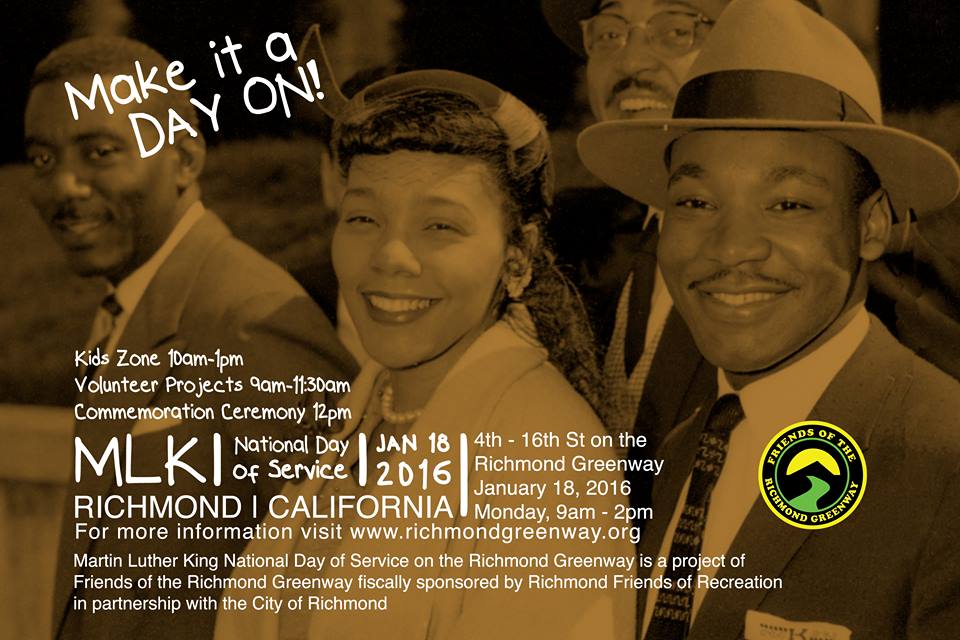 Getting Ready for Winter Storms
Richmond is taking steps to help residents prepare for this winter's expected heavy rains by offering free sandbags.
Residents are urged to clean gutters, downspouts, storm drains and ditches and also stock up on sandbags if needed. Richmond residents can access sand and shovels to fill their own sandbags at two locations: Richmond Fire Station #64, Carlson Boulevard and Bay View Avenue and the City Corporation Yard, Harbor Way and Ohio Avenue.
Delivery service is available for residents with disabilities by calling 510-231-3011.
Contra Costa County has opened a self-service sandbag pick-up site at the West County Detention Facility, 5555 Giant Highway, on the south side of the parking lot. Sandbags are available 24 hours a day, 7 days a week. Gloves and a shovel are needed to fill the sandbags.
For more information on flood preparedness, visit: http://www.contracosta.ca.gov/5906/Flood-Preparedness.
Christmas Tree Disposal
Now that the holiday season is over, Richmond residents have several options to dispose of their Christmas trees.
For allocated on-call curbside clean-up, call Republic Services Customer Service at 510-262-7100 to arrange for no-cost pick-up. Unscheduled pickups are subject to a $16 service fee. Unflocked natural trees can also be cut to fit in the yard waste cart. Trees must be six feet or less in diameter and cut to three feet in length and free of all decorations. Artificial trees should be put into the trash bin.
With proof of residency, RSS customers can take Christmas trees to Golden Bear Transfer, 1 Parr Blvd., from 7 a.m. – 5 p.m. Monday- Friday and 9 a.m. – 5 p.m. Saturday and Sunday through the first weekend in February at no cost for compostable trees. For non-compostable trees, the disposal fee is $8.50 and no proof of residency is needed.
For Richmond Hosts Annual Dinner
The Chevron-supported non-profit organization For Richmond will sponsor its annual community reception and dinner at 5:30 p.m. Thursday, January 14 at Lovonya DeJean Middle School, 3400 Macdonald Ave.
While the event is free, registration is required.
To RSVP, contact Kyra Worthy at 510-260-0290 or kyra@4richmond.org.
MLK Day Of Service on the Richmond Greenway
Richmond will honor Martin Luther King Jr. with a national day of service from 9 a.m. – 2 p.m. Monday, Jan. 18 on the Richmond Greenway.
The event will feature volunteer projects from 9 a.m. – 11:30 a.m., a kids' zone from 10 a.m. – 1 p.m. and a commemoration ceremony at noon.
For more information, visit www.richmondgreenway.org.
MLK Parade — Keeping the Dream Alive: Black Lives Matter
The City of El Cerrito, St. Peter Christian Methodist Episcopal Church, the El Cerrito NAACP Branch and the West Contra Costa County Unified School District will sponsor the 26th annual El Cerrito Martin Luther King Jr. Day Celebration on Monday, January 18.
The theme for this year's event is: "Keeping the Dream Alive: Black Lives Matter." The parade will start around 9:30 a.m. in front of City Hall, 10890 San Pablo Ave. Participants may park in the El Cerrito DMV parking lot at 6400 Manila Ave.
Led by the El Cerrito High School Marching Band, the parade will proceed down San Pablo Avenue, up Moeser Lane to Ashbury Avenue and arrive at El Cerrito High School.
Following the parade, there will be a celebration at the El Cerrito High School Performing Arts Center, 540 Ashbury Ave. The event will include entertainment, music, dance, singing and family fun. The Master of Ceremonies will be Assemblymember Tony Thurmond.
For more information, or to get involved, call Patricia Durham, event coordinator, at 510-234-2518.