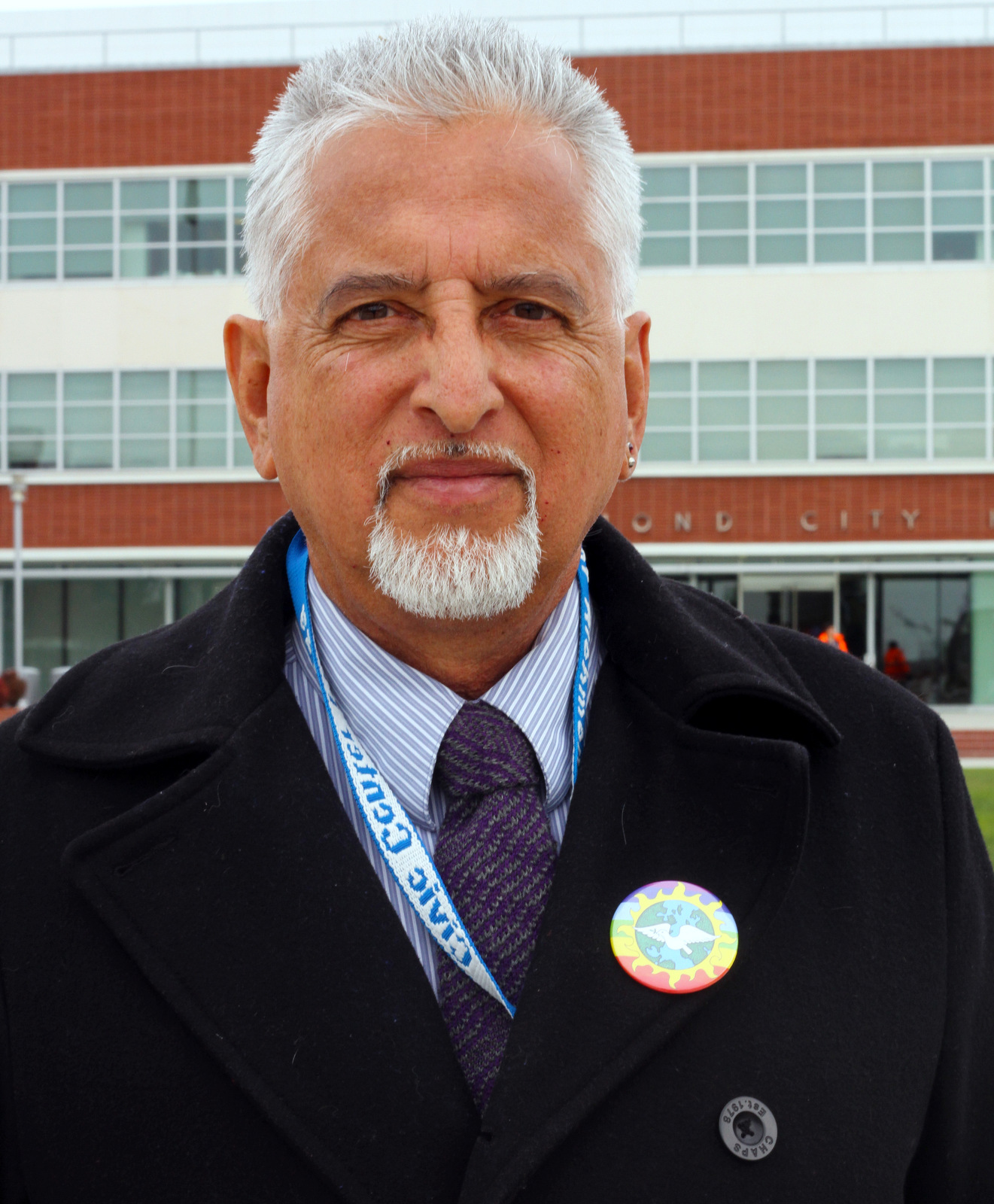 14 Jan

Eduardo Martinez: My First Year on Richmond's City Council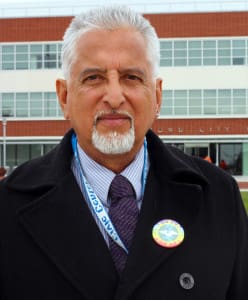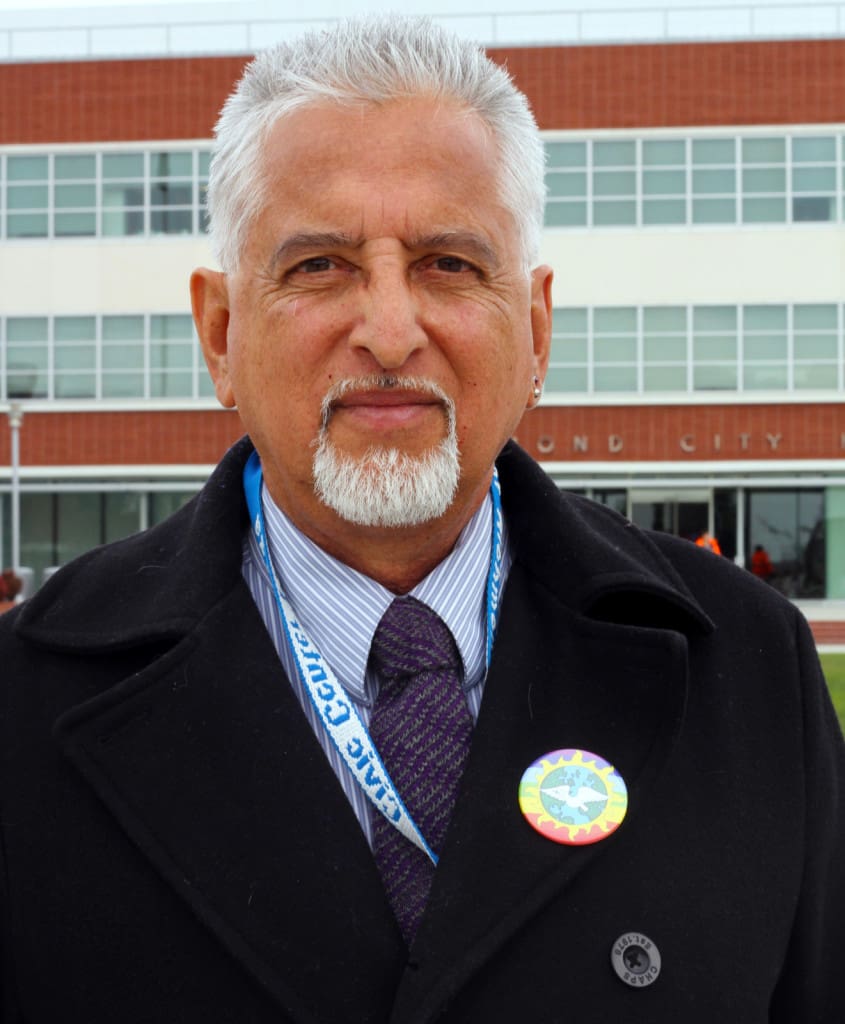 By Edgardo Cervano-Soto
2016 marks Eduardo Martinez's first year as a Richmond City Councilmember. The retired educator and community activist was elected in 2015 in a historic election in which the Richmond Progressive Alliance (RPA) defeated a $3 million dollar Chevron-backed campaign for opposition candidates, and in the process, claimed three of the seven seats on the council.
Martinez, 66, was born in Dumas, Texas and moved to the Bay Area in the 1970s. After living in Oakland, he and his wife moved to Richmond to find a home.
On the walls of his office, he has tacked the customary Richmond items: a Richmond map detailing neighborhood districts, photographs of Richmond community leaders and business owners, and a stack of business cards emblazoned with the City of Pride and Purpose emblem. But there are other items too: a Diego Rivera painting hung high above other picture frames, a cacti garden thriving by the window sill, and a bicycle with night safety straps hanging from its frame parked near the printer. He points to a City Council portrait in the council wing. "This is my first picture," he says. In the portrait he stands at the end, almost too close to the picture's cut off. He smiles with satisfaction.
To an outsider, Martinez might seem like the newest member of the RPA leadership. Yet in reality, Martinez has defined a quiet and steady history of activism for himself. An 18-year educator, Martinez began his career teaching in juvenile halls and community day schools for youth on truancy probation. He transferred into the West Contra Costa Unified School district in 1994, but was laid off temporarily following the district's bankruptcy. He was hired again the next year, teaching at Downer Elementary and capped his teaching career at Sheldon Elementary in 2010.
Being a teacher exposed him to the struggles faced by his students, the majority from low-income, native Spanish-speaking families. He also noticed the substandard service the district provided Downer students. Martinez wondered how students could learn under such pressures.
"In my classroom, when it rained, hallways got flooded with sewer water. I had to put towels down on the doorway. There were no water fountains and windows were boarded over, all during the time when the district named El Cerrito High School as their crown jewel," says Martinez.
In January 2004, the school board voted to slash Downer's $28 million renovation budget to $3.6 million, while El Cerrito High School received $97 million for reconstruction. The "re-phasing," as the school board clarified, occurred despite a $450 million bond construction program.
The school board's rejection of more funding for Downer inspired the 2004 "March 4 Education" campaign, when teachers, students and parents marched 70 miles to Sacramento to protest for school board transparency and improved facility conditions. Martinez was one of them.
"That experience helped me realize that my scope of influence shouldn't only be the school environment, but it should be the community," said Martinez.
After retiring in 2010, Martinez considered running for school board. However, the Richmond Progressive Alliance leadership, which had supported the "March 4 Education" campaign, had another position in mind: City Council.
"They had to convince me that I would be more effective as a council member than as a school board member. They reminded me that there's lots of opportunities for collaboration between the school and city," remembers Martinez. "Their arguments were pretty good, good enough to change my mind."
Eduardo Martinez recently sat down with Richmond Pulse to reflect on 2015, his first year on Richmond's City Council.
RP: What was one of your biggest accomplishments in your first year on the City Council?
EM: A major accomplishment was the budget, and pushing to make the budget more transparent. Before, City Council trusted the city manager to make sure everything was running well and they would sign off. But, the budget is a living document. It is a plan on how we are going to spend our money — but not necessarily how the money is spent.
RP: What was your biggest disappointment?
A major disappointment was the realtors' association getting enough signatures to put rent control on the ballot. I find it will be a negative to everyone — even for them. I think Richmond has enough renters who are interested in rent control that the ballot initiative will pass. But by putting it on the ballot, we are basically freezing it. Meaning that whatever is voted on can only be changed by voters. If we had been able to keep it as an ordinance, the City Council could have changed it to improve it as we saw fit.
RP: What other challenges have you faced?
A lot of things are a double-edged sword. Specifically, I am talking about developments. Since I have been here, we have approved the Bottoms Project, which is a housing complex in the Point Richmond area. We are also working toward the Terminal 1 Project which may or may not happen. But if it happens it means $9 to $10 million, one-time money, for the City of Richmond.
They are two separate housing projects. Personally, I would not like either one of them because I think Point Richmond should be nature and wildlife. It should be like a park area that attracts people. But this is where the problem comes in: Is the economic development of Richmond more important than the preservation of land?
It should be developed that way but that's not what is happening. In terms of city planning, we need to restrict building on the outskirts of town, so we force developers to focus on the inside of Richmond. And you have to face it — there is no downtown in Richmond.
RP: What issues have the potential to shape up the city of Richmond in 2016?
EM: I think that there are a lot of major political issues that are bigger than the city that we need to focus on. One of them is pollution, sea level rise, transport of dangerous substances through the city via railroad tracks. These are potential dangers we need to act on. We also need to work on coordination with other regional cities in developing policies.
I think the police commission needs to take on more of a proactive stance on complaints against the police department. It needs to become more independent. By giving the police commission permission to be more transparent and visible, I think the community will feel even better about the police department.
RP: What is your vision for Richmond in 2016 and how can it be accomplished?
EM: When I was elected, my major concerns were social concerns. My vision of Richmond is to have economic nodes. I see Richmond being a city of small nodes, like Point Richmond, but each different, that reflect the flavor of the communities that they are in. Cutting and 23rd can become a viable community node. Cutting and Carlson can become another node. There are different pockets that can support the small business community.
I think Richmond has an image problem. When you compare what Richmond looks like to other cities in the Bay Area, you have to say it's not a very attractive city. We have some beautiful buildings but they are isolated. We haven't built commerce centers around the beautiful buildings we do have. I feel that our planning department has allowed run-of-the-mill, ordinary architecture to go up. I think we need to find architects who are interested in building creative architecture that people would like to see.
It's time for Richmond to start thinking of itself as an economic center, and a cultural center. Seventy percent of the expendable income from people that live a mile and a half on either side of MacDonald Avenue was spent outside of Richmond. We need to find a way to capture that money so it stays within the community. And we can do that by building commercial nodes that people will go to.
RP: You are Latino, a former community organizer, and a member of the RPA. How is the RPA reacting to a growing Latino voting bloc?
EM: The RPA put out La Voz Newspaper, because we felt the Latino community has a lot of needs that aren't being met and we hope to empower them so they can develop their voice to demand what is theirs. I think the RPA has always reached out to Latinos, African Americans, Asians, and to young people. Being majority older and white, they didn't know how to do it in a way that would engage these groups. We have finally found a way to reach out and engage. Hopefully by voting in young people and people of color, we will be able to change the face of the RPA so that more people of these different groups feel more welcome. I think it's going to happen.