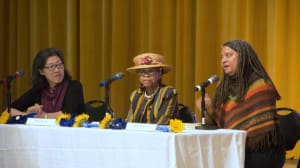 By Nancy DeVille | Photos, Mitzi Perez
It was a day to celebrate sisterhood and the women who work to make Richmond a better place.
Women of all ages and ethnicities gathered at the Richmond Memorial Auditorium for the 9th annual Sisters In Solidarity event, highlighting speakers who encouraged women to continue their community service, along with plenty of opportunities for networking.
"I've been coming for years and I just love it," said Florence Davis, a Richmond resident who also works at Community Violence Solutions, an organization providing support for victims of sexual assault and family violence. "It's inspiring to see all the women here, and it energizes me to continue to do my work. There are so many women in Richmond that are doing things that are positive and making this a better place to live."
Twenty-nine local organizations participated in the event, gathered at tables with brochures to advertise their services and resources with attendees. For Jessica Lettween of Bay Area Oxfam Action Corps, the event represented an opportunity to showcase her nonprofit to a broader audience.
"The network is really important because mostly all the organizations here are nonprofits, and we work with less and less, but together we can achieve so much more," she said. "This is so empowering for women and girls. Empowering women goes a long way to solving the problems in our community. I'm very impressed with the diversity."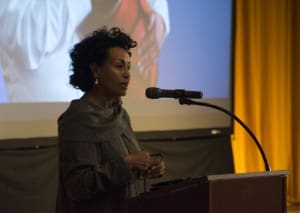 Menbere Aklilu, the Ethiopian-born owner of Salute E Vita Ristorante in Richmond's Marina Bay, shared her emotional story — from the childhood agony of seeing her mother murdered to surviving an abusive relationship and later struggling as a single mother.
Fast-forward to 1995, Aklilu arrived in the Bay Area from Rome, started working as a hostess at Salute E Vita and eventually received a promotion to manager. When the chance came to purchase the restaurant in 2002, she took the leap. She now makes an effort to give back to the community every year by offering thousands of homeless a sit-down dinner on Thanksgiving.
"We women give life, and we can't fail," Aklilu said. "I've been through a lot, but it doesn't matter where you come from, it's where you are going. I didn't give up, because I had a dream. I'm proud to be a woman and I'm proud to live here in Richmond."
The event, launched in 2008 by Mayor Gayle McLaughlin, coincides with International Women's Day, which commemorates the protest of March 8, 1908, when hundreds of women marched through New York City's Lower East Side to demand shorter hours, better pay and the right to vote.
"I really hope people come to this event and get inspired to reach out to help other women," said Trina Jackson, chair of the event's planning committee. "We want women to celebrate being a woman and those in their life that are working to improve Richmond."