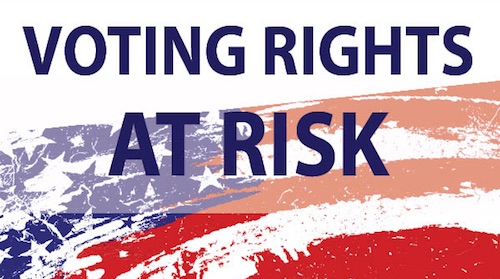 16 May

State by State, Communities Push Back Against Voter Restrictions

Amid the fear and confusion around voter suppression, voting rights advocates are sounding a message of hope and determination.

This is the first presidential election in which new voting restrictions will be in effect in 15 states. The restrictions have been easier to pass – and harder to track – as a result of a 2013 U.S. Supreme Court ruling that limited portions of the 1965 Voting Rights Act.

Despite this, voting rights advocates say work is happening in states across the country to ensure eligible voters can register and cast their ballot.

"People who are qualified citizens [who] should be allowed to vote are being denied the ability to vote and their votes are not being counted," explained Anita Earls, executive director of the Southern Coalition for Social Justice, a North Carolina-based non-profit.

"But if voters do have issues, there are advocates ready to try and help them vote, even on Election Day," Earls said Thursday on a national telebriefing hosted by New America Media.

Earls pointed to a national hotline where "there is a network of volunteer attorneys throughout the country" available to help people who have been turned away from polling stations or are confused about new voting regulations. The hotline is available in English and Spanish.

She also noted that every state has online resources available detailing voter requirements. For example, the website nonprofitvote.org, provides state-specific and non-partisan voter information.

In areas where there is a significant population of non-English speaking residents, federal law requires states to provide language appropriate translations, Earls said.

There are currently 22 states that have some form of voter restriction in place, whether it be requiring photo IDs, cutting back on early voting or registration restrictions. Although it is difficult to measure their impact on overall turnout, these restrictions have had a pronounced impact on young, first-time and minority voters, as well as low-income voters and the elderly.

In 15 of these states, this year's presidential election will be the first where such laws go into effect. People of color comprise 31 percent of the 2016 electorate, meaning these laws could have a significant impact on election results.

In 2013, the Supreme Court ruling abolished Section 5 of the Voting Rights Act, which required that states with a history of racial discrimination toward minority voters gain approval from the federal government prior to enacting changes to local election laws.

"It is very difficult work," to track changes to local election laws, said Judith Browne Dianis, co-director of the national civil rights organization Advancement Project. She explained that while there were fewer pieces of restrictive legislation passed the previous year, local moves by election administrations continue to create barriers for would-be voters.

"Section 5… was our check on things. Now we don't have a check. We have to go out and find out on our own, and unfortunately you may not find out until Election Day."

But a look at the way these laws have played out in primary elections across the country provides an important indicator of what's to come in November.

In Maricopa County, Arizona, residents waited in lines of up to five hours after election officials reduced polling places by 70 percent.

In Florida, "massive changes in precinct locations" left many voters unsure of where to cast their ballots.

In Macon-Bibb County, Georgia, officials opted to locate a polling station at the sheriff's office, which Dianis said was an "intimidating factor" in keeping the predominantly African-American electorate from voting.

But Dianis stressed that in each of these areas, groups are working to either counter such changes or blunt their impact.

In Arizona, for example, local advocacy groups including Promise Arizona and One Arizona are banding together to create checks on election administration decisions. In Macon-Bibb, residents joined with the NAACP and New Georgia Project to press the county to relocate the polling station.

Meanwhile, in some states, organizing efforts have been successful at expanding voting rights.

For example, in Virginia, voting rights efforts helped push that state to restore voting rights to those with felony convictions on their record.

Dianis called the move a "huge victory," affecting over 200,000 people in the state, many of them African American. "This didn't happen on its own," she said. "Communities of color got together to push for this."

The task now in Virginia, she said, is to ensure that those who were formerly incarcerated and are newly eligible to vote actually know they are eligible and that they get register to vote.

Nationwide, there are "5.8 million people disenfranchised because of criminal convictions," according to Dale Ho, director of the Voting Rights Project with the American Civil Liberties Union. In terms of population, he said, they would "be the 20th largest state in the country…with 10 votes in the electoral college."

Ho also noted the "tremendous racial disparities" within this population, saying one in 13 voting-age African-American men is not eligible to vote because of a criminal conviction.

There are currently three states that have permanently disenfranchised people with felony convictions – Kentucky, Florida and Iowa. Two states – Maine and Vermont – allow people to vote even while incarcerated. "All other states fall somewhere in between," said Ho, who said that the "restoration of voting rights is critical to the reintegration" into society of the formerly incarcerated.

Ho called the loss of Section 5 a "tremendous blow" and said it came just as voter participation and engagement among people of color was "surging."

But there is also "a lot of good news" when it comes to voting rights, he said.

He pointed to efforts now underway in Congress to revitalize the Voting Rights Act, and said that in several states, including California, laws have been passed to automatically register voters. "The onus to register should be on the state, not on the citizen," he said.

Meanwhile, the rhetoric now heard on the campaign trail suggests a continued push to disenfranchise voters, said Dianis.

"We're seeing some wins, but we should look over the next few months," she said. "We will find a fight around the right to vote."

This telebriefing is part of a multi-state reporting fellowship for ethnic media aimed at informing communities about new and existing voter restriction laws. The project is supported by a grant from The Neo Fund.