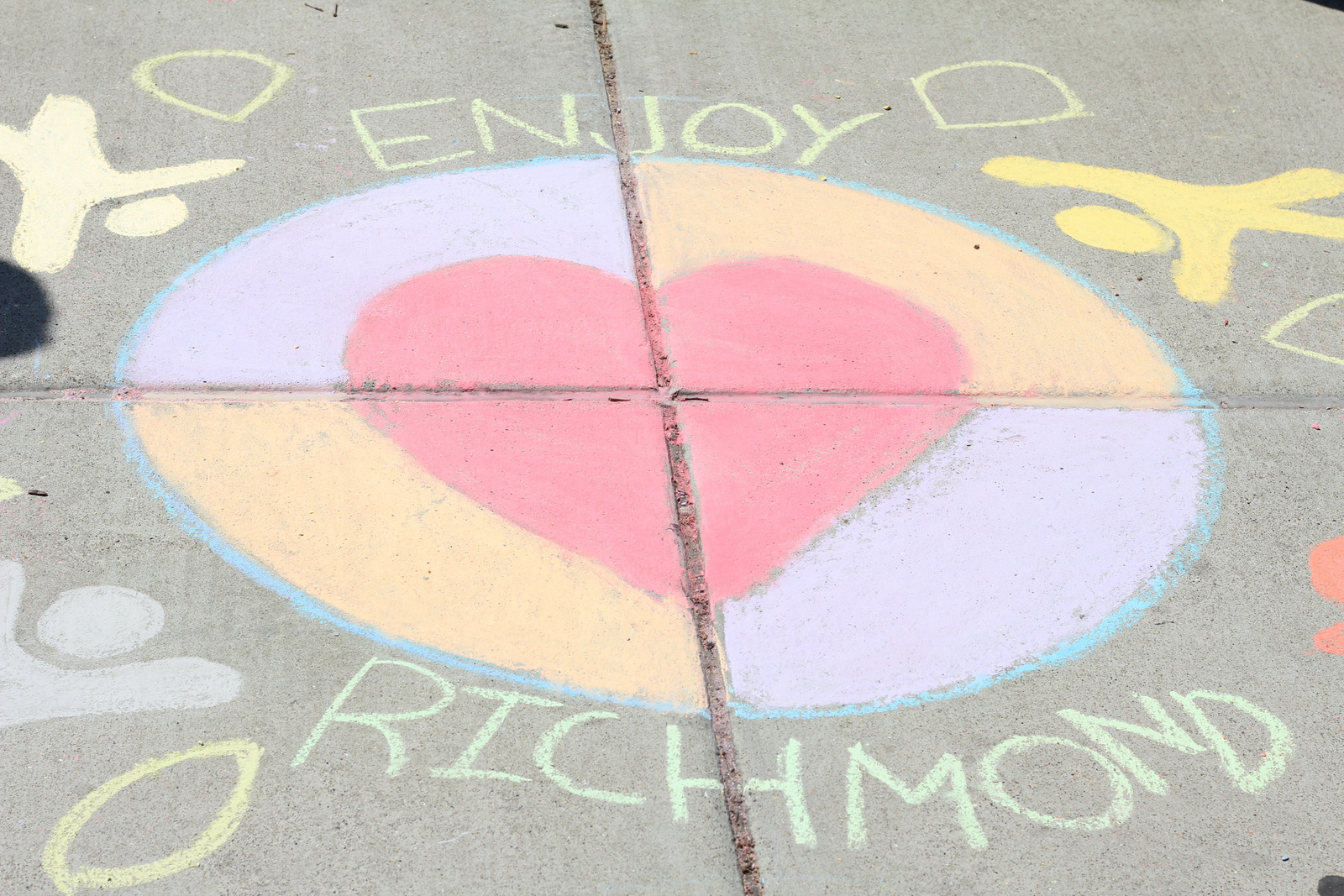 17 May

Downtown Chalk Art: Students Draw Dreams of Richmond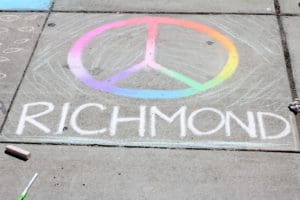 By Malcolm Marshall
The sidewalks of downtown Richmond served as the canvas. About 100 students from Making Waves Academy filled the two-block span of Macdonald Avenue between Harbour Way and 12th Street with colorful, temporary chalk artwork of what Richmond means to them.
Rennee Burnett, 16, helped draw a beautiful hand holding the earth, with a heart and a bird, to express "that our community should be together, not the way it is now."
She said one thing she would change in Richmond is for youth "to be able go outside without being scared."
"The concepts are based on the positive things they see in Richmond and what they want other people to see about Richmond," explained Alicia Gallo of Richmond Main Street.
"I think what's special is that we are utilizing public space to create art works and at the same time engaging the youth and providing an enriching activity for them," she said.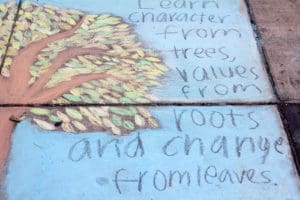 "Students came up with the ideas on their own," said ToShawne Williams of Service Works, a national volunteer service program who partnered with Making Waves on the project.
Hosted by Richmond Main Street, the Downtown Chalk Art day-of-service activity, held on May 12, was the final installment of Richmond Main Street's Love Your Block mini-grant project aimed to beautify downtown Richmond.
Melissa Garibay, 18, said Making Waves students decided they should have a community service day. Garibay said she loves helping people in her community and often volunteers here time at school.
"I feel like it gives me a purpose and impacts the community and creates change," said Garibay, who helped create a multi-colored peace sign over the word "Richmond" on the sidewalk.
"As a community, we should all live in peace and there shouldn't be any more violence," she said.
"This is a really good community project because we're all building better relationships with each other," added Beatrice Cardenas, 16,
The chalk art project was one of the day's three service activities for Making Waves students in Richmond. Students also volunteered at Nevin Community Center and Happy Lot Farm and Garden.