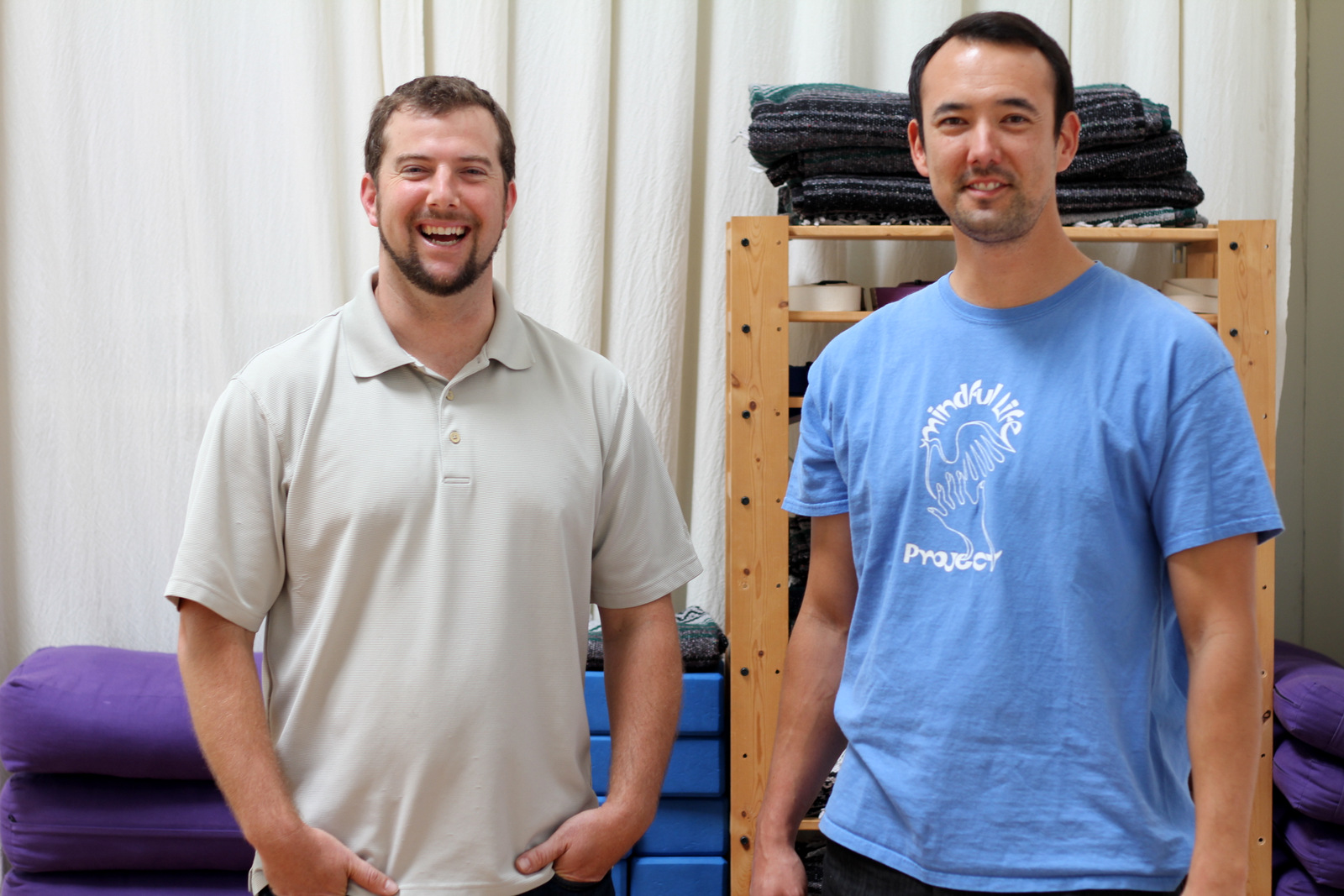 17 May

Richmond Yoga Studio Benefits Kids' Program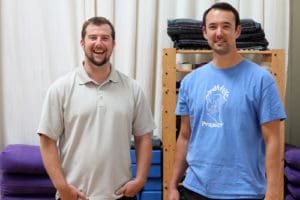 Above: JG Larochette and Jason Young of Mindful Life Yoga 
By Chanelle Ignant
When JG Larochette, then a teacher at Coronado Elementary School, introduced his third grade class to yoga, he had no idea that it was the first step toward starting a non-profit centered on wellness.
He had recently discovered the impact of yoga on stress and anxiety in his own life and wanted to introduce wellness practices into his classroom.
"It was the only skillset I had around the time that was around alternative wellness," says the former college baseball player.
"Yoga helped me get deeper into the connection between the mind and body. It reduced stress and cleared my mind in ways I had never experienced," he explained.
Out of that yoga experiment, Larochette founded the Mindful Life Project in 2012, a non-profit dedicated to spreading mindfulness techniques to youth throughout the Bay Area.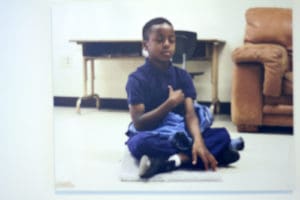 Mindfulness, which has its roots in Buddhist meditation, is the practice of paying attention to the present moment and observing thoughts and feelings without judging them as good or bad.
"I just saw this huge need in our community to really bring about social change and transformative change specifically around wellness," said Larochette.
The non-profit now serves 8,000 students weekly in 18 schools around the Bay Area. Twelve of those schools are in Richmond. Its mission is to lead students through techniques of mindfulness, yoga and expressive arts in the school setting, as a way to help foster their self awareness and self confidence.
"The main impact is that it's getting our young people to get to their true, authentic self, and be able to understand how to navigate challenging experiences, emotions, violence… to be able to find health and wellness, and be empowered by it," said Larochette.
Larochette, who was first introduced to Richmond through his work for non-profit Sports 4 Kids at Coronado Elementary, sees mindfulness as healthy both for the individual and the community.
"When I talk about mindfulness, it's really like this innate capacity that we all are born with, which is resilience and greatness."
He says he discovered mindfulness through his own personal experience.
"I was always like the go-go-go kind of guy, and I thought the more I gave of myself, the more I would be gratified and satisfied," said Larochette. "What happened was, I burnt myself out, so much giving, but wasn't really filling my own tank up. I wasn't taking care of my mind, body and heart. And so I hit a huge wall."
With the success of Mindful Life Project, Larochette was able to share his newly found wisdom with local young people.
That's when he saw an even greater need in Richmond: a yoga studio. In 2013 he opened Mindful Life Yoga in the Marina Bay neighborhood of Richmond.
All proceeds from the studio go to the non-profit.
When asked why he thinks there are no other yoga studios in Richmond, he says there are several factors.
"It's a mixture of awareness, accessibility, opportunity and breaking down some of these stigmas and walls that exist around yoga or mindfulness. If you look across the U.S., it becomes capitalistic and materialistic. You don't see people of color on Yoga Journal that much."
Accessibility is what he strives for.
"We thought, Why not try to build something that can hopefully reach communities that haven't had much access to yoga and wellness in that way and at the same time, create a fundraising stream [for the non-profit]?"
Larochette says the studio has yoga classes three times a day, with a donation-based class on Sundays. They also do mindfulness workshops for young people, adults and teachers.
Genevieve McClendon, who teaches yoga at the studio, says some of her classes are for newcomers.
"I feel like this place allows people who maybe wouldn't necessarily do yoga to feel like it's something they could do because it's a comfortable space to practice and be," says McClendon.
"We try to make it as affordable as possible — we're cheaper than pretty much every yoga studio in the East Bay — while the money that goes to classes goes to the kids. So we really believe that Mindful Life Yoga's a special place where mind plus body plus community is joined, and it's a place where everyone feels welcome."
If You Go: Mindful Life Yoga is located at 845 Marina Bay Pkwy #4 in Richmond. For more information or to sign up for a class, visit mindfullifeyoga.org.