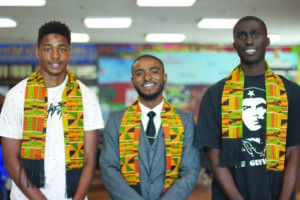 Above: Richmond High sophomore Kahlil Spain (left), Demnlus Johnson of For Richmond (center) and graduating senior Emmanuel Adarkwah (right) at the school's first ever Black Graduation.
By Nancy DeViile
Richmond High School held its first-ever Black Graduation ceremony on May 21, honoring African-American students' academic achievements and cultural heritage.
The event, organized by Richmond High School's Black Student Union, also included African-American students from Helms Middle School and De Anza High School. The ceremony's theme was "Our Grads Matter."
As the graduation began, the audience of about 100 people belted out verses of "Lift Every Voice and Sing," the black "national anthem." The ceremony included soulful music and speeches from Richmond Councilwoman Jovanka Beckles and Wendell Greer, associate superintendent for West Contra Costa Unified School District.
"Despite any challenges that you may face, always know that you have greatness inside of you," Beckles told the graduates.
"You are on this stage and you are graduating, which proves that what you have within you, no one can take away. You have the opportunity to turn around the injustices you are seeing in this world."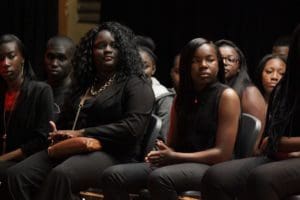 As the graduates' names were called, each received a Kente stole while parents and family members proudly cheered in the audience.
Event organizers said the ceremony was not an attempt to replace the school's traditional commencement exercise on June 9 or separate from other ethnicities. Rather, they said, the special graduation offered an opportunity for African-American students to participate in a ceremony that had a strong cultural emphasis.
Similar graduation ceremonies have been popular at Bay Area schools like UC Berkeley and Laney College for decades, and have since spread to area high schools. El Cerrito High held its first Black Graduation last year.
"There are only 13 black graduating seniors at Richmond High and we have a small presence," said Imani Irwin, president of the school's Black Student Union. She plans to attend UC Davis this fall to study biomedical engineering.
"I felt like the black students should be able to step out in their own light and show off what they want to show off," she said. "It feels pretty amazing because everyone had a good time and we were excited to be singled out for making it to the next level."
Richmond City Councilman Nat Bates was the event's commencement speaker.
Bates, the council's longest member, urged graduates to keep pursuing their education.
"You can never get enough education because every day something new comes out," he said. "As you pursue your advanced education, don't stop learning because it is the pathway to success in life."
Akita Anderson, whose daughter Aaliyah is graduating from Helms Middle School, said the ceremony was uplifting.
"It gives the students a chance to be together and see each other in a positive light, not anything negative," she said. "It was good to put the younger students with the older kids to show them if you keep doing good, you can go further."
Demnlus Johnson, a community worker at Richmond High and coordinator of Black Graduation, said he hopes to expand the event next year to include all of the high schools within the West County Costa School District.
"There's just not a lot of opportunities for us to celebrate our kids," Johnson said.
"Kids are literally getting shot in the street, but these graduates here make a conscious decision to not only go to class but to sit there and learn something so they can make it to this stage," he said.
"We wanted to take this opportunity to let them know that their hard work and dedication to academics has not gone unnoticed."