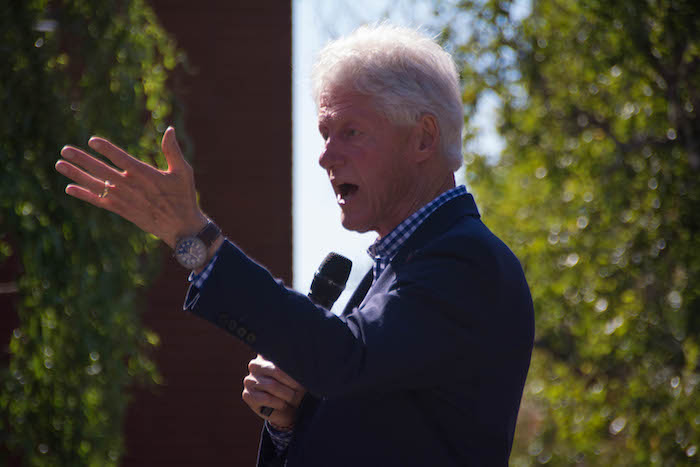 07 Jun

Bill Clinton Becomes First U.S. President to Visit Richmond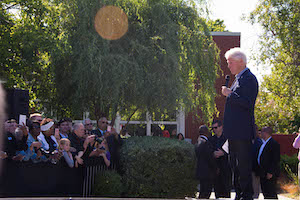 Story and photos by Mitzi Perez
Former President Bill Clinton visited Richmond the day before the primary election to campaign in support of his wife and possible Democratic presidential candidate Hillary Clinton.
Hundreds of people gathered at the Richmond Art Center on a sunny Monday afternoon to hear the 42nd president give his pitch to residents on why Hillary should be the Democratic nominee.
The excited crowd gave Clinton a warm reception as he spoke for close to 40 minutes.
As he began his remarks Clinton told the story of how Richmond Mayor Tom Butt's father assisted Hillary long ago in their shared home state of Arkansas.
"She wanted to start a legal aid program for all the hillbillies working who never had any access to the civil justice system, a lot of working poor people.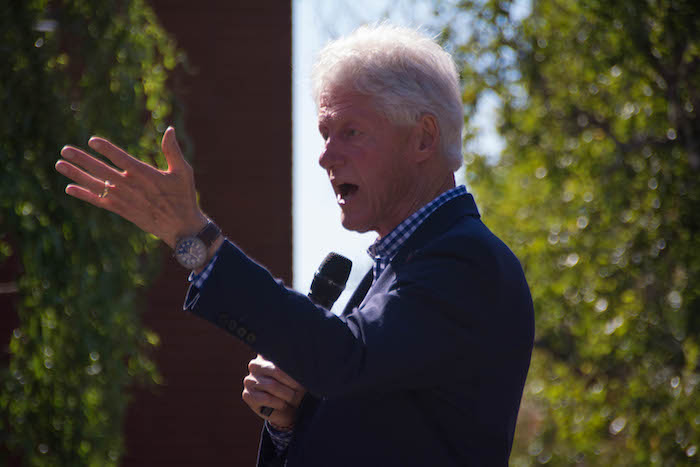 "She had to get Mayor Butt's father to approve the program. So he was responsible for giving her a chance to do it. And I really appreciate that," Clinton said to applause.
Clinton said Donald Trump's rhetoric was just a more crass version of a debate going on all over the world.
"All over the world, people are having the debate about how we're going to relate to each other going forward. There's an enormous amount of anger and rage and feeling that governments don't work for people anymore," he said.
He championed Hillary as the candidate that could get the best results.
"The only thing that will work is shared prosperity," he said. "You can't leave people behind."
Clinton went on to mention issues like equal pay, paid leave and affordable childcare, immigration reform and "closing the gap between unemployment for veterans and for the rest of us."
Throughout his speech, Clinton repeatedly spoke of building bridges instead of walls, referencing Trump's plan to build a wall along the U.S.-Mexico border.
"Should the bridges have security checks when we're worried about security? Of course they should. But they should still be bridges, " he said.
Clinton also praised California as a model for the world.
"What made California is what the world needs in the 21st century. It needs to be a place of constant becoming. A place where you're making future greatness every day," he said.
Clinton spoke about letting young people out of prison who, in his words, "have gotten sentences that were too long for crimes that aren't serious. We should give them a chance to begin again."
A member of the audience interrupted Clinton, calling him out for a piece of legislation he signed during his presidency. In 1994, Clinton signed into law a crime bill that included a "three-strikes" provision. It mandated life sentences for anyone convicted of a violent felony after two or more prior convictions, including drug crimes.
"How about the crime bill? How about all the money you imported to mass incarceration? Do you regret that? What about your role?" the audience member yelled.
Clinton responded, "The crime bill in 1994 came over from the House. It had stronger incarceration procedures than I originally asked for. They cover about 8 percent of total people in prison, over 90 percent are in state and local prison. Hillary's opponent in the primary voted for that bill. When we got to the Senate, the Senate included an assault weapons ban with an ammunition clip limit which has never before been included in the law."
It was just one of the three questions directed toward Clinton by audience members throughout the duration of his speech.
Several Hillary supporters were displeased with the questions directed to Clinton and made that very clear to the people asking the questions.
Clinton was able to limit the questions by requesting that the public respectfully let him finish.
The audience responded accordingly.
Meanwhile, several Bernie Sanders supporters outside the Art Center could be heard chanting "Bernie" throughout Clinton's speech.