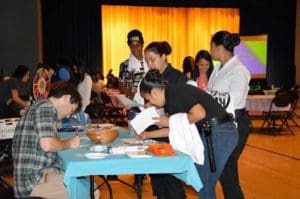 Richmond Pulse | Photos courtesy of the City of Richmond
About 80 people attended the inaugural West County Youth Summit on June 4 to get information about scholarship opportunities and resources in Richmond.
Trina Jackson, liaison to the Richmond City Council, said this summit was unique because it sought to connect directly with young people between ages 14 and 21.
"Some summits are centered around helping agencies get resources," said Jackson. "This was designed for the young people to get the resources. We tailored the event around them."
Resource tables lined the Richmond Memorial Auditorium, where youth were able to ask questions and learn about topics like youth activities, job training, mentorship and college enrollment.
"Wow, look at what we have here in our community," said Richmond Promise Scholarship executive director Jesse Stewart, looking around the room. Stewart used the event to help get the word out about her organization, which offers money for college for graduating high school seniors in Richmond.
The Richmond Youth Council helped organize the event. A planning committee made of young people chose the topics for the day's breakout sessions. These included human trafficking, domestic violence, youth homelessness, career preparedness, financial management and health and wellness.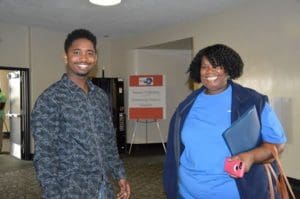 "It's really youth-led and youth-engaged, which is important because young people are the stakeholders – something that people often forget," said Joseph Jackson, chair of the Richmond Youth Council.
For Richmond resident and college student Anure McGee, 18, the summit was the first time she had heard about programs like the Richmond Promise Scholarship program.
"I've actually been working with youth just trying to change our community for the last few years and I've never been to a youth summit," said McGee, who works with the RYSE Center.
"I've learned a lot and been introduced to a lot of things that I didn't even know about. We need more people here to learn about these opportunities."
Jackson's hope was that each young person would take away a valuable piece of information when they left the summit — "Something that's useful to them," she said, "or that they can share with someone else."