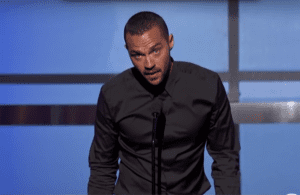 Commentary, Keisa Reynolds
Actor and activist Jesse Williams was honored with BET's Humanitarian Award at the awards ceremony on Sunday, June 26.
The awards show was kicked off with Beyoncé and Kendrick Lamar's performance of 'Freedom', the inspiring song from Beyoncé's latest album, Lemonade. There were not one but several Prince tributes to follow. As usual the evening was a celebration of black culture and black people's contributions to arts and entertainment. But Jesse Williams took it to another level with his acceptance speech.
He uplifted the names of lives taken by police officers, including Tamir Rice, who would have made 14 years old on June 26 and Rekia Boyd, the 22-year-old who was shot in the head by off-duty Chicago police officer Dante Servin in 2012. By doing so, he reminded us to say their names, even when it might feel uncomfortable.
I feel his speech signifies a turning moment, which has been coming for some time now, in which more people, including those who are not already known for their activism, are unapologetic about speaking against injustices. Some people feel there is a time and place for speaking up; many of us think as long as injustice is happening, there is no point in being selective about speaking—people have to listen whether or not they approve.
The former Philadelphia high school teacher won our hearts with his role as Jackson Avery on Grey's Anatomy. In the wake of protests in Ferguson, Missouri and the rise of the Black Lives Matter movement, Williams was recognized for his vocal support of Black Lives Matter and taking it further by showing up. More recently he produced a documentary titled "Stay Woke: The Black Lives Matter Movement" which featured prominent BLM activists, organizers, and celebrities.
Williams' speech did not come as a surprise because of his track record but it was exemplary. His speech was powerful on its own, but not only that: it was told during an awards ceremony that was broadcasted across five other networks (all owned by Viacom). Even those without cable were able to watch the livestream, and like me, see everyone's reactions on social media before watching it.
Jesse Williams is more than a celebrity but his fame is the platform needed to support the work that is being done on the ground. He spoke about the reality Black people face in this country to views but also his peers who are often encouraged to remain silent about social issues or politics. Celebrity and activist do not have to be mutually exclusive roles. It is important that we do not praise celebrities over activists and organizers who work tirelessly for liberation, it is also important to recognize that we can fight from wherever each of us stand. Williams reminds us there are people doing work for liberation in myriad of ways and reminds celebrities they are not exempt from putting in the work too.
Has Jesse Williams inspired those who have been hesitant to speak up? Are we all finally getting in formation?