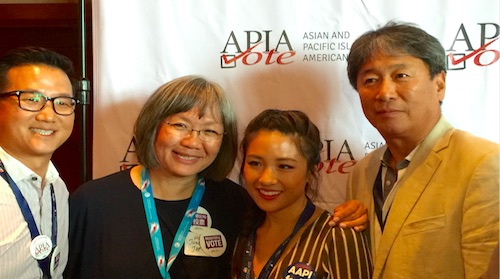 27 Jul

Asian Americans, Growing in Numbers, Show Political Clout at the DNC

PHILADELPHIA — As Asian American elected officials and community leaders take the stage here this week at the Democratic National Convention, the formidable presence and political force of Asian American voters on the nation's electoral decision-making process can no longer be ignored.
Measured by the growing Asian electorate — which is projected to double from almost 6 million in 2016 to 12.2 million in 2040 — and the increasing number of Asian American congressional candidates, Asian voters can now shape and influence the elections, according to the Asian American Pacific and Islander (AAPI) Vote.
"We have dramatically increased our voting registration across the country," U.S. Representative Judy Chu of California said yesterday afternoon at a gathering of AAPI leaders and Democratic delegates. "In Nevada, Virginia and even Pennsylvania, we are the swing votes."
 
US Representative Judy Chu

The fastest growing ethnic group in the United States for nearly two decades, the Asian population is now reaching about 17 million, according to the latest data from Asian American Pacific Islander [APIA], and is contributing about $1.1 trillion to the American economy.
There has also been a spike in the number of Asian Americans seeking congressional seats in the last six years—from 10 in 2010 to 30 in 2012. This year, the AAPI Vote added, there are 40 Asian Americans vying for a congressional seat across the country.
"We are no longer at the table for the menu; we are a significant part of the electorate," said U.S. Representative Michael Honda. "There will be more [Asian] faces, I promise, that you'll see in the political scene."
Sayo Bhojwani, founder and president of the New American Leaders Project, a movement that trains and inspires immigrant leaders of all racial and ethnic backgrounds to run for office, said that the more first and second-generation Asian Americans will be in the ballot, the more it will strengthen the community and make the government better responsive to achieve a robust democracy.
"I encourage you [Asian Americans] to run for office," Bhojwani added, "and I want you to look at what the electoral environment would be in 2020, 2024 and beyond. That's the only way we're going to change the conversation."
Showing a major shift in party identification towards the Democratic Party, according to a national survey released last month by APIA Vote, Asian American voters gave 62 percent favorability rating for Hillary Clinton and 26 percent for Donald Trump.
The survey also revealed that Asian American voters are progressive on most issues, including the Affordable Care Act, gun control, environmental protection, and increasing government spending to make higher education affordable.
With the effects of exclusionary rhetoric in this year's election campaigns, the survey indicated that Asian American registered voters, including Independents, will not vote for candidates with anti-immigrant and anti-Muslim views.
Celebrity Constance Wu [above photo, third right], the young Chinese American actress playing the lead role in ABC Television Network's "Fresh Off the Boat," also showed her support for Clinton and the Democratic Party, pushing Asian voters to be counted in November elections.
"It's very important for us, for young Asian Americans to go out and vote, especially in these complex situations," Wu said. "I'm saying this even though I'm not a political person."
Mee Moua, president and executive director of Asian Americans Advancing Justice, said that it is a crucial time for Asian American voters to be recognized, heard and acknowledged.
"Anybody who ignores our community," Moua said, "does it at their own peril."
Photo credits: Anthony Advincula