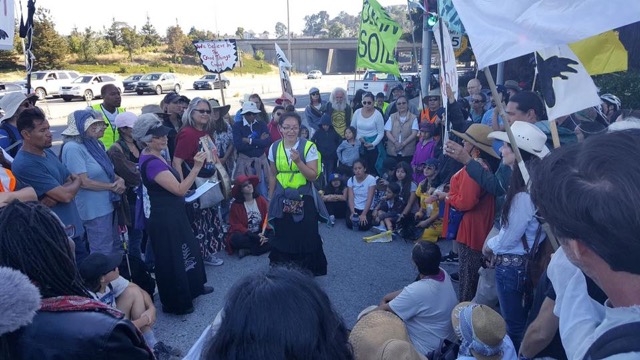 10 Aug

Over 130 People Walk for Clean Energy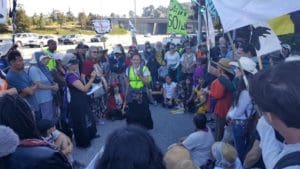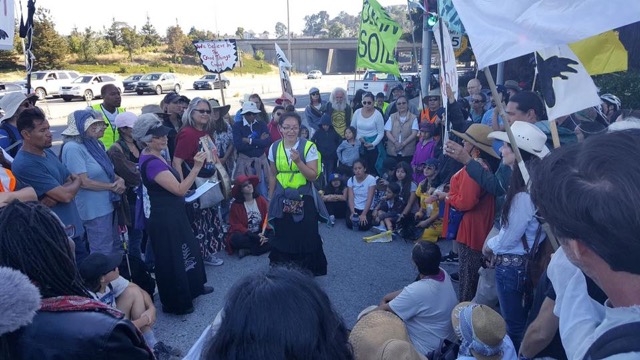 By Isabella Zizi
"Walking is not just exercise; it is one of the oldest medicines. Our elders remind us that every step we take is a prayer, so remember that you aren't doing this for yourself. You are doing it for your ancestors and for the future generations."
With those words, Corrina Gould of the Ohlone tribe encouraged us before leading us in a traditional prayer and water ceremony on July 25 at the Lone Tree waterfront. We were setting out on the 12th Refinery Healing Walk, a 13-mile walk from Rodeo to Richmond that connects the dots from one "sacrifice zone" to the next. Cities like Richmond are called "sacrifice zones" because of the high risks of health problems from living near oil refineries. Many refineries are placed in low-income communities where the "working poor" have no choice but to live. Rodeo is home to the Conoco Phillips 66 refinery; Chevron is located in Richmond. All attendees were spiritually connected through prayer and their desire for clean water, soil, air and jobs.
Inspired by the Tar Sands Healing Walks in Alberta, Canada, the Longest Walks, and the Peace and Dignity Journeys, lifelong Richmond resident Pennie Opal Plant — an Idle No More SF Bay member who is Yaqui Choctaw, Cherokee and German — created the Refinery Healing Walks here in Contra Costa County.
Idle No More SF Bay started as an indigenous grandmothers' prayer group in 2013. After attending a few meetings I became one of their youngest members to help coordinate the refinery healing walks.
During April, May, June and July from 2014 thru 2017 there are four walks for clean water, soil, jobs, and a just transition toward sustainable energy. Here in the East Bay, oil companies include Shell, Tesoro, Valero, Conoco Phillips 66 and Chevron. The refineries spread out from Pittsburg, covering Benicia, Martinez, Rodeo, and ending in Richmond.
On each walk, frontline activists from all over join us to share their experience with similar issues involving the fossil fuel industries. At the end of each walk, children and adults participate in an envisioning project — an art project to either draw or write on muslin squares what they envision for our future and what it would be like without fossil fuels surrounding us. We collect the squares and sew them together to make quilts that are displayed at community centers or halls.
Bruce Hillbach-Barger is part of the Eel River Recovery Project in Mendocino County. He drove three and a half hours to be part of his first healing walk. "We all have to do this together," he said.
Every walk begins and ends with a water ceremony to highlight the importance and sacredness of water: we are surrounded by it from the time we are in our mothers' wombs, we consume it to stay alive, and without it, we have nothing.
By 8:00 am, visible flags were placed along the trees, banners reading "Keep it in the ground," "I believe in the good things coming," "Clean water soil jobs." T-shirts were being sold at a table nearby, alongside the non-violent agreement and registration. Folks were rolling in one by one to gather around in the group circle. In the center of the circle, they placed the water pale, sage, cedar and other traditional elements.
At 9:30 am, we gathered in the line, led by indigenous grandmothers who walked behind those who were holding the head staff, and the collected water from the early morning water ceremony.
Support vehicles, police cars, medics, and monitors all played a role for the over 130 walkers ages seven to 70.
At the front of the line, people walked in silent prayer and contemplation. Following them, people connected with each other, sharing stories, experiences and building friendships. As Wicahpiluta Candelaria, Rumsen Ohlone, Bay Area Indigenous activist and nephew of Corrina Gould proclaimed, "The importance is to bring different communities together to pray for the healings of the water and the land as well as the workers here at the refinery being poisoned by their job."
There were two invited guest speakers; thanks to the 350.org which sponsors each representative. This particular walk included Dallas Goldtooth, of the Dakota and Dine tribes, who is the campaign organizer of "Keep it in the Ground" for Indigenous Environmental Network (IEN), and Kandi Mossett of the Mandan Hidatsa Arikara tribes of North Dakota, who is the native energy and climate campaign organizer with IEN. Speaking at Kinder Morgan and the gates of Chevron in Richmond, they reminded everyone of the importance of being resilient about issues that are affecting our way of life.
Doria Robinson and the Urban Tilth young helpers prepared delicious veggie and non-vegetarian kabobs for all walkers who made it to Keller Beach. Mike Littlebear and Tammy Littlebear volunteered their time to barbecue for each of the Refinery Healing walks.
There are four more walks left and the four-year commitment of the refinery healing walks will be complete with a total of 16 walks. Idle No More SF Bay and the Refinery Healing Walk coordinators will continue to participate and build partnerships at local actions to not only raise awareness about indigenous sovereignty here in the Bay Area and all over the world, but also in hopes of a just transition to clean water, soil, plants, and jobs for the future generations. If you want to join in next year, check out refinery corridor healing walks on Facebook or go to refineryhealingwalks.com.