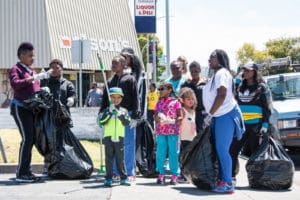 Photo Essay, David Meza
With all the changes happening in Richmond, some longtime residents are trying to hold onto a sense of family and respect for the environment. That, along with a spirit of giving back, was what motivated Garice Tate, a Richmond resident of more than 30 years, to bring community members together to help keep Richmond clean.
"I grew up here and I went through the same cycle that a lot of kids are going through now, " said Tate, 35, and a father of three.
"I went down that road and got in a lot of trouble as a youth and an adult. I just feel like I took a lot from the city and now I just want to give back," he said.
The first annual Clean Up Rich City Day, on June 30, began at Nicholl Park and proceeded down both sides of the street to 23rd Street as participants picked up trash along the road.
Tate reached out to community members through social media. Over 100 people responded, donating necessities to the cause and joining in the cleanup.
Michelle Milam from the Police Department reached out to lend a hand with cleanup and supplies. Richmond resident Jamie Dickens came out to support the community and said she hoped that this would help empower our community and teach our children.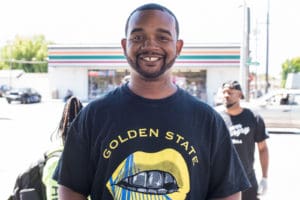 "It takes more than just parents to raise a child," said Tate. "A lot of time the parents aren't raising the kids; the streets are raising them."
It's more than just picking up trash, he said. It was also a peaceful way to come together, have fun and "be more aware of what's going on in our own community."
Like any good family-friendly event, the cleanup ended with food donated by residents and a discussion of the importance of a clean environment.
"Fortunately I'm alive to be able to be here today, to have the maturity and knowledge that I had but just wasn't putting to work," said Tate. "A lot of our friends and family that are gone today didn't get that opportunity."
Tate said he'd like the cleanup day to happen quarterly in different neighborhoods throughout the city.