24 Aug

A Mexican Rosie the Riveter: People of Color and Our Parks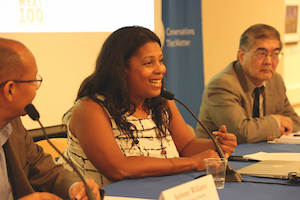 Above: Rue Mapp, the founder and CEO of Oakland-based Outdoor Afro, speaks on the release of a first-ever national poll of minority voters on the inclusivity of U.S. public lands. 
By Anna Challet
My grandmother was a Mexican Rosie the Riveter. Not a riveter but a welder, who came to the Bay Area to work on Liberty ships during World War II. She lived in San Francisco, and used to run down the hill every morning from where she lived, down to the water in the dawn light when the Bay looks like glass, to catch the ferry to the Richmond Shipyards.
Not long before she died two years ago, she made it out to Rosie the Riveter National Historical Park. She came back proud, and told me she'd been given a necklace and that the rangers said they learned several new things from the information she shared with them.
It wasn't just the Rosie park that she loved. Born to migrant workers in a border town in West Texas and raised by Catholic nuns in Santa Fe, she taught us to love the desert. She walked along the rim of the Grand Canyon in a long skirt, and took us to sun-scorched fields in Taos where we rode a horse saddled with only a blanket.
Looking through some recently released Office of War Information photos of World War II-era shipyard workers, I found one of a woman on the Richmond ferry in overalls, around the age my grandmother would have been, with what looks like her darker complexion and her nose.
Parks statistics tell us that people of color engage with our national parks at lower rates than whites. But there's a related public perception that people of color aren't interested in the outdoors and our public lands, which couldn't be farther from the truth.
A first-of-its-kind national survey commissioned by New America Media (conducted by Bendixen & Amandi International in July) found that 4 out of 5 minority voters support initiatives that would increase people's access to parks and public lands. More than 90 percent of minority voters say that our next president must continue to protect these lands. And they want to see more diversity in the kinds of places that get selected to be part of our public lands – like a proposed list of sites honoring the Civil Rights Movement.
"These places are part of our national and cultural heritage," says Rue Mapp, the founder and CEO of Outdoor Afro, an Oakland-based organization that fosters connections between African Americans and the outdoors. People are looking for "a feeling of family and community," she says. They want to revisit childhood experiences and pass those experiences on to their children.
Poll results indicate that expenses can be a barrier to people's participation – things like the ability to take time off work and access to affordable transportation.
Mapp says it's also true that the advertising-driven perception that you need expensive gear to spend time outdoors can be alienating to people who don't have a lot of money. She says she's always telling people: "You don't need to have expensive shoes." Of course she wants people to be comfortable, she says, but "we try to educate people that most of what they need to get into the outdoors is right in their own closets."
But perhaps most importantly, both Mapp and Anthony Williams of Bendixen & Amandi say that the parks still have to bridge a distance in terms of reflecting a growing diverse population. Williams notes that while there's agreement among minority voters that the federal government should take steps to protect the parks, there's also agreement that the government has fallen short when it comes to making the parks inclusive.
"The cultural engagement, the history-keeping and storytelling, is critical in making people feel included," says Mapp. People are more likely to be engaged if they see spaces and hear stories that tell the history of their families.
The country's ghosts don't all have white faces, and if that's reflected better in the parks, people will go. We can do it, as Rosie would say.