11 Sep

Police Sexual Exploitation Scandal Reverberates in Richmond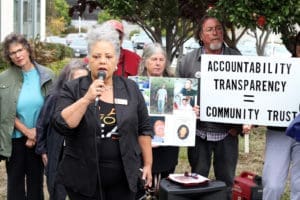 Above: Kathleen Sullivan of Black Women Organized for Political Action leading a press conference outside the Richmond Police Department.
News Report, Keisa Reynolds
A coalition of East Bay organizations is calling for the police officers involved in the sexual exploitation of a Richmond minor to be held accountable.
It has been nearly a year since the Oakland Police Department was made aware that several of its police officers were involved in the sexual exploitation of a minor who is now an adult. Three months ago, the East Bay Express revealed that over 30 police officers across Contra Costa and Alameda counties, as well as one federal officer, were accused of having sex with the young woman, some while she was still underage.
The woman is a former sex worker who was underage when she met Oakland police officers; according to the East Bay Express, she sometimes had sex with officers to avoid arrest. Law enforcement misused their authority and, by California's legal definition, the officers engaged in human trafficking, the Express reports.
Among those allegedly involved or connected were five officers from the Richmond Police Department. The Richmond Police Department acknowledged the officers' involvement but, according to Richmond Standard, reported that its officers "likely violated a number of department policies, but none were criminal."
Alameda County Dist. Atty. Nancy E. O'Mally announced that seven officers from across the Bay Area will be charged with sex offenses and other crimes in the case. The officers are Giovani LoVerde, Brian Bunton, Warit Utappa, Tyrell Smith and LeRoy Johnson of the Oakland Police Department, Ricardo Perez, who has resigned from the Contra Costa County Sheriff's Department, and Dan Black, who has retired from the Livermore Police Department.
The announcement came two days after Oakland Mayor Libby Schaaf announced that four Oakland police officers had been fired and seven others had been suspended without pay following an internal affairs investigation.
At a recent press conference outside the Richmond Police Department, a coalition of organizations called on Governor Jerry Brown to issue an executive order directing Attorney General Kamala Harris to take jurisdiction over the case.
"This call to action is vital," said Sarai Smith-Marzariegos, one of the co-founders of MISSEY, a community-based organization that works to end child exploitation. "We're up here saying the same system that sexually abuse women and is supposed to self-relegate. Does that actually make sense? No."
The coalition is calling for more transparency and a push for accountability. Two of the Richmond officers directly involved were re-assigned but are still actively with the department. A petition by Ben Steinberg, a community activist, has a goal of 25,000 signatures and it has reached over 16,000 so far to call for an independent investigation.
Kathleen Sullivan, president of the Richmond/Contra Costa chapter of Black Women Organized for Political Action, gave credit to Richmond police for taking a stand on social and political issues in the past. Based on their past record, she believes this is an issue that RPD can and should address.
"No one gets a pass on accountability," said Smith-Marzariegos. "We are able to hold law enforcement accountable for their sexual abuse towards women and children. This is something we have to make a stand about."
Sexual exploitation has been a problem in Richmond for decades, she said.
This case is also a reminder that the lives of girls and women matter, said Smith-Marzariegos. Sexual violence is a form of police violence that is not often discussed, she said, even among those fighting against officer-involved shootings.
The speakers noted that black girls and women are most at risk; and the police officers condoning and engaging in this behavior allow harm and violence to continue to go unchecked.
"This is an extension of the war that law enforcement wages across black and brown bodies every day," said Cat Brooks, co-founder of the Oakland Anti-Police Terror Project.