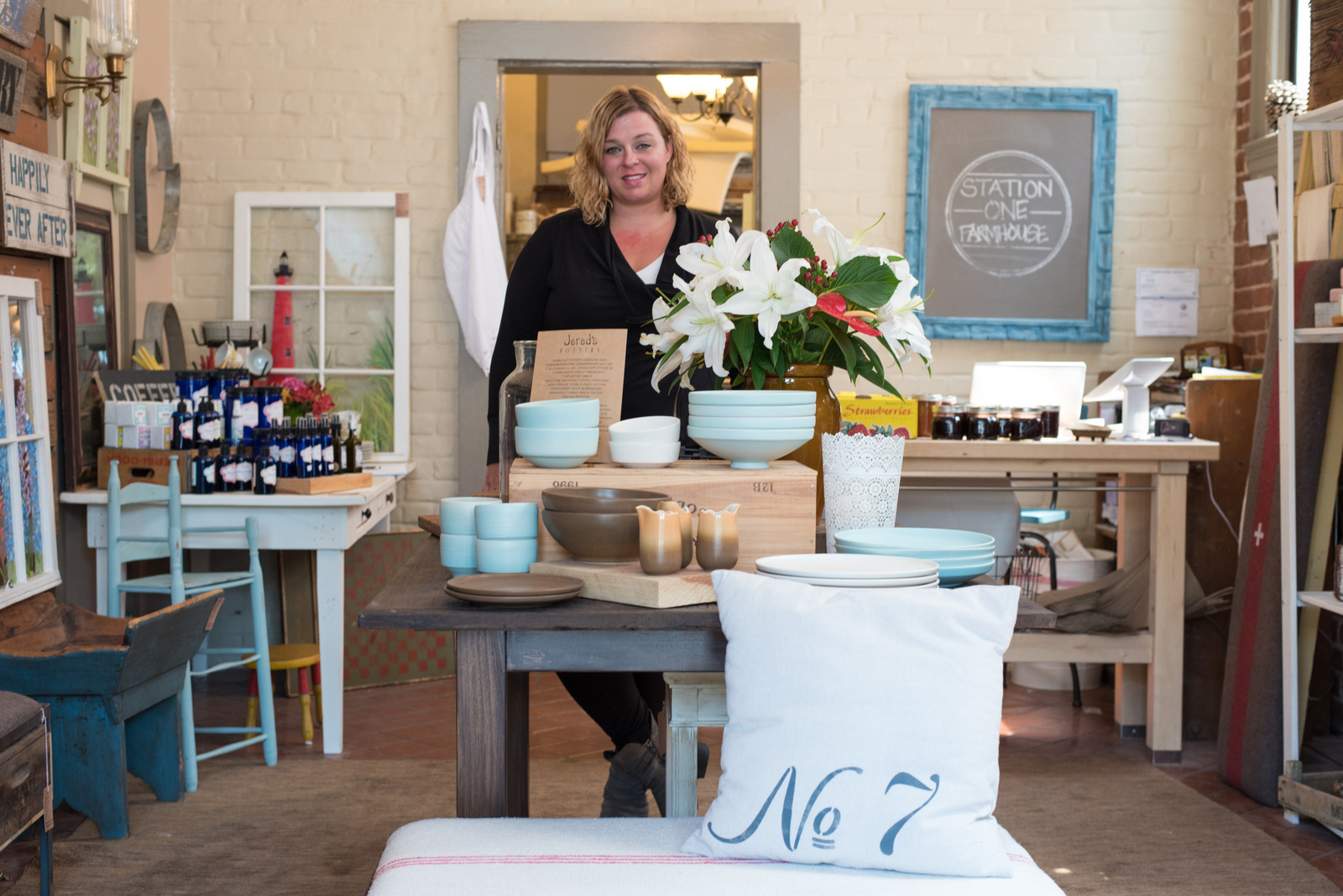 12 Oct

Station One Farmhouse: Vintage Chic in Point Richmond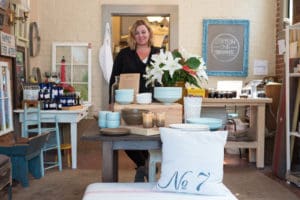 By Nancy DeVille
For Nikki Villa, one man's trash can become her treasure. Villa is the co-owner of Station One Farmhouse, a unique store in Point Richmond that features refurbished vintage items, décor paint, candles, handcrafted jewelry and other home accessories. Villa runs the shop with her mother, Sheila Grovhoug. The store's name comes from its building's history: the space was once home to Richmond Fire Station #1.
Villa recently sat down with Richmond Pulse to discuss her new store.
Why did you want to start a business?
My whole background is in design, art and fashion. I have worked for lots of other people in my lifetime. I feel like everything that I've done up until this point has been leading up to this. I always knew I wanted to have my own retail space where I could build things and have my own say in what I wanted to do. So I went to my mother and said, 'Mom let's open a store together.' The store really has an emphasis on home accessories and interiors and we do vintage repurposed to new. I really like to take a piece and look at it and see how I can make it better.
How do you describe the products you sell?
It's farmhouse chic. I like things that feel good. I spend time searching for things at thrift stores or estate sales. We do a lot of flea market shopping and go to vintage fairs. But I also have pickers who will pick for me. They keep an eye out and know what I'm looking for. We get a lot of stuff that's donated to us or things that people will sell for $10 and then we can turn it into something fabulous with a little work.
I hunt for all these things. I like to actually get my hands on stuff and create things that are really beautiful. When people come in here, they constantly say, 'Oh it smells so good in here.'
We do soaps, candles, jewelry, custom-made signs out of things like vintage boards. We carry Annie Sloan chalk paint, which goes on furniture, walls, floors, etc. It's non-toxic, non-latex and with it you can transform any piece in your house into something fantastic. You can take a dresser or desk or something that has a lot of wear and tear to it and use these fabulous colors and paint it. The nice thing about it is that you don't have to sand or prime your piece and you can get right to the fun part.
Where do you get your inspiration?
People compare us a lot to HGTV's "Fixer Upper." A lot of my inspiration comes from the way things make me feel. I'm on Pinterest and Instagram a lot and I like to see things that people have done. It's looking at something and saying, 'I think it's great how it is, but I want to make it into something else.' I think that's where the wow factor comes in for some people.
The repurposing part of things is really important because I think people are super wasteful.
What's the best part about being a business owner?
I think it's the flexibility of having your own say in what you want to do. You will never work harder for anybody other than for yourself. I'm still on cloud nine that I get to build things all day.
Working for other people is actually a great way to hone your skills. Having that patience, learning and taking everything you can from a job, is actually one of the best skills people can have. You will know when you've outgrown that space. For me, I knew the fire was burning to get out and do something different, but I finally had the business-minded skills to do it. My mom was a teacher for 35 years and that's where I got so much of my creativity. I took it and ran with it.
I feel like I'm exactly where I'm supposed to be. I always wanted a space to be able to do something creative and make things. My things are going into people's homes and they are actually using things that I've made. That has a huge effect on me because it's personal. For me, this is liberating because this is a female-owned business. I get to show my daughter what's possible with hard work.
If you go: Station One Farmhouse is located at 145 Park Place B in Point Richmond.
The store is open from 10:00 am to 5:00 pm Wednesday-Saturday and 11:00 am to 4:00 pm on Sunday. For more information, call 510-778-1355 or visit www.stationonefarmhouse.com.