23 Nov

Water Is Life – Over 5,000 People Stand With Standing Rock in SF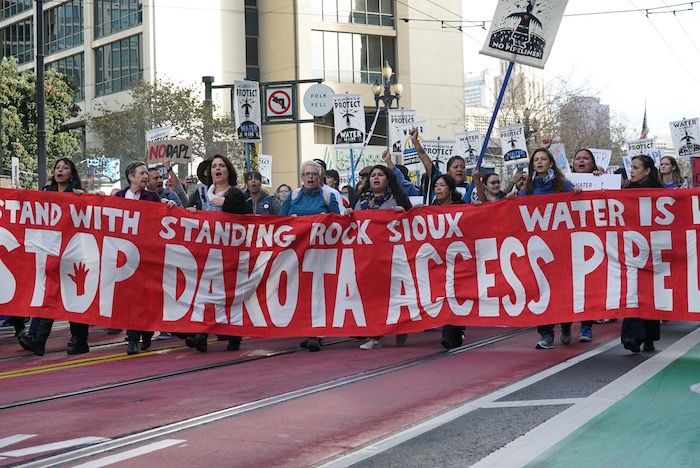 By Isabella Zizi | Photo by Cy Wagoner
While many Americans are in shock over the election of Donald Trump, thousands of Native Americans and their allies are engaged in a much longer battle that shows no sign of slowing down. Since April, they have been protecting the Missouri River from the planned Dakota Access Pipeline (DAPL) near the Standing Rock Sioux tribe's reservation in Cannonball, North Dakota.
And on Nov. 15 in San Francisco, I was one of more than 5,000 people who joined a peaceful direct action outside of the Army Corps of Engineers (ACE) office. We delivered a letter asking the ACE to stand in solidarity with us and tell the main offices not to permit DAPL to drill underneath the Missouri River.
On a personal level, this was one of the largest actions I have helped organize. It was also the most grounded and peaceful movement I've seen.
In July a group of youth, now called the International Indigenous Youth Council, decided to run over 2,000 miles from the Standing Rock Sioux reservation to Washington, D.C., to deliver a letter to President Obama and his administration to stop the Dakota Access Pipeline. Since then, many have traveled miles or days to Standing Rock to be on the frontlines in support of them.
On Aug. 8, the Standing Rock Sioux Tribe received a 48-hour notice that the company Energy Transfer Partners would start constructing the 1,172 mile-long, $3.8 billion pipeline through North Dakota, South Dakota, Iowa and Illinois. Originally DAPL was set to go through Bismarck, ND, which is a predominantly white town, until the Mayor Mark Seminary told them it was too dangerous for their waters. The Standing Rock Sioux tribe was not given a say, nor was it given the option to deny DAPL to go through their reservation.
In addition to breaking indigenous treaties and desecrating sacred sites, the pipeline would have devastating environmental effects. Following the election of Donald Trump, who is heavily invested in the oil industry, Energy Transfer Partners CEO Michael McLaughlin reaffirmed his commitment to build beneath the Missouri River. According to Democracy Now, DAPL would haul over 500,000 barrels a day of Bakken oil. If it breaks, it would contaminate the land, plants, and life – not just around the Standing Rock Sioux tribe, but all along the river.
Indigenous peoples and allies are now living off of the land in peaceful camps to make sure the water continues to be protected. Over 540 indigenous tribes and 8,000 people have made Sacred Stone Camp, or Oceti Sakowin, their home, living in longhouses, tepees, sub-zero tents, and yurts.
On Sept. 3, Democracy Now reported that Frost Kennel, a dog company hired by Dakota Access Security, let their dogs loose several times to bite men, women, and horses. This wasn't the only time the water protectors were attacked. They have been sprayed with pepper spray and tear gas. The unarmed protectors have stood face to face with Morton County, National Guard, and other hired law enforcement officials who wear riot gear and have used nonlethal weapons like rubber bullets, concussion grenades and sound cannons.
Then in October, Indigenous Environmental Network and Honor the Earth put out a call for a national day of action on Nov. 15 targeting local Army Corps of Engineers offices. The purpose of the day of action was to call on the Obama administration to deny the last permit of the pipeline from going under the Missouri River and to look more closely at the human rights violations, and environmental impact.
The Bay Area heard the plea, and started to get to work. Idle No More SF Bay, 350.org, Diablo Rising Tide, Green Peace, Chinese Pacific Alliance and many more organizers came together and organized a day of action.
Through meetings, non-violent trainings, and focus on the importance of keeping our waters protected, we were able to pull off a large direct action in San Francisco.
An interfaith sunrise ceremony was held outside of City Hall in San Francisco while pictures of Standing Rock were projected on the wall. Banners, posters, and patches read, "Water is Life," "#NoDAPL," "Standing With Standing Rock" and "You Can't Drink Oil." After the ceremony, the crowd migrated in two different directions behind 30-foot banners reading "Honor Treaty Rights" and "Stop Dakota Access" that were held by indigenous organizers from Idle No More SF Bay and other indigenous allies.
We marched down Larkin St. and Van Ness Ave., meeting at Market St. where ACE (Army Corps of Engineers) has their office.
Over 150 people were trained to risk arrest that day, but San Francisco police did not arrest anyone. We delivered the letter to ACE and remained grounded and peaceful.
Once the meeting was over, we walked back to City Hall with our fists in the air, chanting, "Water is life."
This was my first time experiencing an interfaith ceremony and helping to organize such a huge action. It showed me that no matter what religion you practice, what color you are, or even what political background you have, there are no boundaries when it comes to this movement. We all need water and we all need to be reminded how sacred water is to everyone.
If you'd like to help support the effort: Sacredstonecamp.org has different links for funding legal services, camp supplies, durable winter items, etc. If you have the time and calling to physically support, bodies are always needed; please go with the intention of a peaceful mindset and walking in positive dignity. Another important aspect to remember is to support your local indigenous tribes; the Bay Area is an Ohlone territory and continues to battle with desecration of their sacred sites that are being turned into parking lots or shopping malls.