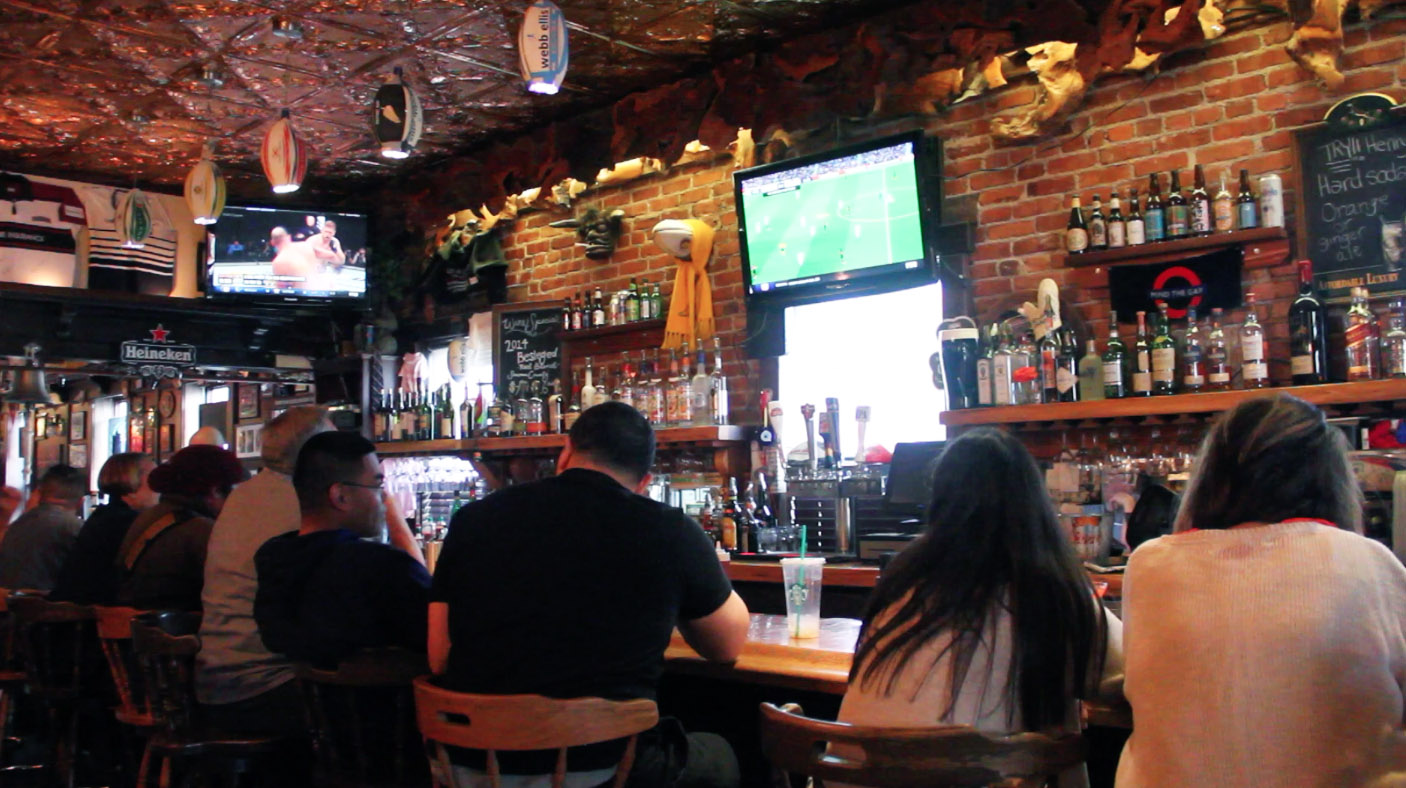 18 Dec

Local Sports Bar Combines Rugby, Food and Welcoming Vibe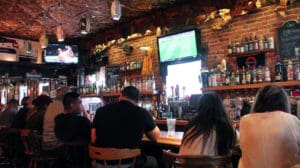 By Edgardo Cervano-Soto
In American pop culture, local pubs and sports bars are portrayed as integral to the neighborhood. These places are where we can de-stress after a long workday and connect with locals over (sometimes) copious amounts of alcohol. Up and Under Pub and Grill in Point Richmond seems to fill that role of a neighborhood gathering place where you can drink, eat and watch your favorite team.
Located at 2 West Richmond Avenue, the Up and Under Grill anchors a lively neighborhood business district. The bright crimson exterior and pair of American flags encasing a gilded bald eagle accentuate the triangular-shaped pub jutting out toward the nearby train tracks. The building's architecture announces itself, and the Point Richmond business district hiding just behind the building. On a night out in Point Richmond, Up and Under Pub & Grill feels like a required first stop.
Since 2010, owners Nathan and Nikki Trivers oversee the pub's operations and service. A rugby player for over 16 years, Nathan Trivers made sure to augment the wood and brick interior with a rugby hall of fame sensibility. The former property had a nautical theme, with cavernous, finished wood, reminiscent of a ship out of Pirates of the Caribbean.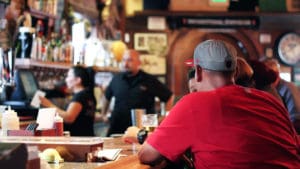 At Up & Under, the Trivers played to the space's strengths. The interior is lit in a warm copper glow reflected off the ornate bronze ceiling. Seating is mixed in order to provide space for families and friends. Booths are intimate; corner tables wrap around to seat groups, and tables in the center provide a nice vantage point to view the TVs. Behind the bar is an additional dining space with an exposed brick wall. During sunny weather, customers can sit outside in a narrow patio looking out at a bustling intersection.
The bar has a large selection of draft beers, liquor, wine, and other refreshments. The best deals are during happy hour from 5:00 pm to 7:00 pm. Among the pub's most popular dishes are the classic cheeseburgers and fish and chips. The kitchen also offers daily and evening dinner specials. On special occasions and selected weekends, the kitchen sets up a smoker outside cooking up delicious BBQ.
Walking into Up and Under Pub and Grill, the sports memorabilia makes you feel like you are visiting a rugby museum. Rugby jerseys are framed on the walls. Photographs of international rubgy players are sprinkled throughout. Rugby ball fixtures hang overhead, lighting the bar. On one wall, photographs of Trivers' rugby days are propped alongside glorious sports photos. The family wall, displaying details of personal life, invites customers to settle and watch TV in just as they would at a friend's house. The clientele is mostly men and women in their 20s and 30s watching sports, but the pub lends itself to welcoming anyone: families, local residents taking out friends, workers in suits and uniforms, and regulars.
It's a given that the Giants, 49ers, Raiders and Warriors will be on the TVs, says Trivers. "Unless there is a bug rugby match," he adds.
Trivers grew up in Roseville, near Sacramento. He found his passion for rugby playing in high school. "I didn't know it at the time but rugby changed my life," he reflects. Rugby took Trivers on an international adventure. From 19 to 24 years old, Trivers lived in England, and traveled across Europe playing rugby. Medals, trophies and other rugby mementos point to this experience that shaped him.
A professional in the food and beverage industry, Trivers says he tries to foster Up and Under's sense of community. "We've combined my passions for rugby and food and beverage business to give that ambience and warm feeling where you feel comfortable," says Trivers. That comfort is apparent during big championship or rivalry sports matches, and also in the pub's diverse programming. Every Tuesday is a trivia night testing the players on Bay Area geography, entertainment and current events. Every Saturday night, a DJ hosts karaoke, where Trivers says unassuming customers have turned out some standout performances.
If You Go: Up and Under Pub and Grill is located at 2 West Richmond Avenue in Point Richmond. Or visit on the web at www.theupandunder.com where you can order food online.