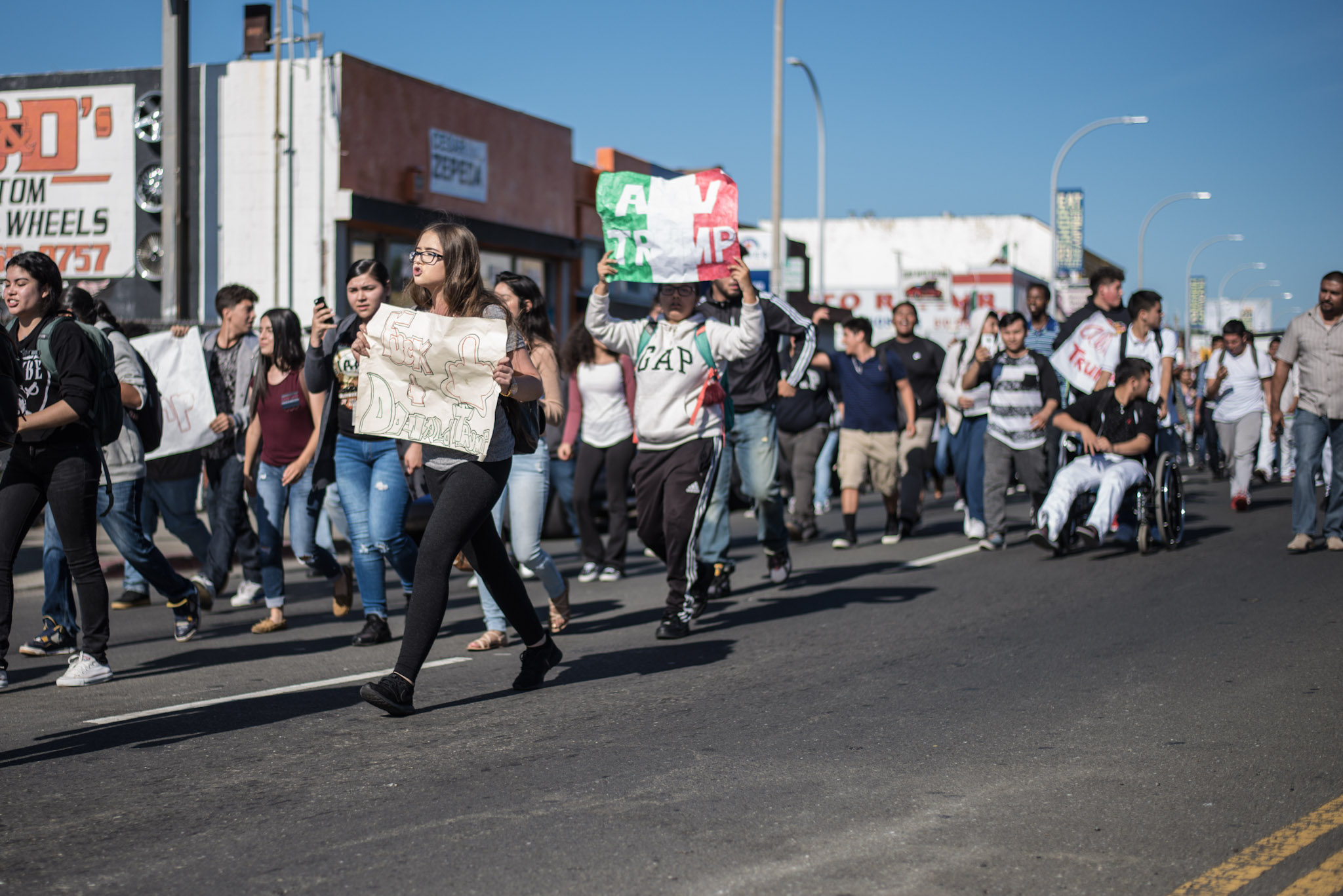 01 Jan

Looking Back on 2016 — Signs of Hope
Above: Richmond High School students protest after the election of Donald Trump.
Commentary, Keisa Reynolds
When we look back 2016, many of us wonder how we survived. The year challenged us to take a deeper look at ourselves and where we are headed as a country.
Thankfully, there were plenty of moments that kept people hopeful. Artists and activists pushed us to reflect on the world. For many, worldviews were changed. For others, worldviews were reaffirmed—for better or worse.
In the year of the 50th anniversary of the Black Panther Party, there was continued resistance against state oppression. People across communities and industries reminded us of the legacy of activists whose organized efforts laid the groundwork for many of today's protests.
Colin Kaepernick inspired young athletes to end their silence and take a stance against police violence. Jesse Williams reminded us to speak the names of those slain by police and do so even when it's uncomfortable. The water protectors at Standing Rock reminded us that indigenous resistance is not a thing of the past and we must remain vigilant as our governments—local and national— make decisions behind closed doors. The young people who took to the streets after the presidential election let us know the fight continues.
Most inspiring for me was the abundance of black girl magic. From the Knowles sisters with Lemonade and A Seat At The Table to Marley Dias with her 1,000 Black Girl Books campaign, 2016 was the year of recognizing black women's worth and the gifts they bear. The Simones—Biles and Manuel—had us cheering when they won gold in gymnastics and swimming. Elaine Welteroth put Teen Vogue back on our radar and turned the platform into a model for engaging youth in politics.
We are still mourning the countless remarkable people we lost throughout the year, many of whom dedicated their lives to self-expression and liberation, from the well-known celebrity to the lives killed in the Ghost Ship fire and Pulse Nightclub massacre. We celebrate the lives of these people who chose to live authentically, with pride and unconcerned about people who refused to see their worth.
The impending Trump administration rightfully scares many of us—myself included. However, this year showed us why we can't give up and stand idly by.
I welcome 2017 with open arms. Some of the challenges we will face in the coming year will be familiar ones—housing, police violence, environmental racism, to name a few—while others will be new. There will be fights to keep rights that shouldn't be up for debate. I don't know exactly what will happen under Trump's administration. But I do know the resilience that allowed us to hold on this year will follow us.
Bring it on, 2017.