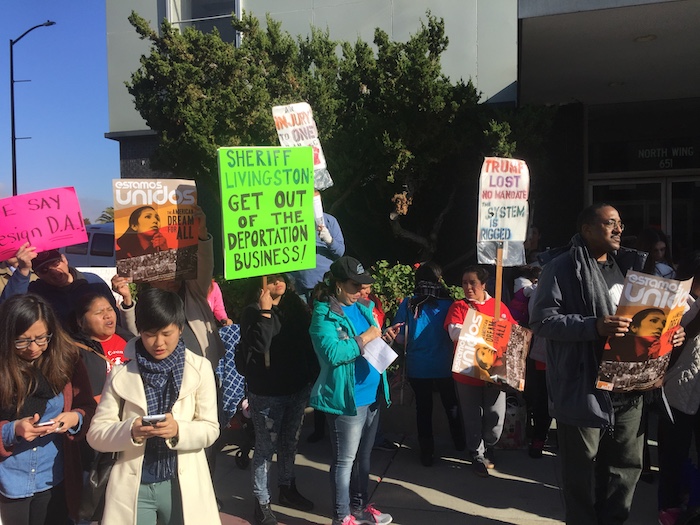 07 Feb

Protesters Call Out Sheriff for Cooperation with ICE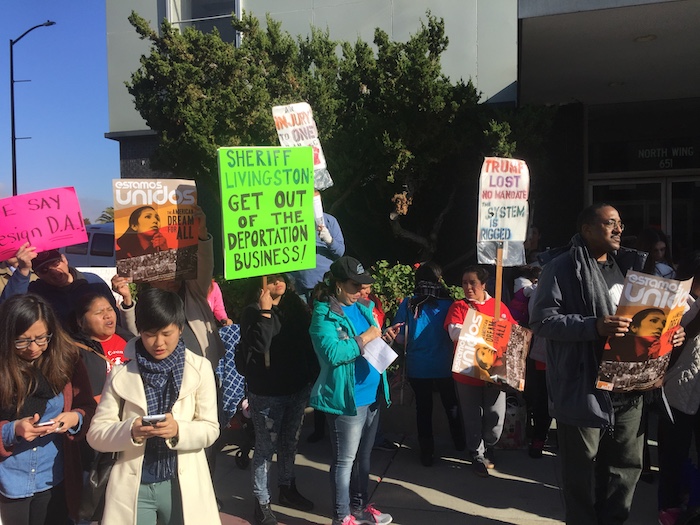 News Report, Alyssa Jeong Perry
The same day President Trump signed an executive order threatening to defund sanctuary cities, over 100 demonstrators from across Contra Costa County crowded onto the front steps of Sheriff David Livingston's office in Martinez. Their message: "Sheriff Livingston, Get Out Of the Deportation Business."
A recent investigation by the East Bay Express uncovered the close relationship between Livingston's office and Immigration and Customs Enforcement (ICE). It states that county law enforcement went above and beyond to aid ICE agents in setting up stings to locate, arrest and deport undocumented immigrants.
This outraged many residents, who believe that Livingston and county officials disregarded the California TRUST Act, which limits immigration "hold" requests in local jails that keep individuals in jail so that immigration agents can come arrest them. Contra Costa's policy goes further, stating, "No person shall be contacted detained, or arrested solely on the basis of his or her immigration status."
Community groups like Contra Costa Racial Justice Coalition, Contra Costa Interfaith Coalition and Alliance for Californians for Community Empowerment joined forces with local labor unions and county employees. One group organized a bus to transport participants from Richmond to Martinez. The collective is calling on the local Board of Supervisors to pay attention to the concerns of immigrant communities that are terrified of Trump's immigration policies.
"I have been talking to teachers and social workers. They say some people are too scared to bring their children to school," said Ali Saidi, the head of the Contra Costa Public Defenders' Association's labor group.
Claudia Jiménez, a facilitator of Contra Costa Racial Justice Coalition, agreed that there is a lot of fear of the county's law enforcement. "This type of collaboration is problematic," she adds. "We think by doing that they are supporting and implementing Trump's agenda in the county."
During the demonstration, Sheriff Livingston was spotted by the crowd. The group turned in his direction and began to chant, "Will you follow the law?"
With all eyes on him, he addressed the protesters. "Yes, I will follow the law," he said. He agreed to meet with leaders at a future date to discuss their concerns.
But in a separate interview with reporters during the protest, Livingston explained, "So we [Contra Costa Sheriff's Department] comply with the California TRUST Act completely for those who are booked into the [West County] facility."
When asked if he would make Martinez a sanctuary city that protects immigrants, he said, "Absolutely not…because we would lose federal funding."
Many other cities have taken a stand against Trump's executive order. Last week, San Francisco became the first city in the country to file a lawsuit over the order.
Tamisha Walker, a Richmond resident and director of the Safe Return Project, said she was not surprised by Livingston's response. "I would expect him to say that," she laughed. For the past five years, her group has acted as a watchdog, monitoring law enforcement officials. Walker, who was one of the organizers of the protest, said Livingston tends to only listen to Central County residents, while ignoring the more diverse population of West and East County.
Saidi said he felt hopeful to see the community organize on behalf of immigrants here. But as he left the protest, he said he was left with the question: "Does Contra Costa County stand with its immigrant communities, with our most vulnerable communities, or does it stand with Trump's agenda for mass deportations?"