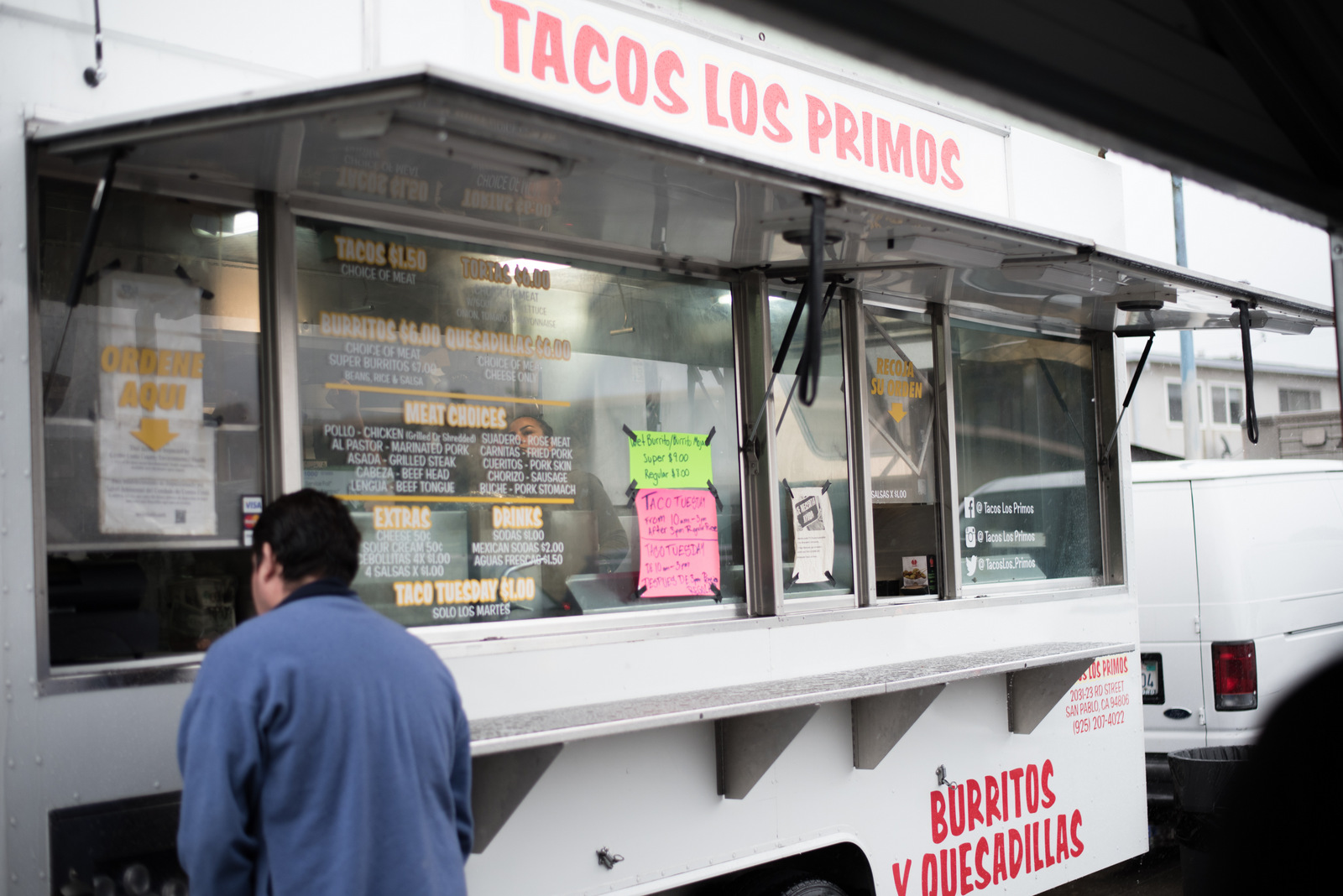 26 Feb

Inside Los Primos Taco Truck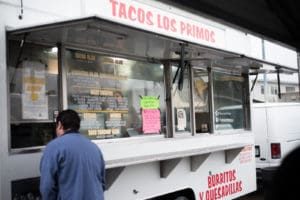 Photo Essay, David Meza and RP Editors
Juan Carrillo starts work every day at 4:30 am. He has had the same routine for 15 years, ever since he opened Tacos Los Primos here in Richmond. Each morning he gets ready for the day, preparing the food that his customers love.
"I used to wait tables at an Italian restaurant in Alamo," Carillo explains, remembering the days before he started the truck in 2002. "My cousin came up to me and said, 'Why don't we open up a business like a taco truck?' I thought it might be better and I would make a better profit."
Carrillo says once he and his family decided to start their own business, his wife came up with the recipes on the menu.
"I told her, 'Let's try all the taco trucks in Richmond and Oakland,'" said Carrillo. "We tried all of them and that's how we started. We worked really hard when we first started, working all day long, just sleeping a few hours. At first there were only a few people. Now we have more people."
The truck is still a family affair. He currently has three of his children working with him, daughters Patricia, Karina and Dulce.
Tacos Los Primos has become one of the most popular taco trucks in Richmond. The truck itself is unique, with big glass windows that allow you to look inside. It is located in a big parking lot on 23rd Street with plenty of parking and tables and chairs to sit and eat. But what keeps customers coming back is the food: tacos, tortas, quesadillas, burritos and drinks.
Los Primos offers lots of meat choices – pollo (grilled or shredded chicken), al pastor (marinated pork), asada (grilled steak), cabeza (beef head), lengua (beef tongue), suadero (rose meat), carnitas (fried pork), cueritos, (pork skin), chorizo (sausage), and buche (pork stomach). Carillo says his bestsellers are the asada and al pastor.
They recently added a new favorite to the menu, a "wet" burrito. "We're selling a lot. The customers keep coming back for it," Carrillo said.
Tuesday, which is known as Taco Tuesday in Richmond, is his biggest day for business. From 10:00 am to 3:00 pm on Tuesdays, customers at Los Primos can get a taco for $1.
"Tuesdays and Wednesdays were slow so my wife and I talked about doing something different," explained Carrillo.
Now on Tuesday afternoons, the parking lot is full of customers.
Carrillo said when he first started the business, it was only Latinos who came, but over the years he has seen people of all backgrounds become part of his customer base.
"We have all kinds of people coming here. That makes me very happy," he said. "They keep coming because they like it. And I'm not going to change anything."
IF YOU GO: Tacos Los Primos is located at 546 23rd Street in the big parking lot next door to G&O Tires. The taco truck is open from 10:00 am to 9:30 pm every day.
[ngg_images source="galleries" container_ids="42″ display_type="photocrati-nextgen_basic_thumbnails" override_thumbnail_settings="0″ thumbnail_width="120″ thumbnail_height="90″ thumbnail_crop="1″ images_per_page="20″ number_of_columns="0″ ajax_pagination="0″ show_all_in_lightbox="0″ use_imagebrowser_effect="0″ show_slideshow_link="1″ slideshow_link_text="[Show slideshow]" order_by="sortorder" order_direction="ASC" returns="included" maximum_entity_count="500″]