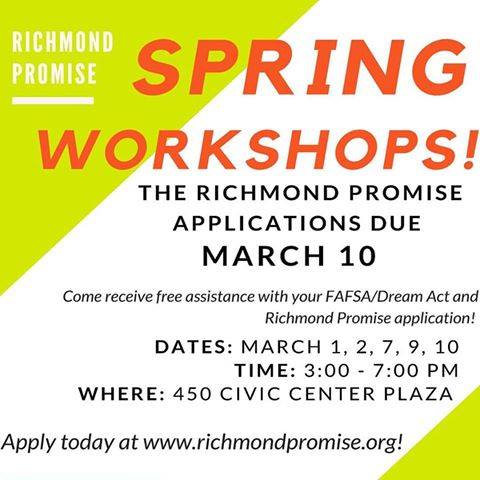 01 Mar

Local Happenings: March 2017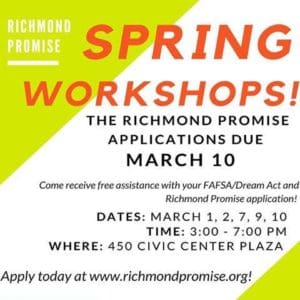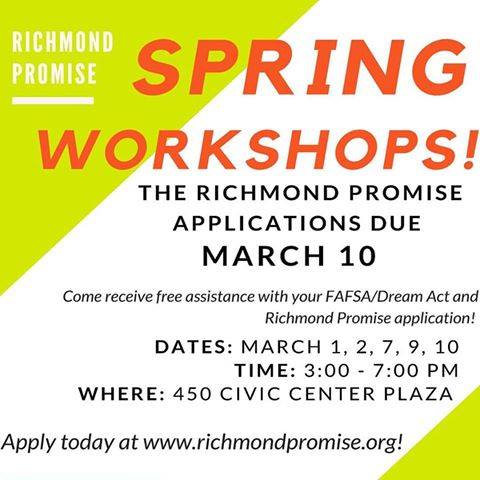 Richmond Hosts 'Sisters in Solidarity' Celebration
Saturday, March 4
In honor of International Women's Day, the City of Richmond will host its 10th Annual Sisters in Solidarity celebration on Saturday, March 4.
The event will kick off at 10:00 a.m. with a rally on the steps of City Hall, followed by a march to Dejean Middle School, 3400 Macdonald Ave. for entertainment, lunch, roundtable discussions and inspirational speakers.
Cynthia Peterson, executive director of Community Violence Solutions, will be the keynote speaker.
For more information, contact Trina Jackson at 510-620-6581 or at Trina_Jackson@ci.richmond.ca.us.
Richmond Promise Scholarship
Applications Due March 10
Richmond Promise is sponsoring a series of spring student and family workshops to help high school seniors complete their financial aid and Richmond Promise scholarship applications.
The workshops are scheduled for 3:00 to 7:00 p.m. at 450 Civic Center Plaza on the following dates: March 1, 2, 7, 9 and 10.
The Richmond Promise Scholarship is due on March 10 and is available at www.richmondpromise.org.
For more information, email info@richmondpromise.org or call 510-620-6531.
Opening Reception for 'How World War I Changed Richmond'
Saturday, March 11
The community is invited to visit the Richmond Museum of History for the opening reception for the How World War I Changed Richmond exhibition at 12:00 p.m. Saturday, March 11 in the Seaver Gallery, 400 Nevin Ave.
The exhibit features dozens of World War I related artifacts with connections to Richmond. Many artifacts have been in the museum collection over 50 years and will be on display for the first time.
The event is free.
For more information, call 510-235-7387.
Richmond – ECIA Grant
Applications Due March 20
Applications for the Richmond – ECIA Competitive Grant Program are being accepted through 5:00 p.m. Monday, March 20.
The grant is funded through the Chevron Modernization Project Environmental and Community Investment Agreement (ECIA). Governmental entities and non-profit organizations that provide services focused on community, youth and youth sports services to Richmond residents are eligible to apply.
Grants will be awarded on an annual basis and will range from $2,500 to $50,000. The guidelines and application are available at http://www.ci.richmond.ca.us/eciagrants.
For all questions or comments, email eciagrants@ci.richmond.ca.us or 510-620-6828.
Richmond Commission on Aging Seeks Members
The Richmond Commission on Aging is looking for Richmond seniors age 55 or older to become members of the commission. The commission works to enhance the quality of life for older adults with an emphasis on health, wellness and independence.
For more information, contact Myrtle Braxton at 510-233-0777.