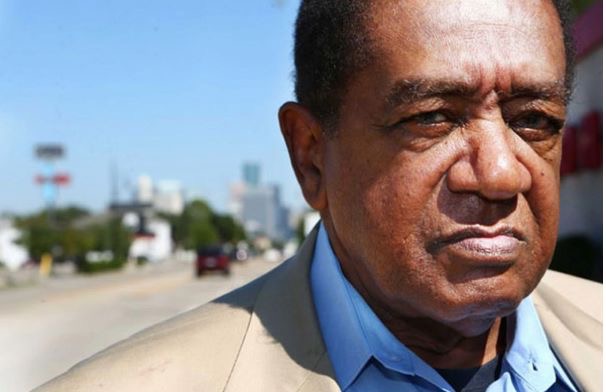 12 Mar

Breakfast With Chairman Bobby: Local Panther History Revisited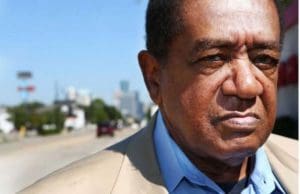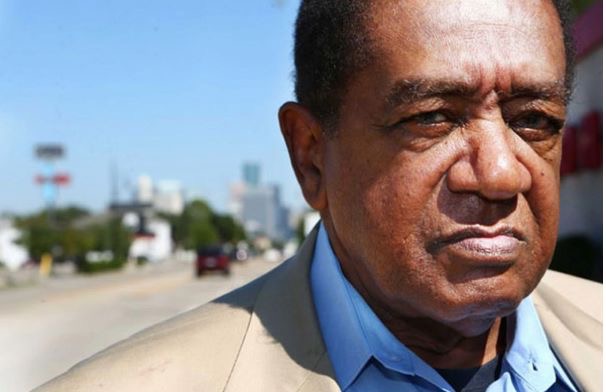 by Steve Early
The once controversial, much criminally prosecuted, and often violently repressed Black Panther Party for Self-Defense has achieved belated respectability 51 years after its birth in Oakland.
New books, films and conferences have provided a 21st century platform for its personal and political legacies (some much contested).
Nobody has been more active on the Panther nostalgia circuit than Bobby Seale, the author of two books about the party as well as a popular collection of barbecue recipes.
The avuncular 81-year old African-American community elder returned to Richmond for two Black History Month events, more than five decades after assisting young people in this East Bay city as part of President Lyndon Johnson's War on Poverty. Gone was the black leather jacket and Panther beret of Seale's militant youth. Instead, he sported the brown corduroy jacket, blue oxford shirt and tie of a retired college lecturer.
Seale (aka "Chairman Bobby") co-founded the Black Panther Party in 1966, along with his Merritt College classmate Huey Newton. The U.S. Air Force veteran and former aerospace worker became a 1960s icon in his own right and one of the era's most famous political prisoners.
While enduring a four-year jail term for contempt of court, imposed by the infamous Judge Julius Hoffman during the 1969 trial of anti-war protestors known as "the Chicago Eight," Seale also faced federal prosecution for alleged complicity in the murder of a New Haven, Conn. Panther member suspected of being a police informant.
The jury deadlocked in that case and charges against Seale were eventually dropped. Two years after his release from jail, the Panther leader embraced electoral politics. As chronicled in Stanley Nelson's 2015 documentary, The Black Panthers: Vanguard of the Revolution, Seale ran a surprisingly strong race against the incumbent mayor of Oakland, finishing second in a field of nine candidates.
In 1974, Seale left the BPP, after falling out with the increasingly dictatorial and unhinged Huey Newton. The party was, by then, a shadow of its former self due to state repression, police infiltration, internal factionalism, and a deeply destructive leadership cult. Its explosive growth in the late '60s, from a handful of Bay Area members to 5,000 in nearly 50 chapters around the country, became an increasingly distant memory. By Seale's count, in 1969 alone, 28 Panther supporters died and 69 were wounded in police raids and ambushes. He estimates that 12 police officers died during these same confrontations.
Richmond Roots
Chairman Bobby's Richmond homecoming had a carefully staged symmetry, a bit redolent with historical irony. His first audience of the day was a group of residents of the Pullman Point Apartments, where a Chevron-funded philanthropic organization called For Richmond has organized a modern-day children's breakfast program (something the Black Panthers famously did in the '60s). As mothers, grandmothers and children gathered for breakfast, Seale tried to set the record straight about himself and the Panthers.
"A lot of people think I was just some guy out on the street with guns," he said, recalling a long list of enemies, like California Governor Ronald Reagan and FBI Director J. Edgar Hoover, who denounced him as a thug, hooligan, or national security threat.
Rebutting those characterizations, Seale described the Party's focus on "realistic, practical programs" that fed children before school, provided free medical care, and sought police accountability. The Panthers' organizing in East Bay communities was designed, he said, "to unite the people and get them registered to vote."
The Party registered hundreds of new voters to insure that African-Americans could sign petitions, vote on ballot measures, and serve on what were then often all-white juries. In four cities—Richmond, Oakland, San Francisco, and Berkeley—the BPP gathered signatures to trigger a citywide vote on "community control of the police." The Party newspaper also proposed that predominantly black North Richmond become an independent city so its residents could "control their own school system, and have the power to tax businesses in the area, like Standard Oil," the city's largest employer (known today as Chevron).
Under the Panthers' plan for civilian oversight, elected police review boards would investigate officer-involved shootings, reports of unnecessary force, and other allegations of official misconduct. Such probes tend to be handled by internal affairs units or local prosecutors with close police department ties. Only in Berkeley did this cutting edge scheme make it onto the ballot.
In Richmond, it took another 47 years for the city to refashion its under-resourced Police Commission into a more pro-active Citizens Police Review Commission. This appointed body is now required to investigate every officer-involved civilian fatality or serious injury (that results in hospitalization for more than three days), even without a triggering complaint. It's currently in the process of hiring a professional investigator, who can subpoena officers and question them under oath. As part of ongoing RPD reform, internal affairs probes are now conducted by a civilian-led Office of Professional Accountability that is located in City Hall rather than the Police Department, a rare arrangement in America today.
Open Carry, Sixties-Style
As Seale recalled last week, the BPP's first local organizing in Richmond involved policing complaints. Denzil Dowell, a 22-year-old North Richmond construction worker, was fatally shot by a deputy sheriff who believed he was a burglary suspect. In a sequence of events still familiar in major U.S. cities half a century later, Dowell's death was soon found to be "justifiable homicide."
Seale knew the victim's family from his prior work in the neighborhood. "I believe the police murdered my son," his mother told him.
Seizing the time, the Panthers organized a protest rally attended by 400 North Richmond residents and signed up many as new members. Fifteen BPP activists stood guard in their signature black berets and leather jackets. They were armed with 12-gauge shotguns, M1 rifles, and assorted handguns.
This dramatic display of what today would be called "open carry" got the attention of state legislators in Sacramento. A bill to restrict public gun-toting (still legal at the time) was hurriedly introduced. During a now-famous lobbying visit to the State Capitol in May 1967, the Panthers were packing again when they protested this new form of gun control. Seale and his comrades were arrested but made national headlines with the dramatic form of political theater first premiered in the East Bay.
In its Richmond heyday, the BPP fed 25 to 45 kids a day in a lower-budget breakfast program not funded by Big Oil. Panther volunteers did testing, door-to-door, for sickle cell anemia and hypertension. They gave away hundreds of free shoes to people in need and also started a "liberation school" that held classes on Saturdays because, as Panther archivist Bill Jennings recalls, "African American history was just not taught in Contra Costa County public schools."
Although it emphasized black empowerment, Seale described the BPP as a "populist movement" committed to "crossing all racial, religious, and ethnic lines."
As a multi-racial progressive movement has gained influence in Richmond, Panther history has won official recognition. In 2009, our visitor noted, the City Council expressed its gratitude to "Mr. Seale, his organization, and all the Black Panthers who…emerged from Richmond to activate, unite, organize, educate, mobilize, rally and increase awareness and hope for a better future for all the residents of our city."
That local appreciation was expressed again in person by a crowd of 350 people who gave Seale a standing ovation after his speech at a second Black History Month event sponsored by For Richmond.
Chairman Bobby opened his talk with the observation that it's "time once again to struggle and stand up for what you believe in."
He concluded, as expected, with the famous Panther salute, "Power to the People!" But in between, he reminded his listeners that "the methodology of grassroots community organizing" remains key to gaining political power in Richmond, or any other place where it hasn't been well shared in the past.
A version of this story first appeared at counterpunch.org