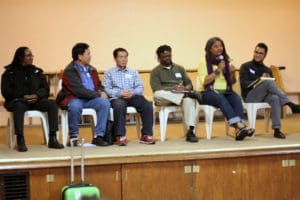 By Isabella Zizi and Malcolm Marshall
A new coalition of Richmond organizations is looking for ways to transition the city to a living economy.
The shift away from fossil fuel industries is "inevitable," according to Andres Soto of Communities for a Better Environment. "Just Transition," Soto said, "is an effort to plan and negotiate that transition to the benefit of folks on both sides of the fenceline."
"It would be foolish for us to wait for Chevron to change its business model overnight or any time soon," explained Ratha Lai, campaign coordinator of the Our Power campaign, a project of the national Climate Justice Alliance.
The campaign seeks to move Richmond from an extractive economy to a new living economy – one that includes everything from sustainable agriculture and natural resources to renewable energy, community capital, health and wellness.
"Our goal is to seize the present moment," Lai said, "and build an alternative economy that makes it possible for Richmond to thrive with the communities that are here now."
So far, the Richmond Our Power coalition consists of non-profits Asian Pacific Environmental Network, Communities for a Better Environment, Rich City Rides and Urban Tilth – but they are looking to grow.
"We're hoping to expand it to other organizations that also want to fight and shape a just transition for our communities," said Vivian Huang, campaign director of APEN.
"Some people call it the living economy, some call it the regenerative economy. There's a term in Spanish, buen vivir, that means good living or good life," said Huang.
"I think they all have elements of the resources, the culture and the work that really promote people and the potential of people."
Soto says it's a continuation of the work they have already been doing here in Richmond.
"CBE and APEN are working to build a coalition of allies who are working on this transformation of Richmond. One that is rooted in the new economy of renewable energy," he said.
Soto said new coalition member Richmond City Rides, a cooperative-owned bike shop on Macdonald Ave., is an example of a cooperative business model that fits in with the theme of a living economy.
"We want to see more examples of that here," he said.
The Our Power coalition in Richmond recently hosted the Rise Up Richmond community forum to discuss the concept of a living economy and how to advance change to get there.
About 60 people attended the event at Grace Lutheran Church that featured a panel and small breakout group discussions.
Chanthon Vilaikham from APEN kicked off the panel discussion and, through a translator, talked about the importance of a just transition to renewable energies.
Jose Lopez, a member of CBE's research committee said this kind of transformation would need a broad base of support. "In order for us to change the rules and bring progressive power to our community," he said, "we have to learn how to build alliances with all issues."
Doria Robinson of Urban Tilth said one way to think about it is the way we spend our money. "We need to find that transition away from those resources that are extracting our money elsewhere and create a long-term capital platform for ourselves," said Robinson.
Najari Smith of Rich City Rides said this represents a cultural shift. "In order for us to reimagine new beginnings, we have to shift our way of thinking away from short term to more about long term."
Richmond City Councilmember Jovanka Beckles talked about creating or joining movements that drive our passion.
During the breakout sessions, participants had the opportunity to brainstorm their own definition of the kind of cultural shift that would be needed to transition to a living economy in Richmond.
Ideas to rebuild Richmond included new repair shops, learning how to consume less and fix what we have, co-op bulk grocery stores, trade schools as well as disposable and reusable commodities.
"This was one of our first educational and policy oriented events to let people know what we are trying to do and let them be a part of it," said Andres Soto of CBE.
Lai of the Our Power campaign said the forum was an opportunity for the coalition to introduce the concept of a just transition to community members.
"It helped us recognize how much work is being done and what work needs to be done in our community, especially for the community of color," said Lai. "We are recognizing that we need each other for a just transition."
Specifically, Soto said the coalition is looking to recruit new members to help enact some of the group's initial goals such as "having the City of Richmond solarize all the municipal buildings and start thinking about more solar farms."
"We also want to work with the school district on solarization," Soto said.
Robinson of Urban Tilth said she joined the campaign because she was inspired by the act of resistance that Our Power is bringing to the table.
"It is the first opportunity away from the bad and toward a renewable community," said Robinson.
Goals of the national Our Power campaign include moving local and state governments to create jobs in renewable energy, supporting cooperative economic structures to meet community needs, and supporting community control of land, water and food systems.
Other Our Power cities include San Antonio, Jackson, Detroit, Black Mesa and Eastern Kentucky.
"We hoping that people liked what they heard and are also feeling the passion and the urgency and will become part of that work," said Huang.