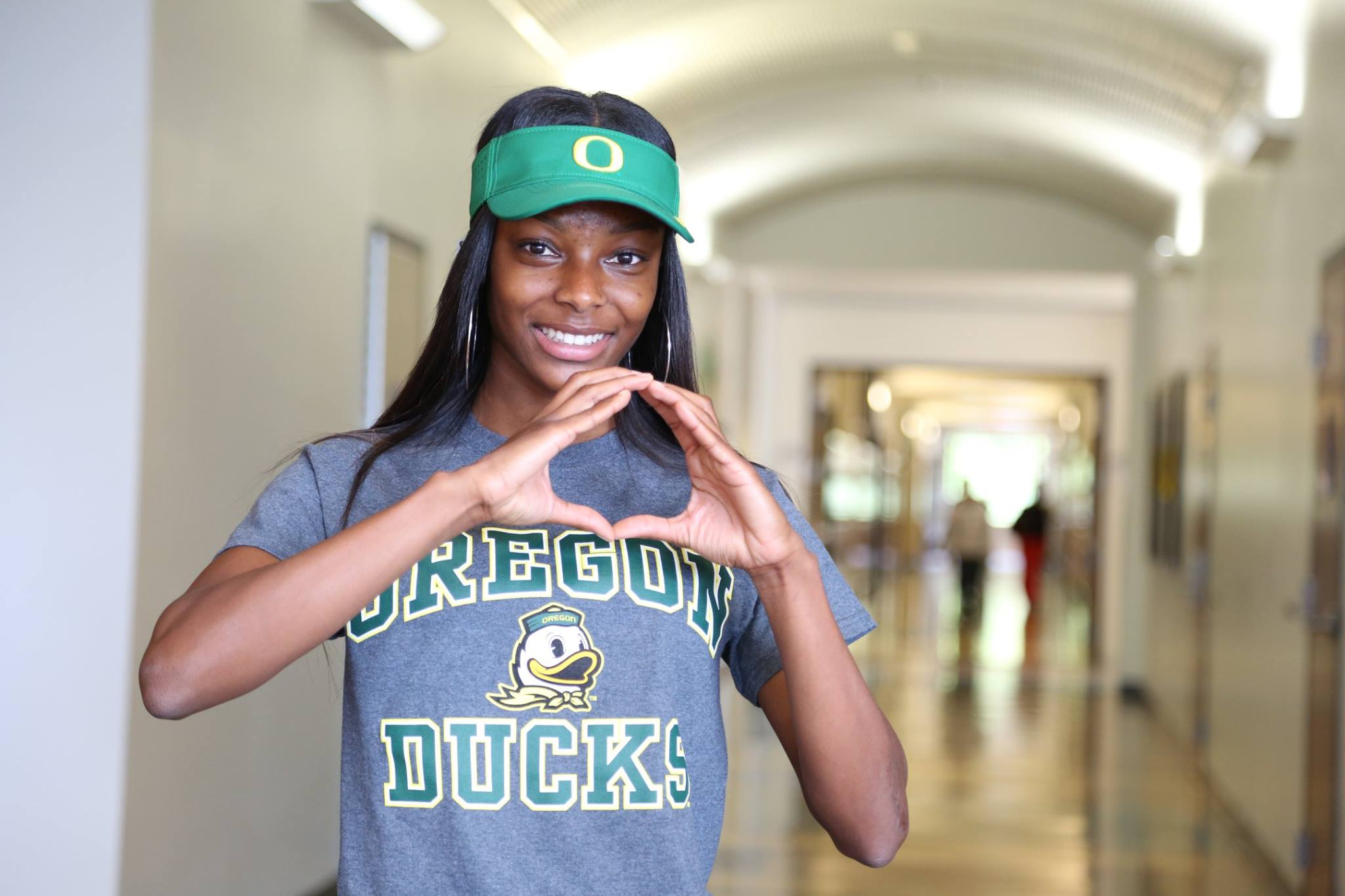 22 Apr

Track Star Kaylah Robinson Signs With Oregon Ducks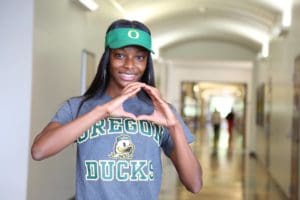 By Ann Bassette
El Cerrito High School track and field star Kaylah Robinson has signed a national letter of intent to attend the University of Oregon.
"Today has a been a day I've been waiting for for a long time," said the 17- year-old Robinson, sporting a bright green visor with the yellow "O" logo as she made her announcement in front of family members, coaches and friends inside the El Cerrito High School library.
"I'm really excited to go to college and to such a good track program," she said.
Robinson has been to the Junior Olympics from the age of seven to 13 and has been to State all four years of her high school career.
Robinson's coaches were in attendance, all of them with big smiles as they witnessed the record-breaking runner sign on the dotted line.
"She's very dedicated," said Eric Avery, coach of the Richmond Half-Steppers, who was Robinson's first coach at the age of seven.
He described her as "a hard-working, fun-loving child who was willing to give everything she had for the team."
Sean Gwi, assistant track and field coach at El Cerrito High, said Robinson is easy to coach because she has such high expectations of herself.
"She's like a sponge. She absorbs a lot of the feedback, the drills, she'll memorize the measurements. She is very much a student of the sport," he said.
Gwi is supportive of Robinson's decision to join the Ducks. "University of Oregon is known for their success with track and field," said Gwi.
Slideshows showcasing Robinson's impressive 10-year career as a runner and hurdler played during the signing event.
Robinson's great-grandparents were awed as they sat in front and watched baby photos, prom pictures, and track videos.
"I wouldn't be here without my support system. My parents, my grandparents, my friends and coaches, I wouldn't be here without them," Robinson said.
Robinson has been juggling practice, meets, and school, and through it all has maintained a 3.6 GPA with multiple AP courses. "It is physically draining and mentally draining," she said, "but I feel like I made it because I want to succeed."
Along with running track at Oregon, Robinson plans to major in biology, and go to nursing school to become a neonatal nurse or nurse anesthetist.
Her words of advice to the next runner: "Just keep going, no matter how hard it gets, just keep pushing through."