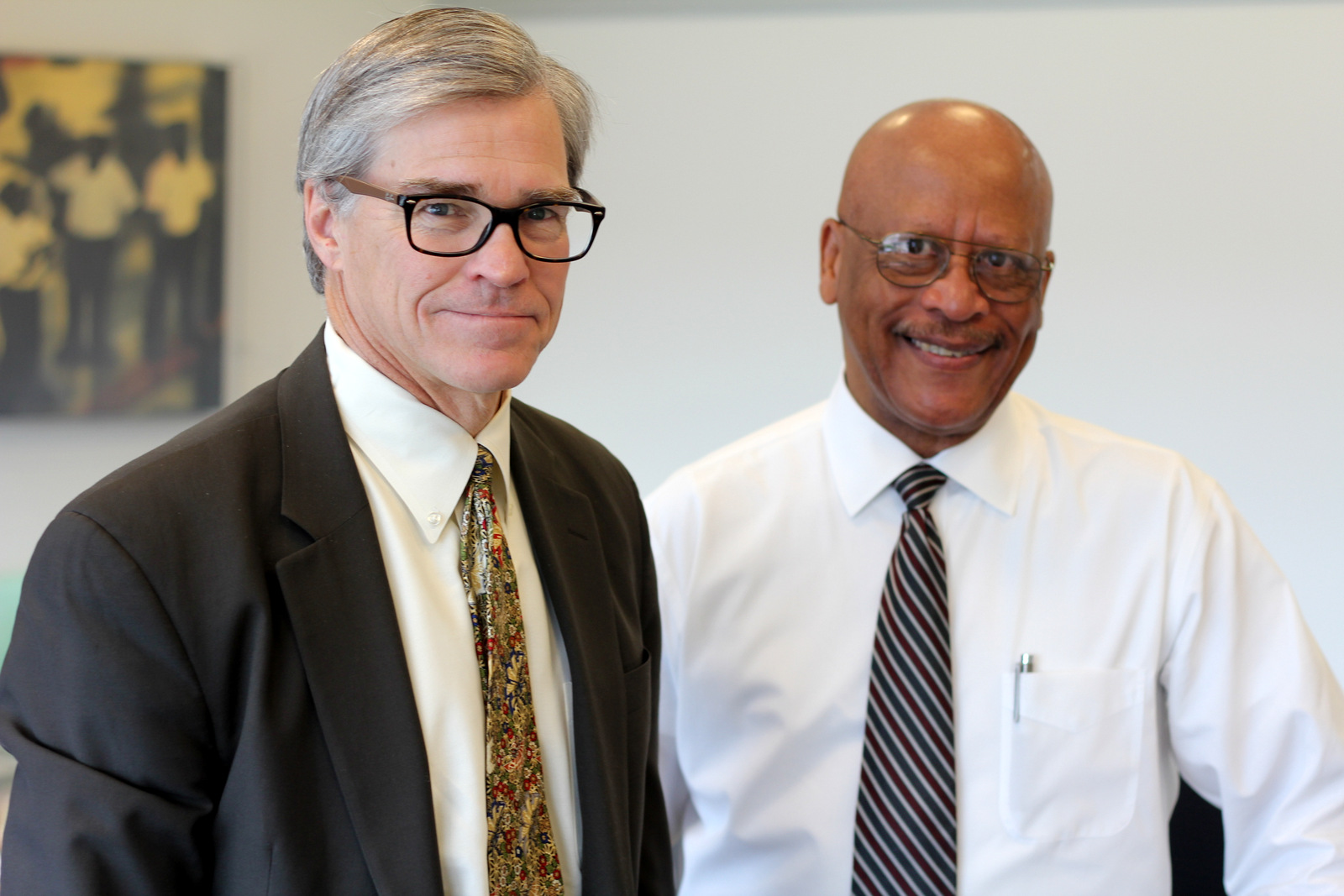 12 May

City Manager: Setting the Table for Investment, Not Displacement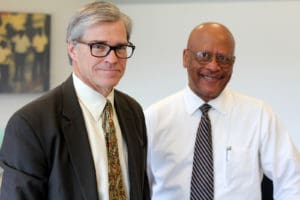 Interview, Vernon Whitmore
Longtime Bay Area newspaper publisher and Richmond Pulse contributor Vernon Whitmore recently sat down with Richmond City Manager Bill Lindsay to discuss some of the changes coming to Richmond, and how the city is positioning itself for new business and development in a way that benefits the entire community.
Vernon Whitmore: What are some of the things that the city of Richmond did well last year?
Bill Lindsay: Last year, I think we did a good job positioning ourselves for future investment. It doesn't sound so remarkable, but some of the things we were working on set the table for a lot of good things happening in the future.
For example, the work we did on the ferry service coming here. That has already spurred some interest and development. The marketing of our downtown parcels, getting a developer on board for the 12th and Macdonald parcel and for parcel FM. Getting a developer for the fire-training center. Residential projects and getting Terminal One entitled.
All of those things should lead to groundbreaking of projects that will bring on a lot of activity: residential units and commercial development for the next three to five years.
VW: With all these developments and the influx of people moving to Richmond, some in the community are crying gentrification. How does the city find a balance?
BL: I think that displacement is something we need to be aware of as a potential unintended consequence of this investment so I think it's good to keep it in mind.
Some of the ways that we should try to do that are making sure that with all of these developments and with other projects that we approve, that there's a strong local employment aspect of it so that existing residents can benefit from the money that's being spent and invested here. And not just for construction jobs, but for procurement and just trying to have things focused on benefiting the local economy.
VW: When we think about urban renewal, we often think about displacement.
BL: That decades-old model of urban renewal – where you just kind of tear things [down] and displace a lot of people and bring in a bunch of new [things] – that's just not something we're doing.
We're bringing in more density and more residential units, which I think will lead to a more vibrant community that all residents will be able to enjoy. I think all residents, whether they are current residents or new residents, benefit from increased public safety and lower crime rates and healthier communities and infrastructure that is getting better. So those are things that we need to continue focusing on and making sure that our existing residents are really sharing in those benefits that are coming.
VW: One thing that would be great is to keep our young people in Richmond.
BL: What I would say is a good long-term goal is for young people who are growing up in the community to want to be able to stay, because Richmond is a great place for them to live and work and enjoy a good quality of life. It really used to bother me when you would talk to high school kids and they would equate success with leaving town and I think that's not a good thing. You want to have people equate success with being able to continue to live and support the community and enjoy it.
VW: What's an example of how the city is trying to do that?
BL: I think a lot of things that we have done are helpful in that regard. I think the Richmond Promise, the scholarship program, is a good one. You know, it creates a strong connection between high school students and the community. It's not like, 'Here's scholarship money, leave town.' It's, 'Here's scholarship money, leave town, and then come back.' And I think there's a message that's in there that says Richmond is going to be a place that you will want to continue to make your home and I hope that that happens.
VH: How is working with the business community coming along?
BL: We have a new economy coming into Richmond, a lot of it having to do with warehouse distribution logistics, like Blue Apron, Hello Fresh, Williams Sonoma, Restoration Hardware, Whole Foods, Amazon and others. I think it's incumbent upon us to really try to connect with them and have them see Richmond as their community as well.
It's a bit of a two-way street. We want them to recognize that this is a community that's worth them investing their time and talents, not just tax base, but looking at what they can try to do for Richmond as well. It's something that I'm really looking forward to tapping into.
I've said this before: Any city manager would love to have the diversity of the tax base that we have. I think we need to pay attention to all the various business sectors, and be responsive to what their interests are to help them grow and help them want to invest.
VW: Let's talk about Hilltop and the downtown area. Traveling around the country, I see beautiful new mall areas that aren't the traditional malls. How are things working out with trying to resurrect these areas?
BL: Hilltop is going through what it's going through now, where it's in receivership, and it's for sale. It definitely has needed to change for a long time, and sometimes you have to bounce off the bottom before you can head back up, so I think that's hopefully what's happening now.
I think it's really clear that that whole area needs to reinvent itself, and it's not a coincidence that in our general plan it was designated as a change area. Because, you're right, that model doesn't work, and you see all over the nation these malls getting de-malled, going in a different type of direction. Hopefully this year, we will see a concept emerge for a new Hilltop district, and, you know, I think that the district includes, not only the mall, but having a lifestyle kind of center. They have some anchors that sound like they want to stay there, but I think that the area needs a whole lot more residential units that can support more of a local-serving retail.
I think the key is really to come up with a kind of a new activity center. I think that the term of art now is the 'lifestyle mall.' There really is no mall anymore, but it functions more as a kind of a little mini-downtown, and so I see that happening at Hilltop.
VW: And how do you see the future of downtown Richmond?
BH: In downtown Richmond, we're hoping that we set the table for another, maybe 1,000 residential units coming into that area that can really support more commercial activity, and then it starts to snowball and continues to build.
In some ways, I think that some of the elements are really pretty similar between Hilltop and downtown, and they don't need to compete with each other. They can both be really successful districts of the city, supporting a local economy and a local neighborhood and even places where people from out of town want to come and see. Certainly having the BART station right downtown creates kind of a natural activity center. It'll have to not just be residential, but I think it can have a really vibrant commercial and job-based economy too.