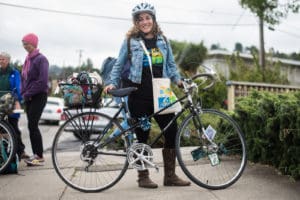 Photo Essay, David Meza
Over 400 Richmond riders joined in the 23rd annual Bike To Work Day on Thursday, May 11.
The nationwide day, part of National Bike Month, promotes commuters using two wheels instead of four to get to work.
In Richmond, volunteers staffed energizer stations throughout the city, providing riders with refreshments, reusable water bottles, snacks, prizes, and encouragement.
Stations were set up throughout Richmond at Richmond BART, Harbour Ave & Ohio (on the Greenway), MacDonald Ave/Key Blvd and Marina Bay.
This year featured a new event in Richmond, the Bike to Work Happy Hour Block Party hosted by Rich City Rides, held at 15th St. between Bissell Ave and Macdonald Ave in downtown Richmond. Those who attended enjoyed music, a food truck and mingling with members of Richmond's biking community. Inside the garden area was free bike parking. There was a bounce house for the kids and for those 21 and up, beer from the East Brothers Brewing Company.
Richmond resident Eduardo Arias-Ramos, who showed up for the happy hour event, says he has seen a resurgence of cyclists in Richmond over the last few years. For him, every day is Bike to Work Day; he works as a bike messenger.
"I work with my bike and don't drive a car, so I know it's very doable," Arias-Ramos said. "Sometimes I cruise and sometime I move around fast just like an automobile."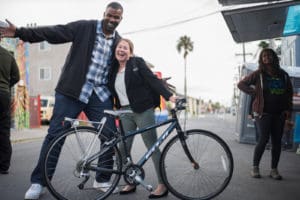 For Shannon Bowman, Bike to Work Day was an opportunity to bring her bike to Rich City Rides and get it repaired.
"My bike has been sitting in a basement for years," she said. "It inspired me just knowing that there's a local bike shop here where I could get my bike fixed."
Bowman suffered a hip injury a few years ago that has kept her from riding.
"I'm hoping I'm OK now," she said. "I'm trying this out for the first time in a while."
Now that her bike is fixed, Bowman said she plans on riding more often.