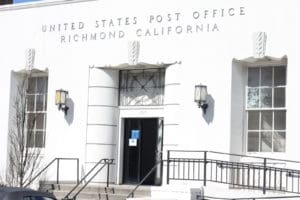 RP Staff Report
A public hearing on the possible closure of the Nevin Post Office is scheduled for 6:00 p.m. Wednesday, May 31 at the Richmond City Council Chambers, 440 Civic Center Plaza.
Postal officials announced the closure of the historic art deco building in February after deeming the building no longer necessary for postal operations.
During Wednesday's public meeting, post office officials will address the need for relocation, explain the proposal under consideration and answer questions from residents and elected officials.
Post office officials are considering relocating the retail services from Nevin to the McVittie Detached Delivery Unit at 2100 Chanslor Ave.
Following the public meeting, residents will have 30 days to submit written comments for the Postal Service's consideration prior to its final decision.
The potential closure of the Nevin Post Office has been met with strong opposition from residents, elected officials and Richmond Main Street, an organization working to revive the city's downtown core. Some believe the closure will delay the redevelopment of Richmond's downtown.
Councilman Eduardo Martinez said in February that the "post office is essential for the improvement of Main Street and for developing downtown. It's a building that needs to be maintained for the purposes that it was built."
But postal officials contend that the closure of the Nevin Post office is part of an overall Postal Service cost-cutting strategy. The post office continues to experience sharp declines in mail volume as businesses and individuals have moved from snail mail to e-mail and online bill pay.
Since the Postal Service receives no tax dollars for its operating expenses, they must rely on postage sales and services to generate revenue, post office officials said in a letter to Mayor Tom Butt.
"In the face of unsustainable deficits, the Postal Service must seek ways to cut costs, increase revenue and use its physical facilities as efficiently as possible," Dean Cameron, USPS leasing real estate specialist, said in letter addressed to Butt.
Residents are urged to submit written comments to:
United States Postal Service
Attn.: Dean Cameron
1300 Evans Avenue, Suite 200, San Francisco, CA 94188.