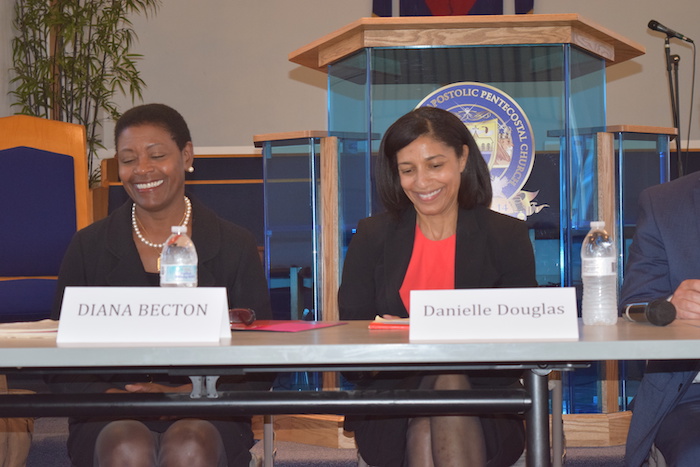 13 Sep

Diana Becton Selected as New Contra Costa Interim DA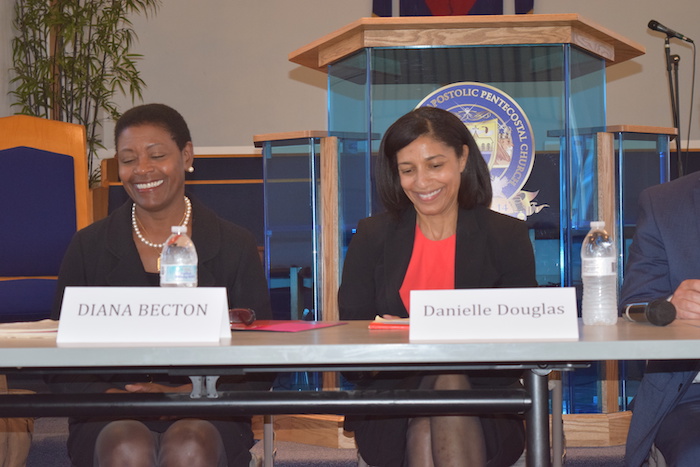 By Abené Clayton
Contra Costa County supervisors have selected retired Superior Court Judge Diana Becton as their new interim district attorney. She replaces Mark Peterson, who resigned after pleading no contest to a felony perjury charge in June.
Becton will become the first African-American and the first woman to lead the office.
Becton participated in a community forum earlier this month along with four other finalists for the position, where they answered questions about how they would react when confronted with complex cases.
Criminal justice reform, a big issue here in Richmond, was one of the main topics of concern.
When asked about youthful offenders, Becton said, "I can't think of really an instance where it would be appropriate to have a young person committed to prison without a possibility of parole in their lifetime." She also mentioned her involvement in the Colin Kaepernick-funded Know Your Rights Camp and the Ceasefire effort.
"There were problems identified between our youth and law enforcement. We needed to know how they need to interact. I've done that in the churches and in the faith community," Becton said. "I have locked arms with some of you to walk the streets for Ceasefire nights to bring safety to our communities."
She was also confronted, along with Contra Costa Assistant District Attorney Tom Kensok, about allegedly using excerpts from speeches and law reviews in their DA applications without properly crediting the sources.
But Becton was still the clear audience favorite at the forum. She received a plaque recognizing community service that was given out during the recent Soulful Sunday Softball Game, which she was unable to attend.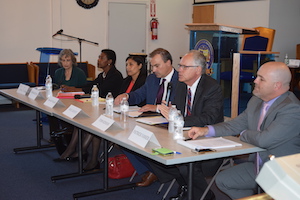 Becton was selected over four other candidates: Contra Costa Assistant District Attorney Tom Kensok, Contra Costa Senior Deputy District Attorney Paul Graves, Santa Clara Supervising Deputy District Attorney Patrick Vanier, and Judge Danielle Douglas.
Tamisha Torres, executive director of the Safe Return Project and one on the forum's organizers, said the forum was a chance for community members to hear from each candidate and ask tough questions.
"The purpose was so that the community could understand the role and powers of the District Attorney's office," said Torres. "Many people do not know that the District Attorney is an elected official and should be hearing the concerns of the people."
Among the questions asked were how the candidates would handle youthful offenders.
When current Richmond City Council member Melvin Willis asked the candidates if they would outlaw the death penalty for young offenders, Tom Kensok said, "I have voted against it twice, just like the majority of Contra Costa residents have voted." And while he wouldn't commit to "an all out ban," he questioned the efficacy of death row, saying, "They're expensive, they are not effective."
Questions about transparency were met with similar answers from the candidates, with each promising to approach the office differently than former DA Peterson, who Senior Deputy District Attorney Paul Graves said was a scarce sight in the office.
"I worked with Mr. Peterson for seven years. I can honestly say I never saw him in the office, and he clearly was not out here in the community."
Santa Clara Supervising Deputy District Attorney Patrick Vanier said he would implement the UCLA-born Parent Project to address truancy in the county instead of fining and criminalizing parents.
"Whether it's substance abuse, whether they're runaways, whether they're looking at joining a gang, if we focus on the reasons why kids aren't going to school…then we can get them back into school," he said.
Judge Danielle Douglass was the only candidate to mention her personal life when covering the same truancy question, posed by the youth from Richmond's agriculture non-profit, Urban Tilth.
"I'm a single mom, so I know what most families need is help, what they need is support," said Douglass. "They don't need to go to court and be told they're a bad parent, that they're criminals. That's only going to make it worse."
Though supervisors have appointed Becton, the increased community attention on the position seems to be ramping up. Thanks to a presentation by ACLU Criminal Justice Associate Yoel Haile, residents understand the sometimes unchecked power that DAs wield, for example when it comes to incarcerating people with mental health and substance abuse issues.
"DAs have the power to make those calls and identify services that take people out of those jails," said Haile.
Becton's term of office lasts until January 2019. The next district attorney election will take place in June 2018.