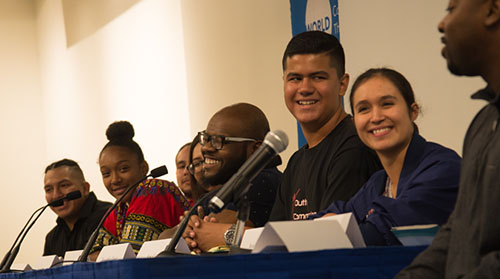 02 Oct

Beyond the Bay: 'Edge of Youth Culture' Shifting to Outer Suburbs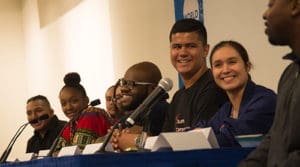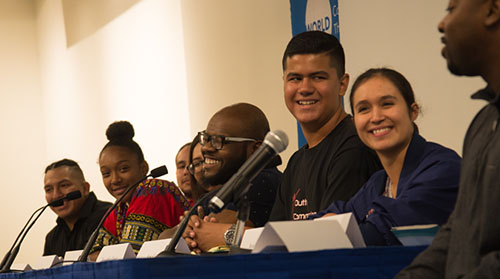 Above: Youth speak during a forum on life in the outer edges of the Bay Area. (Photo Credit: Tudor Stanley)
New America Media, News Report, Peter Schurmann and Anna Challet
SAN FRANCISCO — Imani Lopez is 17. She's an aspiring writer, with interests ranging from poetry to screenwriting, and she eventually wants to make it to Hollywood. But for now she's working two jobs while going to school full time, and helping to raise two younger sisters and a developmentally disabled brother.
Lopez lives with her grandparents in Fairfield, about an hour outside San Francisco, and is part of a generation of young people growing up on the outer edges of the Bay Area, where economic displacement is shaping lives and redefining communities.
"I'm not the only one in this boat," she says, noting the challenges she and other young people face in communities many Bay Area residents know only as freeway signs. These include things like poor transportation, few activities outside of school, and a general lack of resources that might otherwise open doors to opportunity.
Lopez was among a group of young people who took part in a writing project called Youth Voices Beyond the Bay that highlighted some of their experiences living in East Contra Costa and Solano County. They gathered Tuesday for a forum in San Francisco organized by New America Media.

Imani Lopez (center) of Fairfield discusses the challenge of holding down two jobs while going to school full time. (Credit Tudor Stanley)
A growing number of youth development workers are listening to Lopez and her peers. More than 20 agencies, ranging from the REACH Youth Coalition of the Vacaville Police Department to One Day At a Time (ODAT) in Brentwood and Opportunity Junction in Antioch, joined the forum to call attention to the need for more support for youth centers across the region.
"These are remarkable kids and what they all want is opportunities to connect, to communicate, to know there are people who believe in them, who care," says Willie Moffett Jr., the operations director of the Pittsburg Youth Development Center.
The edge of youth culture may be shifting from the urban core to the outer suburbs, suggested New America Media Executive Director Sandy Close, yet the infrastructure of youth centers to support young people in Bay Area suburbs is threadbare. The per capita philanthropic investment in Solano County, for example, is about $1, versus about $1000 per capita in San Francisco.
The lack of investment continues even as the suburbs grow more diverse, and poverty is increasing among Black and Latino communities that live in them. A 2016 study by Urban Habitat highlighted the changes wrought by the Bay Area's economic boom, including rising rates of inequality and segregation.
What's striking is the sense shared by youth development organizations in these areas that they are pioneers. Some organizations, like ODAT, started as one-person operations; others, like the Pittsburg Youth Development Center, are run by volunteers. A number of organizations are now partnering with each other to form the beginnings of a network.
"We need to fund the infrastructure in Solano County and East Contra Costa County to really make sure that this kind of work can happen," says Margaret Brodkin, a guru of youth development work in Solano County and the former director of the Department of Children, Youth, and Their Families in San Francisco. "And then when that happens, and you have a powerful infrastructure of youth development leaders and voices of young people, then you can start changing public policy and put real public dollars into institutionalizing and sustaining these kinds of services."
Youth on Tuesday's panel also spoke about what it felt like to be pushed out of wealthier urban centers like San Francisco and Oakland to smaller suburban communities. One speaker noted that even though he had to leave Oakland for the suburbs, he still considers himself an Oaklander.
Another speaker, Jose Cordon, lives in Antioch but is originally from San Francisco, and says that financial insecurities make it hard for the young people he knows to see opportunity in the Bay Area's affluence. "If you don't see that piece of gold in your hand … you're not going to dig."
But like the other youth who spoke at the forum, Cordon isn't one to dwell on the negatives. With an entrepreneur's drive, and some encouragement from ODAT, he's set out to establish a program that connects local youth to canine companions. ODAT began as a gang intervention organization, notes its founder Johnny Rodriguez, but over time expanded its mission to include all young people as it saw the growing need.
Cordon got his idea during a trip to Northern Ireland organized by ODAT, where he saw inmates at a local prison who were allowed to spend time with dogs. It was a form of therapy, and Cordon recalls "a sense of calm" at the prison.
And while there are similar programs here in the United States, Cordon says his program differs in one major respect. "I want to make the connection with dogs before anyone is incarcerated, as a proactive approach," he wrote in his story for the project. "And Antioch is the perfect place to do it."

Willie Moffet Jr. (center) of the Pittsburg Youth Dev. Center. (Credit Tudor Stanley)
Hessakihia Lloyd, now 24, was also born in San Francisco and moved with his family to Bay Point when he was 13. Wearing a San Francisco Giants baseball cap, Lloyd recalled what it felt like to leave The City.
"You're leaving such a beautiful city like San Francisco, with so much to do, and you know, the views are beautiful and the beaches are beautiful," he said. "That's what life had become to me, and to be told, 'Hey, get used to life being something else' was a bit of a shock."
But Lloyd said the feeling of community he discovered in Bay Point, where "folks pull together to make sure everyone is okay" helped him ease through the transition.
He also discovered the Ambrose Teen Center, headed by Rande Ross, who Lloyd credits as his inspiration to pursue a career in youth development now that he's an adult. "Finding the teen center helped me adjust and it helped me add structure to what I hoped to build on in my life. It's really helped me come a long way."