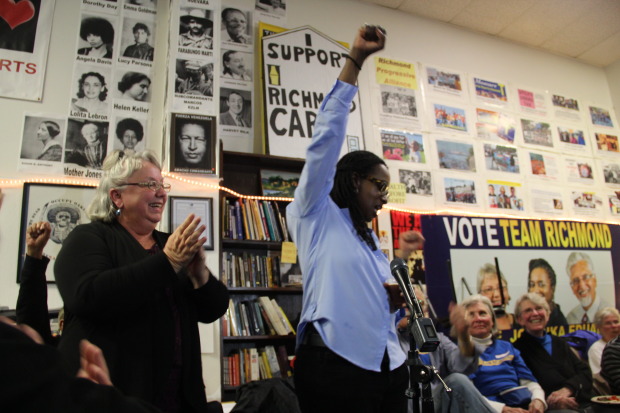 04 Oct

First Richmond, Now California: Can Our Progressives Transform State Politics?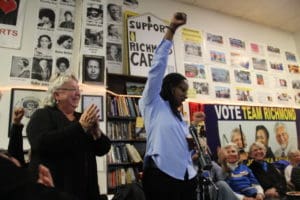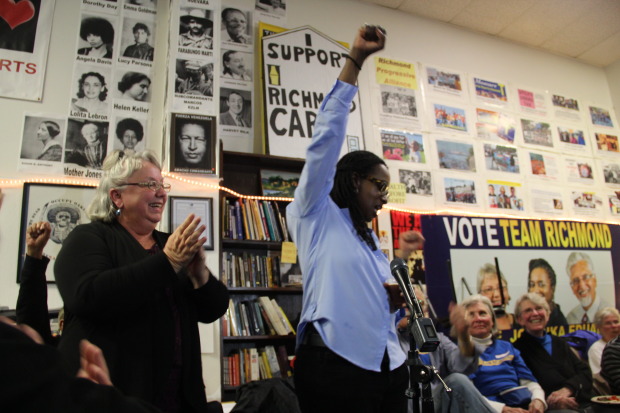 News Report, Keisa Reynolds | Photo by Steve Early
Richmond's move to the left has been the talk of the nation. Now two of the city's most popular politicians have their sights set on the California State Capitol. Vice Mayor Jovanka Beckles is running for California Assembly and former councilmember Gayle McLaughlin is running for Lieutenant Governor. But can these two progressive candidates win outside of Richmond?
Beckles is running as District 15 representative, a position currently held by former city council member Tony Thurmond. Other progressive candidates, like Oakland resident Buffy Wicks, are also running to represent District 15. The district includes several areas in Contra Costa and Alameda counties: Kensington, Berkeley, Oakland, Hercules, Pinole, and others in the northern region of the East Bay.
McLaughlin is hoping to replace current Lieutenant Governor Gavin Newsom. She is running against several candidates including California State Sen. Ed Hernandez and Pakistani-born doctor Asif Mahmood.
To many, the two "people-first" politicians are examples of the progressive politics that have helped shaped the way Richmond is seen by outsiders.
Beckles and McLaughlin made it onto Richmond City Council as members of the Richmond Progressive Alliance. In the 2016 election, RPA candidates made up a supermajority, with five progressive, corporate-free candidates on the seven-person city council. Along with defeating Chevron in 2014, their win inspired progressive groups across the state and country.
Now the question is whether that message will resonate on a larger scale.
"The time is right. I think people are ready, yearning for new politics and that means we have to organize," said McLaughlin.
Jovanka Beckles for California Assembly
A longtime Richmond resident, Panamanian-born Beckles has worked in the community for over 20 years as a mental health care provider. She says her political career was sparked by her desire to go beyond one-on-one interactions and create sustainable policies.
"In my work with children and families, I started to recognize it's one thing to do what I can, one thing to do what we can at the clinic, where I work, to heal the kids and the family. But the community isn't healed," said Beckles. "They're still being forced to live with unjust situations within the community and within their lives."
Beckles understands the importance of building connections with different organizations and demographics, including young people.
"In order to win this race," she said, "we definitely have to be very coordinated, very collaborative, very organized."
Beckles is not a lone progressive candidate in this race. Her opponents include Berkeley City Councilmember Ben Bartlett and Buffy Wicks, who advised former president Barack Obama and worked as California state director for presidential candidate Hillary Clinton.
But Beckles has earned many endorsements that include Bernie Sanders' Our Revolution and Berkeley City Councilmember Kate Harrison.
"Her record on the Richmond City Council highlights how hard she fights on behalf of working families, students, the LGBTQ community and marginalized communities. As a corporate money-free candidate, Berkeley residents can be confident Jovanka will represent their best interests in Sacramento, and not special interests," explained Harrison in a public statement.
Gayle McLaughlin for Lieutenant Governor
Originally from Chicago, McLaughlin relocated to Richmond in 2000 and took the city by storm as a trusted politician with experience in grassroots organizing.
Her tenure on city council started in 2004. She has since served two terms as mayor and several as a councilmember. On July 18, she resigned from her council seat to direct her energy toward her campaign for lieutenant governor.
"It became clear to me," she said, "I could reach a larger group of people and I could share [the] message of local political power, building corporate-free organizations, running corporate-free in various places all around the state, if I had the stage of a statewide campaign."
On Sept. 12, the organization Santa Cruz for Bernie helped organize an event in support of McLaughlin.
"I think Gayle is exactly what California needs. As another coastal city in California, Santa Cruz has a lot of the same problems as Richmond. I think there's a lot of cities in California having the same problems as Richmond," said Danny Drysdale, one of the speakers and organizers of the event.
"Richmond is one of the few places where people like Gayle built power and put solutions forward. They didn't give up [and] they kept fighting. Gayle is proof of that."
What does California need?
McLaughlin believes the RPA model is one that can be replicated. Progressive groups already have grown out of inspiration from Richmond Progressive Alliance, like El Cerrito Progressives, Pinole Progressives and South Bay Progressives.
The RPA model is one that allows groups seeking to run corporate-free campaigns in various districts to come together, according to McLaughlin, who describes it as a "roundtable" in which they can build camaraderie and show support for each campaign and candidate.
For many, Richmond has become a city where progressive ideas go to thrive and they attribute this change to the rise of the Richmond Progressive Alliance.
McLaughlin says all Californians are affected by the issues highlighted by RPA.
Beckles does not consider their work to be idealistic, a critique often thrown at progressives.
But, she adds, "When we unite—young, old, black, white, brown, different organizations—despite the small differences that we have, we can do some amazingly powerful, innovative, idealist things."
The 2016 presidential election garnered attention for progressive organizing on all levels. Around the country, Democratic Socialists of America saw an uptick in membership after Bernie Sanders lost the Democratic candidacy. New chapters were formed; others were revived. Locally, we have East Bay DSA, which is an influential organization beyond Richmond.
Both Beckles and McLaughlin have sought endorsements from East Bay DSA. There will be a vote on whether to endorse either candidate in upcoming weeks.
Progressive organizing seems to be picking up steam in a way that is relatively new to local politics. The 2018 elections will help illustrate how far progressives can actualize their vision of social and class equality in California.
Connect with Richmond Pulse on Facebook and Twitter and tell us what you want to come out of the 2018 elections.