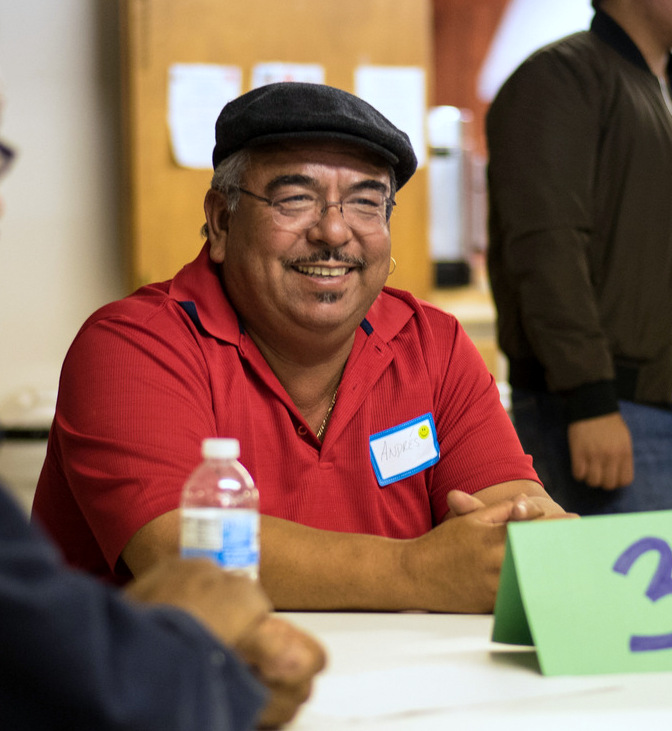 09 Oct

A Toxic Tour With Tales of Resilience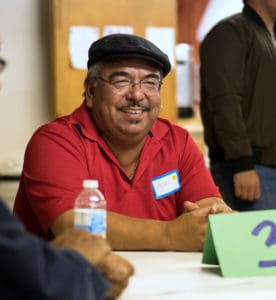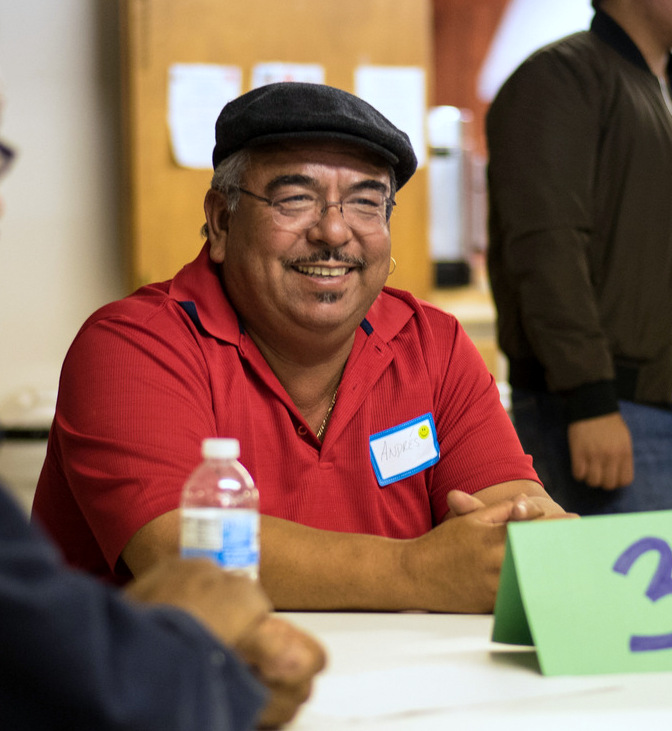 By Steve Early
Richmond has multiple guides to its past. On our waterfront, Betty Reid Soskin, the nation's oldest park ranger, holds forth at the Rosie the Riveter Homefront Museum, informing visitors about the World War II experience of African Americans.
Less famous but no less impressive as a narrator of local history is Andres Soto. A 1973 graduate of Richmond High School, he has lived or worked near refineries for six decades. Soto is a talented musician who turned his day job as an organizer for Communities for a Better Environment (CBE) into an opportunity for popular education.
Every few months, he conducts a "Toxics and Resilience Tour" of Richmond. (The next is scheduled for Saturday, October 28 and can be reserved at http://www.cbecal.org/events/.) Soto's tours, by bus and on foot, began as a mobile history lesson for students from the RYSE Youth Center.
Soto joined CBE five years ago, right after the last major Chevron refinery fire. As tour leader, he employs a Betty Soskin-like mix of personal biography and family history, local knowledge and social justice orientation, plus a keen grasp of Richmond's changing politics, demographics, and industrial landscape. His upbeat message is that concerned citizens can organize to challenge corporate polluters and their longtime political enablers, at the local level.
As a boy growing up in a Mexican-American immigrant family, Soto had exposure to the industrial hazards he campaigns against today. He recalls seeing the Richmond refinery flaring for the first time at age ten. He thought the pulsating glow "was so cool—like a fire-breathing dragon." On weekends, he would go with his father to deposit trash at the city dump in North Richmond.
At that stop on his toxic tour, Soto describes those outings as a foul-smelling but exciting "male adventure." The dump "contained 100 years worth of garbage, a mountain of it, 185 feet tall."
The Richmond landfill was also a dumping ground for toxic materials, making it a poor adjoining site for the solid waste incinerator that Contra Costa County planned to construct there in the 1980s. A community campaign organized by CBE blocked that project and got the dump closed in 1985. Ten years later, a "mitigation fund" was created to compensate North Richmond for its downwind exposure to the waste transfer station that still operates there.
On some tours, Soto notes that Pt. Isabel, now a popular dog walking park, was once the burial ground for tens of thousands of old battery casings, which leeched lead into a swimming beach and nearby fishing spots. Or he recounts the history of Fass Metals, a North Richmond firm which fouled local groundwater through its dumping of liquid Polychlorinated Biphenyl (PCB) from discarded utility company equipment. Taking us down what he called the "dirtiest street in Richmond," he points out coal trains on the Richmond Pacific Rail Road and the site of a former chemical plant.
And then, of course, there is Stauffer Chemical, another maker of pesticides and fertilizers that left behind a "toxic stew" so hard to remediate that its former location remains fenced off nearly two decades after production ceased. In the adjoining Blair Landfill, radioactive material has been found in the soil, possibly due to the melting of uranium by Stauffer Metals, a related company.
Amid this scarred industrial landscape, Soto manages to radiate a cheerful sense of humor. At age 62, he often wears colorful shirts, sports a pencil mustache, gold chain around his neck, and a ring in one ear; his distinguished-looking gray hair is swept straight back, pompadour style. Soto looks well prepared, at any moment, to pick up the flute, clarinet, or alto sax and join any ensemble playing a jazz standard at Yoshi's in Oakland.
Among his many CBE-related projects is the creation of a Bay Area Refinery Corridor Coalition to fight crude-by-rail shipments and local rail transport of "pet-coke." Soto and CBE played a key role in the 2014 Richmond community mobilization around Chevron's proposed $1 billion "modernization" plan. They helped pressure the company to consent to a $90 million community benefits agreement. More recently, Soto has helped turn out crowds at every meeting of the Bay Area Air Quality Management District Board, where the struggle for refinery emissions curbs continues, despite being undermined recently by the Brown Administration and a Democrat-dominated state legislature.
Soto ran for city council in 2004, when he lost narrowly as one of the first candidates fielded by the Richmond Progressive Alliance (RPA), which he helped create. Chevron's longtime domination of Richmond City Hall was one reason that local environmental justice activists formed the Alliance. Another concern was police harassment and mistreatment of the city's rapidly growing Latino population.
After toxic tour participants filed off the bus at the corner of Lowell and 23rd Streets, we were treated to a vivid first hand account of what Richmond policing was like before a successful, 15-year effort to change it. At this spot on Cinco de Mayo in 2002, our docent and his two college-age sons were roughed up, pepper-sprayed, handcuffed, and arrested for questioning the RPD's heavy-handed dispersal of a celebratory crowd of neighbors.
A Latino community mobilization, led by Soto, forced the Richmond Police Commission to take a closer look at the incident. The commission found that excessive force was used and recommended that one officer be fired. In 2005, a new police chief named Chris Magnus was hired to introduce reforms which have made Richmond a national model for effective community policing; his successor, Allwyn Brown, a 33-year department veteran, continues to build relationships based on trust and respect.
"This brutality was a symptom of the way our city was being run then," Soto told his Toxic Tour participants. The resulting display of community resilience 15 years ago not only led to a cleaner, greener, and healthier Richmond, it "helped change the culture of the police department as well."
The full version of this story was originally published at Beyond Chron.