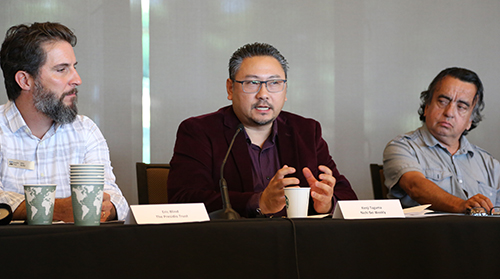 11 Oct

'We Are All Excludeds' – Ethnic Media Panel Discuss New Exhibit on Japanese Internment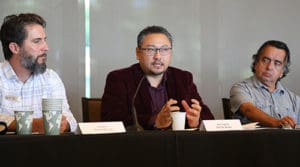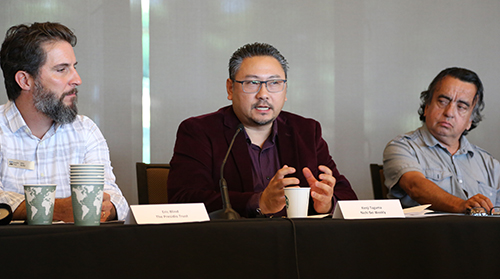 New America Media, News Report and Photos by Peter Schurmann
Above: Kenji Taguma (center), editor-in-chief of the Nichi Bei Weekly, explains how the internment experience fostered a committment to inclusion among Japanese Americans during a panel discussion at the Presidio Officers' Club in San Francisco on Oct. 5. At left is Eric Blind, director of Heritage Programs at the Presidio Trust./Photo by Peter Schurmann for NAM.
SAN FRANCISCO — Inferior, immoral, untrustworthy, refusing to assimilate, stealing "white" jobs – the rhetoric is all too familiar as public officials throughout U.S. history have denounced certain groups as aliens and called for their exclusion. Could voices of ordinary citizens have turned the tide? Does a lone voice matter?
This is the question a new exhibit at the Presidio Officers' Club called "Exclusion: The Presidio's Role in WWII Japanese American Incarceration," explores by focusing on how and why more than 120,000 Japanese Americans were rounded up and interned in concentration camps for the duration of WWII under suspicion of being enemy aliens.
At a media briefing organized by New America Media and the Presidio Trust, a panel of ethnic media leaders representing Asian, Latino, and African American communities agreed that what happened to Japanese Americans not only resonated with their own histories, but could all too easily repeat itself.
"All of a sudden, popular sentiment and ideology can intertwine and take over the narrative of the country, and that is what is so startling," said Jaya Padmanabhan, a writer and columnist with India Currents, a monthly magazine that caters to the South Asian community. "It's not only military regimes that crack down on their people. Democracies do that too."

Jaya Padmanabhan of India Currents (center)/Photo by Peter Schurmann for NAM
The exhibit reveals the little known role that the Presidio played as the site of many of the exclusion orders.
"It was here in the Presidio that the decision was made to imprison Japanese Americans in WWII," said Presidio Trust CEO Jean Fraser. "The order came from here…we need to understand why this happened."
Drawn by economic opportunity, Japanese immigration to the United States ramped up in the 1890s, with many settling in Hawaii and along the West Coast. But their arrival soon inspired racial animus from local residents, and the federal government. In the late 1800s, laws were passed that barred Japanese from gaining citizenship, and in 1906 San Francisco moved to segregate Asian students in local schools. Then came the Asian Exclusion Act of 1924, which severely curtailed the rate of immigration from Asian nations.
By WWII, Japanese Americans had become deeply suspect in the eyes of many in Washington. The growing fear and paranoia, combined with the lingering racism, led to the signing of Executive Order 9066 by President Roosevelt in February of 1942, two months after the Japanese attack on Pearl Harbor.
More than four decades would pass before the government acknowledged the damage done. The Civil Liberties Act of 1988 granted reparations to Japanese Americans impacted by internment, noting that "race prejudice, war hysteria, and a failure of political leadership" were behind the decision.


"It all comes down to fear," said Eric Blind, director of Heritage Programs at the Presidio Trust, saying the same president who warned Americans "all we have to fear is fear itself," signed EO 9066 "out of fear."
Blind noted that Army Gen. John DeWitt, head of the Western Defense Command headquartered in the Presidio would ultimately sign 108 exclusion orders from his office, his initial skepticism about detaining Japanese Americans giving way to the chorus of voices in favor of the move.
Those voices, said Bind, are what inspired the exhibit to urge visitors to record their own impressions to punctuate the importance their voice could have in tilting decision makers in one direction or another. Recordings will be transcribed daily on note cards hanging in the exhibit's center.
"America's founding principle of justice for all must be continually defended. That work is never done," reads one visitor's comment. "Are Muslims next?" reads another.
Firdaus Arastu, a media associate with ReThink Media, noted that what struck her about the exhibit was the ways in which branches of government legitimated acts that were unconstitutional, and how Japanese Americans fought back "whether through the courts, or protesting."
Speakers on the ethnic media panel shared insights illuminating their common ground – "We are all excludeds," noted moderator and Golden Gate Nat'l Parks Conservancy Trustee Odette Alcazaren-Keeley — and their determination to forge a collective voice to challenge it.
Author and journalist Fernando Torres said exclusion has been a hallmark of Latin American migration to the United States. The very idea of inclusion can sometimes imply exclusion, he noted. From the bracero program of the 1940s to today's Dreamers, "inclusion has always been unfair to those invited in." He added, "If you were never included for real, you can be excluded."

Journalist and author Fernando Torres reads a replica of an exclusion order signed in the Presidio/Photo by Peter Schurmann for NAM
Kenji Taguma is editor in chief of the Nichi Bei Times, a Japanese American newspaper founded in 1946 as a way for people from the internment camps to remain connected. He said the internment experience has created a commitment to inclusion in the Japanese American community.
"Japanese Americans stood up to defend Muslims after 9/11," adding they have been prominently featured in annual ceremonies commemorating internment ever since. "By building these bridges," he said, "we can collectively fight exclusion."
Nam Nguyen, publisher of the Vietnamese language Cali Today, agreed that immigrant and ethnic minority communities need to find greater solidarity, and that as members of ethnic media each of the panelists plays an important role in telling one another's stories.
He also offered his own apology to Japanese Americans. As a college student, he said, he learned about the internment period, but said at the time he failed to grasp its meaning.
"From this exhibit, I know the price you paid," he said. "I don't want to see this happen again."
Exclusion: The Presidio's Role in WWII Japanese American Incarceration will be on exhibit at the Presidio Officers Club in San Francisco through March 2018.