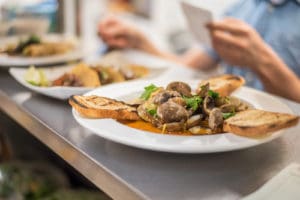 Richmond Ferry Terminal Groundbreaking
Wednesday, Nov. 1
The groundbreaking for the Richmond Ferry Terminal takes place this November, with ferry service from Richmond to San Francisco slated to begin in fall 2018.
The groundbreaking ceremony will be at 10 a.m, followed by lunch from noon to 1 p.m. on Wednesday, Nov. 1 at the Craneway Pavilion, 1414 Harbour Way South. To register for the ceremony and lunch, email contactus@watertransit.org.
Restaurant Hosts Benefit for Fire Victims
Friday, Nov. 3
Brezo Restaurant is hosting a benefit dinner and donating all proceeds to the North Bay fire victims.
The dinner includes an appetizer, entrée, dessert and one glass of beer or wine for $60 per person. The restaurant will donate 100 percent of donations and net proceeds will be given to the Disaster Fund for Mendocino County.
The dinner takes place from 5:30 to 10 p.m. Friday, Nov. 3 at 135 Park Place in Point Richmond. To make a reservation and buy tickets, call 510-680-5196.
Register for Toy/Food Program
Saturday, Nov. 4
The Richmond Fire & Police Holiday Program is holding a registration for its annual toy/food program. The annual toy program is available to youth between the ages of birth to 12 years.

All applicants (parent/guardian) must have a picture ID and proof they reside in West Contra Costa County in order to register AND when picking up toys. The guardian registering must be the primary caretaker for all children listed and they must reside in the home listed on the registration. There is only one application allowed per household.
Registration takes place at 8:00 a.m. on Saturday, Nov. 4 at the EM Downer Family YMCA, 263 S. 20th St. To donate or for more information, visit www.richmondfireandpolicetoyprogram.com or email info@richmondfireandpolicetoyprogram.com.
Meet Richmond's Rainbow
Friday, Nov. 17
Chat, hang out and meet other lesbian, gay, bisexual, transgender, queer and intersex (LGBTQI) folks from Richmond and West County.
Richmond Rainbow Pride is sponsoring Meet Richmond's Rainbow from 7:00 – 8:30 p.m. Friday, Nov. 17 at Kaleidoscope Coffee, 109 Park Place. For more information, visit www.richmondrainbowpride.org.