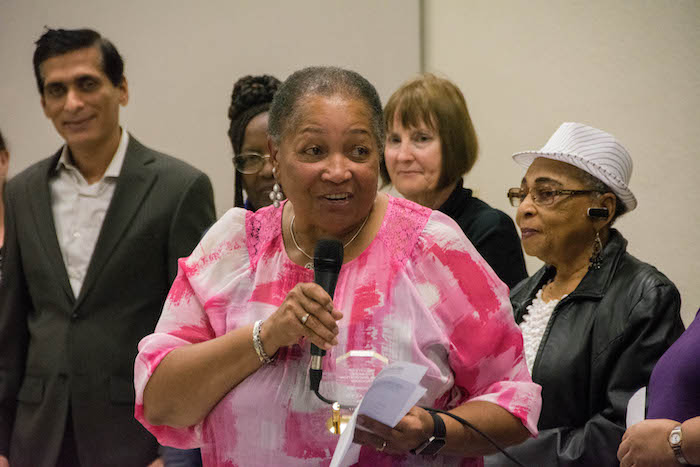 16 Nov

'Crime Prevention is Everyone's Responsibility'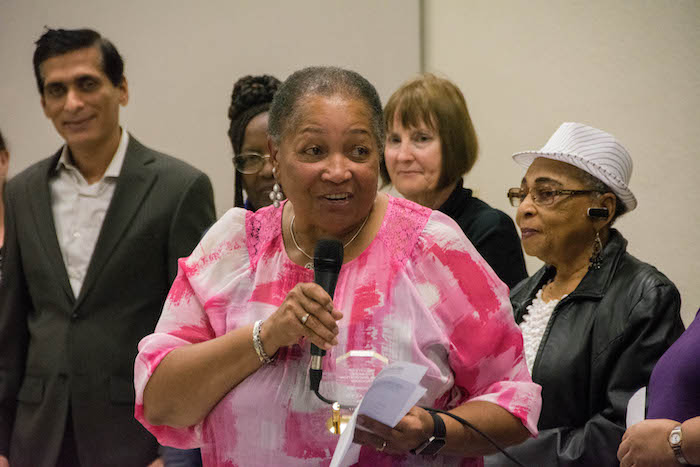 Above: Madalyn Law received a volunteer of the year award at this year's Crime Prevention Awards banquet.
Richmond Police Recognize Those Making a Difference
By Mitzi Perez
In the past 10 years, crime and violence has overall been trending downward in Richmond. Along with the police department's community policing efforts, residents and community organizations have all played a role in lowering the city's crime rate.
Richmond Police Lt. Felix Tan says one thing that has helped is the relationship between police and residents who are willing to be the eyes and ears of the neighborhood. It encourages people to report crimes as they're occurring.
"Crime prevention is everyone responsibility," Tan said. "The department can lead in it, but we need everyone to participate."
Tan would know. He was among 10 people honored at the Crime Prevention awards banquet on October 21 at the Recreation complex. The banquet also celebrated the partnership between RPD and the community. This included honoring civilians and officers for their dedication to Richmond.
Along with Tan, RPD staff recognized for outstanding service in crime prevention included Officer Jameiz Terrell, Officer Savannah Stewart, Lt. Sean Pickett (retired), and Lt. Joseph Schlemmer.
On the flip side of the community-police coin, citizens recognized for outstanding service were volunteers of the year Jessie West, Vivian Williams and Madalyn Law. Tony and Maria Maura of Portumex, and Sergio Rios of Bob's Cleaners were recognized as businesses of the year.
In Richmond, the roots of the current Crime Prevention Executive Board effort started about thirty years ago with Richmond residents Myrtle and Abraham Braxton. It started with community activism and eventually spawned neighborhood watch groups. Now, the Crime Prevention Executive Board aims to reduce crime with a focus on education, organizing and promoting safety.
Crime Prevention board members Karla and Al Perez first got involved about 10 years ago when their apartment complex registered nearly 100 shootings in a single year.
"We'll do whatever it takes to get this community back," Karla Perez said. "People don't need to be afraid. It takes a village and people need to start standing up."
Awardee Officer Jameiz Terrell, who works in the Southern District, became aware of the "crime-free" housing on her beat, a crime prevention program designed to eliminate crime and/or drug violence in apartment complexes. This caused Terrell to reach out to be a part of the crime prevention action.
"I just wanted to build a good relationship with the community there. I want to know the individuals over there," she said.
Terrell says that while there can be a perceived negative stereotype of police officers, she has hope for the work that the officers in Richmond do.
"We're always a police department trying to be better, strive for, I know you can't be perfect, but we strive for perfection," she said. "We're always moving in a positive direction."
While some crime numbers have improved, namely gang-related activity, Officer Savannah Stewart says other areas of crime prevention need attention.
"What people don't realize is that there is still a lot of domestic violence and sexual assaults occurring," Stewart said. "The shootings may have gone down, the property crime might have gone down a little bit but that comes in spurts."
Captain Al Walle said, typically in most other places, first responders only go to a neighborhood to take a report "and that's about the level service they provide."
"The Richmond Police Department tries to take a more holistic approach," he said. "We're trying to break these patterns of victimization or violence."
One way of doing that is by taking victims of violence alongside officers to share their story with neighbors to ultimately drive home a core message.
"Don't be a victim, be a victor," Tan said.
If you're interested in getting involved, the Richmond Crime Prevention Executive Board meets every third Wednesday of the month at the Richmond Recreation Center.