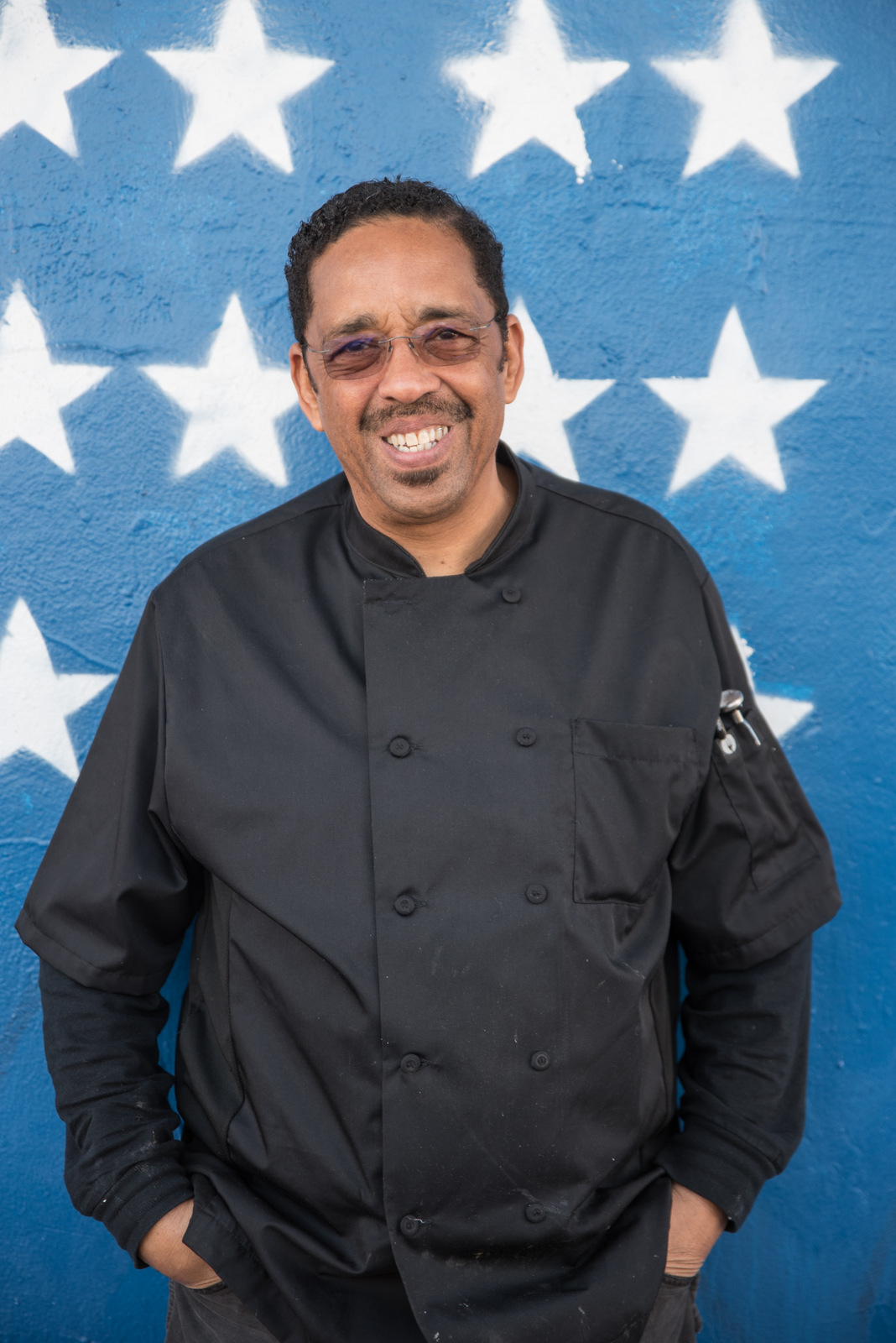 17 Jan

Keeping Soul Food Soulful in San Pablo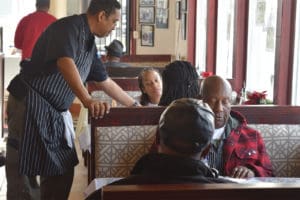 By Abené Clayton
The peak of the lunch hour at Food Handlers Café in San Pablo is abuzz with people enjoying soul food favorites, like chicken and waffles. Some are grabbing their takeout orders.
Restaurant operator Rauch Grant nimbly walked up and down the cafe's narrow walkway taking orders, greeting people, directing folks to the self-serve coffee station. Grant took a brief pause from speed-walking around the restaurant to chat with the restaurant's landlord, Elder Dr. Robert Adams, and his wife, Christella. The Adams' and assistant pastor Walter Greene were making True Holiness Apostolic Church's Black History month event schedule, which will include poetry and plays depicting pivotal moments in Black history.
Food Handlers Café's menu is made up of American diner classics including burgers and pancake breakfasts. They also have dishes that reflect their Southern flare like chicken and waffles, and French toast made with Texas toast.
The diner-style restaurant is small, with just six booths, four stools at the counter, and an open kitchen. This space was formerly known as Chris' Down Home Soul Food, but now its down-home aesthetic is being preserved with framed photos of classic food icons like Aunt Jemima and the Jolly Green Giant.
Dr. Adams, his wife, and family members opened Chris' Down Home Soul Food in 1969, and ran the restaurant for 43 years. In that time, it became a staple in the community as one of the only Black-owned restaurants in San Pablo.
"This place is our legacy," Christella said. "We want to keep it original."
A part of that originality is purposefully putting Black operators at the helm of the restaurant to set a positive example to community members. Grant says he understands and appreciates the significance of the restaurant's history, and he's eager to expand the Food Handler's Café brand with food service classes and "canteen food machines."
Food Handlers Cafe has been up and running since November and in that time Grant says he's seen an outpouring of support from the Black community.
"There's definitely a strong tradition on this corner, " he said. "As soon as we opened, they got in here and started spending money and making sure we keep this place open."
Grant is also inviting community members of all races to come and enjoy the "American food with a southern flare."
Grant says that his interest in food began with a "raggedy fruit tray" that he and his sister made as children in the 1970s. After completing a culinary program at City College of San Francisco, he opened several of his own restaurants in San Francisco and worked in kitchens at hotels, including the Hilton and Hyatt Regency.
Grant recently retired from his position as a baker and cook supervisor for the West Contra Costa County school district nutrition center in Richmond after working for them on and off for nine years.
"I'm a proud food handler," Grant said.
He became a ServSafe Food instructor after scoring exceptionally high on a recertification test in 2013. He's holding his first ServSafe class — which teaches proper food handling techniques — at the restaurant this Monday. Grant says that these courses will help groom the next generation of food service professionals and expand the Food Handlers Café brand.
"I wanna make sure that the next person that I train has the ability to become a ServSafe instructor," Grant said. "And [they can] hold those classes, cause that's another stream of revenue that the restaurant can bring in."
Around 1:30 p.m., Chef Lucas Davis, new restaurant waitress Asia, and Grant begin to reset the restaurant after the lunch rush. Outside of the restaurant, Elder Adams points out the homes that he owns and rents out near the restaurant.
Adams looked at his properties with pride as he talked about the importance of setting a positive example with his investments.
"It's more than a business, it's Black power," Adams said.
IF YOU GO: Food Handlers Cafe is located at 1260 Rumrill Blvd. San Pablo, CA 94806 and is open Sunday-Thursday 7 a.m.- 6 p.m. and Friday-Saturday 7 a.m.- 8 p.m.The ServSafe class is Monday, January 8th at 8 a.m. You can call the restaurant at (510) 307-5225.