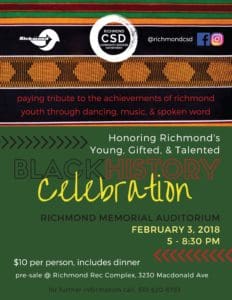 Black History Celebrated With Music and Dancing
Saturday, Feb. 3
The Richmond Community Services Department will host its annual Black History Celebration from 5 to 8:30 p.m. Saturday, Feb. 3, at the Richmond Memorial Auditorium, 403 Civic Center Plaza.
This year's celebration will honor the achievements of Richmond's youth through dancing, music and the spoken word. The East Bay Center for the Performing Arts and the Richmond High School Majorettes will highlight the day with drumming and dancing.
Tickets are $10 — which includes dinner — and available at the Richmond Rec Complex, 3230 Macdonald Ave. For more information, call 510-620-6793.
'Mosaic Dude' Hosts Workshop
Saturday, Feb. 10
Richmond artist David "Mosaic Dude" Abdullah will host a Treasure Box Academy mosaic workshop from 11 a.m. to 1 p.m. Saturday, Feb. 10 at the Unity Park Plaza, Richmond Greenway at 16th Street near Ohio Avenue. The event is free.
All materials, tools, and refreshments will be provided. To register, email brookdaledude@yahoo.com.
Math Night = Free Cal Basketball Tickets
Sunday, Feb. 11
West Contra Costa Unified School District is sponsoring Middle School Math Night. The district has partnered with the UC Berkeley's women's basketball team and are offering all district middle school students four free tickets to the Bears Sunday, Feb. 11 game against Utah at 2 p.m.
In addition, every student that participates in calculating the first-half shooting statistics at the game will receive a prize, and six students will receive a grand prize package from Cal.
Cal's communications department will also throw a pizza party for the middle school math class that has the most students participate (minimum 12).
To sign up for tickets, visit http://bit.ly/2018_Mathletes.
Artists Talk About 'Living Black'
Saturday Feb. 3.
The Richmond Art Center is hosting an artists' talk for the Art of Living Black on from noon to 2 p.m. Saturday, Feb. 3. The talk is part of the center's 22nd annual Art of Living Black exhibit that runs through March 8.
The exhibit features over 40 Bay Area artists. This year also recognizes the creative talents of Kelvin Curry and Damon Powell, who were awarded the annual Spotlight Artists Award.
For more information about the Art of Living Black richmondartcenter.org.
Richmond Promise Application Deadline Approaches
Saturday, March 10
Richmond high school seniors have until March 10 to apply for the Richmond Promise Scholarship, which offers up to $1,500 a year to further their education.
To be eligible, a student must be a resident of Richmond or North Richmond; be graduating from an eligible high school within the West Contra Costa Unified School District boundary area or be receiving a GED/high school equivalency between June 2017-2018; have attended an eligible high school, at least, 9th through 12th grades consecutively; and complete the FAFSA/Dream Act by the March 2nd Cal Grant deadline.
The Richmond Promise application is available at richmondpromise.org/the-scholarship-application. To complete the FAFSA application for financial aid, visit fafsa.ed.gov, and Dream Act application can be found at dream.csac.ca.gov