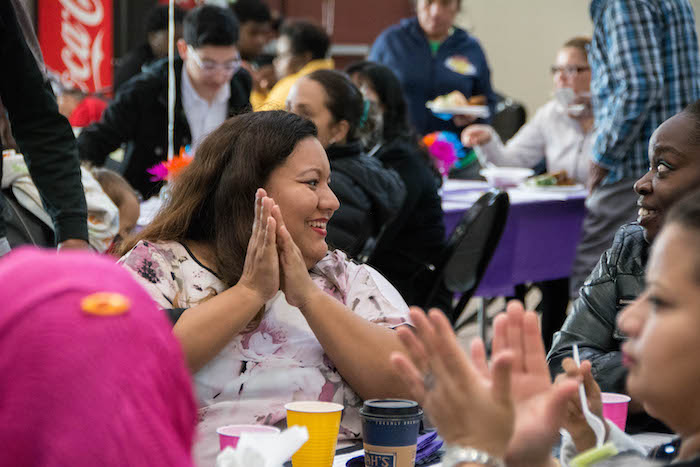 07 Feb

Convening Brings Parent Leaders Together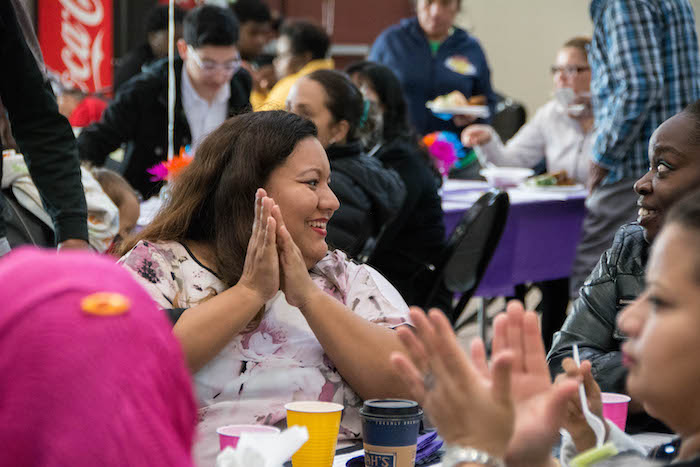 Convening Celebrates Efforts of Parent Leaders
By Mitzi Perez
On a cold Saturday morning in January, parents and children were greeted with warm hugs and soft smiles from other parents and community leaders at the Nevin Community Center. About 60 parents from various ethnic backgrounds, with children in schools around Richmond, gathered to celebrate local parents' commitment to making schools better and their role as community leaders.
Hosted by Healthy Richmond — a coalition of community organizations, resident leaders, and advocates — the event, titled Time to Celebrate Richmond Parent Power Convening, was aimed at increasing parental engagement and honoring those who are actively involved in their children's schools and advocating for changes in the school district.
Healthy Richmond, part of the California Endowment's Building Healthy Communities initiative, focuses each year on developing projects in the community to build lasting health equity.
Ryan Bealer, project coordinator and communications specialist with Healthy Richmond, said the event was intended to address barriers parents and students encounter at school and create a platform for parents to share stories about what they are doing to make changes in the school district. Bealer said he he hoped people would leave feeling connected to a larger community of support.
"The event itself was led by the parents to try and hold space for celebration and storytelling in order to spark new connections between parent leaders and parents who are looking to find ways to advocate for their children," he said.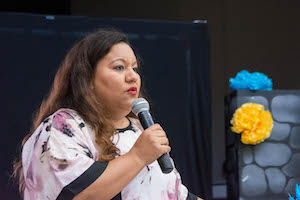 Featured speakers Wendy Lopez, a parent volunteer, Blanca Hernandez, program director at YES! Nature to Neighborhoods and Zelon Harrison, a parent advocate, all spoke about challenges they've faced in schools and how they have effectively advocated in the district.
Hernandez described the barriers she experienced while growing up in San Diego as the only Latina in her class. Her experience with racism and discrimination in education resonated deeply with many parents in the room.
"We are lucky to be in this community full of support," Hernandez said. "You are not alone."
Harrison shared her story of raising several successful children, all while dealing with the impacts of poverty and violence. "It took my children feeling loved, feeling safe, having a place to grow and get their education," she said, followed by applause from the audience.
Other speakers shared what they think is working well and what could be better with the West Contra Costa Unified School District. Many said that creating change in the district requires everyone working together. A crucial first step is getting everyone together, to let them know they are not alone.
Attendee Myisha Dozier, a mother with a daughter at Richmond College Prep and another at El Cerrito High School, said she grew up on the south side of Richmond surrounded by "nothing but negativity."
"Each of the cousins I grew up with, neither of them made it out of high school," Dozier said. "All of them are pretty smart people," she added. "Generation after generation we are watching our kids fail. It's time for some kind of change."
Dozier said she really connected with the speakers at the convening. "[They grew up] going to different public schools and [they] got the same outcome from all of it," she said. "Not really anybody there pushing you to graduate, pushing you to be somebody in life. I connected to that."
Parents also discussed, amongst themselves, what they thought of the speakers' experiences, analyzing how they related to it and what they believed would be best for families in Richmond.
Ana Villanueva, a mother with a son and daughter at Grant Elementary, has volunteered at her children's school for six years. Villanueva said events like this one give parents courage to fight for an equitable education for their kids.
"This event motivates us more as parents to keep fighting for the wellbeing of our children and the whole community," she said. "In our community, we have children who do not have a voice. We are that voice for those children."
Parent leaders planned the festivities in just four weeks. Healthy Richmond recruited a group of local parents: Alicia Jackson, Guadalupe Calvario and Mark Saephan. Calling themselves the Plan It Team, they met once a week for three weeks until the event. They also served as emcees and said they were happy with the end result.
"I am a parent volunteer and I work with the different non-profits. It's the same people, just in different locations," Calvario said. "This event is a chance to bring everyone together. Plant it down, see who we all are and start working together."
Following the success of the meeting, the Plan It Team and Healthy Richmond intend to continue bringing families together annually in similar events. They hope to build strong connections between parents and showcase the work they're doing.
For those in attendance, it was also an opportunity to address feelings of disconnection and isolation and to help open up space where issues affecting parents can be talked about with compassion.
"I would like to see us fighting for our community and what is happening in our community," Dozier said. "I would like to see a walk or a march with Hispanics and Blacks together. I think that would be so strong and it would send a message to our government right now. We will not stand by and [watch] one race after another get attacked. We will fight together."